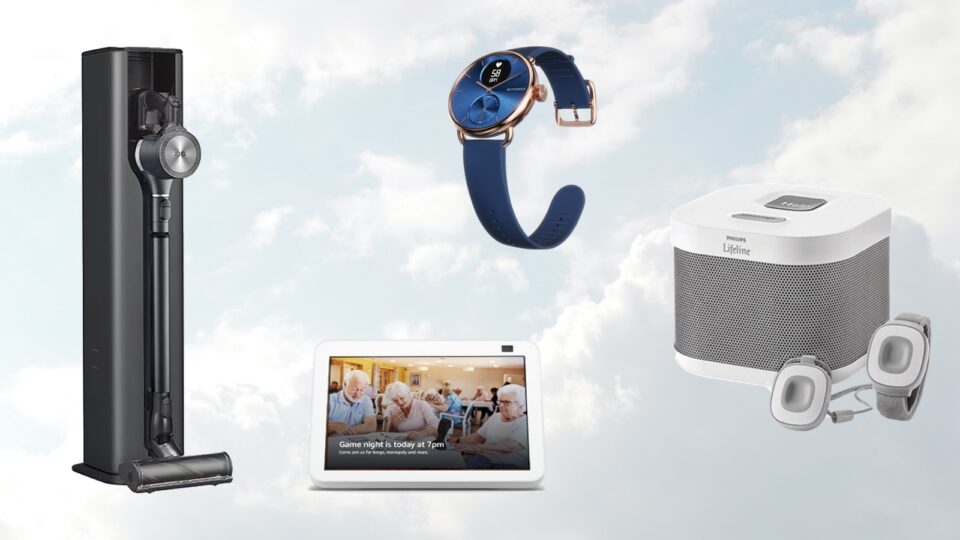 4 Tech Tips & Tools for Seniors
by Amber Mac on May 18, 2023
The number of seniors in Canada is on the rise and the majority of them want to age in place in their own homes. To help support this shift, here are four tech tips and accessible tools to give today's seniors the independence they need to communicate, clean, manage health, and get help.
Go Hands-Free with Voice Tech

Amazon Echo Show 8
The Amazon Echo Show 8 is an ideal device for Canadian seniors thanks to a large 8" HD touchscreen and hands-free capabilities, making it easy to use your voice to call friends and family, set timers, get reminders, control smart devices, and hear news or traffic updates. The newest accessibility-focused feature available for Echo Show 8 is called Gestures, which many seniors will find to be a big help in their daily lives. Gestures is a new way to interact with Alexa without using your voice or needing to tap the screen. It allows you to dismiss timers by raising your hand, with your palm facing the camera of your Echo Show 8 (2nd Gen) or 10 (3rd Gen) device.
Upgrade to Accessible Cleaning Tech
LG CordZero™ All-in-One Tower™
The LG CordZero™ All-in-One Tower™ vacuum is super lightweight and easy to operate for comfortable cleaning. The All-in-One Tower™ stores the LG CordZero vacuum, auto-charges the battery (it comes with 2 batteries for up to 120-minutes – almost two hours – of vacuuming on a single charge), stores tools, and automatically empties the dust bin every time you dock the vacuum. This vacuum also features a telescopic wand that enables you to extend the arm to get into nooks and crannies and transforms to a handheld vacuum, making it easier and accessible for seniors to clean their entire home. The LG CordZero™ All-in-One Tower™ also comes with LG's exclusive Kompressor™ technology to create more dust bin capacity; just press the Kompressor™ lever to compress collected dirt, dust, and pet hair.
Monitor Health with a Smartwatch
Withings Hybrid Smartwatch
This beautiful blue and rose gold 38mm Withings Hybrid ScanWatch (available at Best Buy) tracks your steps, your calories, and your sleep. It also features a heart rate monitor and a recreational oximeter for on-demand blood oxygen saturation readings. This, like many products, can be purchased with Best Buy Healthy Homes bundles. These are carefully selected tech bundles for more comfort, convenience, and safety at home. Along with complementary tech recommendations, Best Buy Healthy Homes is where you can also learn about Geek Squad Agents to help you along your tech journey.
Subscribe to a Medical Alert System
Lifeline Medical Alert System
In Canada, a senior endures a fall every 12 seconds and older adults who fall once are 2-3 times more likely to fall again within a year. With Lifeline's range of medical alert systems, a senior can press a button on a wearable device for help. Lifeline also has an automatic fall detection technology option that is designed to call automatically when a fall is detected. Their automatic fall detection technology is designed to automatically detect true falls, with a low rate of false alarms. Lifeline is an excellent choice for anyone with a history, risk, or fear of falling.
These are some of my favourite tips and tools for seniors – share yours with me on my social media channels. Thanks to all of our brand partners for supporting our 2023 Tech for Seniors Guide.