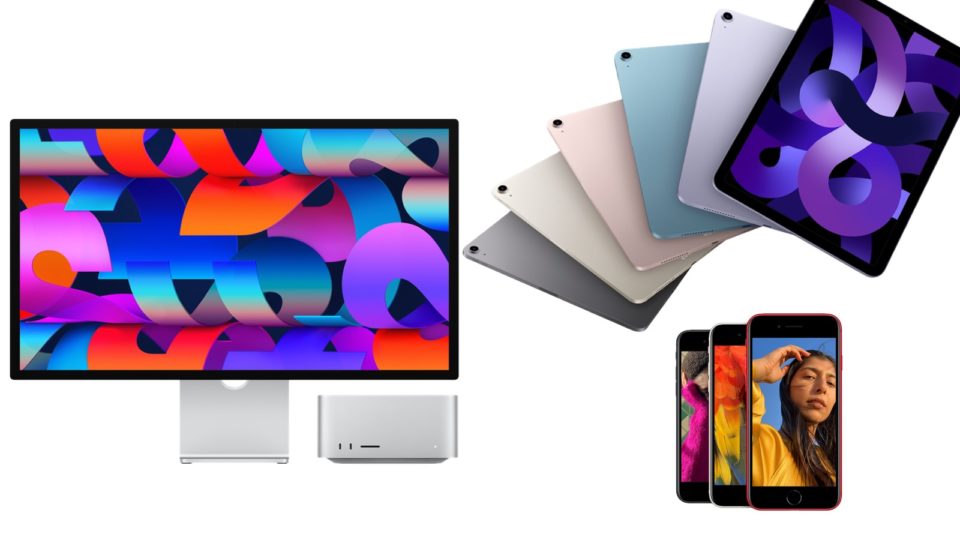 Apple's March 2022 'Peek Performance' Event
Apple snuck out an event on March 8th with a few interesting announcements, including a great iPad Air update, an impressively-chipped iPhone SE, and the new Mac Studio (and Display (and M1 Ultra chip)). Here are the deets (oh, and since I'm being parenthetical, there are also two new iPhone 13 colors, alpine green and, well, just "green")…
iPhone SE with A15 Bionic
The new iPhone SE (3, if you're counting) doesn't stray too far in terms of its 4.7″ display design – for example, it still has a Home button with Touch ID, although it has toughened up the glass – but it is 5G and packs the powerful A15 Bionic chip (the same as in the iPhone 13).
This brings with it features like on-device Siri and dictation, and basically makes for a very capable iPhone at a reasonable price, starting at $429 USD (for 64GB model, also available in 128GB and 256GB). It comes in three colors: midnight, starlight, and Product Red (yes, I realize two of those color names don't really tell you much about the color and, yes, I think Apple's getting a little too cute with that naming).
iPad Air with M1
The iPad Air is a little more exciting, it's now 5G and its new M1 chip finally brings practical features like Center Stage across the whole iPad line, along with its Ultra Wide 12MP front camera. It's also got a faster USB-C port, but the real connectivity boost is that the new iPad Air is compatible with the smart keyboard folio, magic keyboard, and second generation Apple Pencil. It's priced the same as the previous iPad Air at $599USD for the 64GB model (it would've been nice to start at 128GB at this point, but at least a 256GB model is also available).
Mac Studio & M1 Ultra Chip
The new Mac Studio computer looks a bit like a triple-high Mac Mini (although not nearly as pretty somehow) but is a seriously powerful computer, with options for an M1 Max chip or the new M1 Ultra chip just announced at the event. It's 7.7″ square and 3.7″ tall, with a lot of connections. On the back we have four Thunderbolt 4 ports, 10GB ethernet, 2 USB-A, HDMI, and a pro audio 1/8″ jack, and on the front there are 2 USB-C/Thunderbolt 4 ports and an SDXC slot within easy reach.
How powerful is it? Well, it can play back 18 streams of 8k ProRes 422 video simultaneously, which is literally unprecedented. Memory-wise, it can have up to 64GB of unified memory with the M1 Max or up to 128GB with the M1 Ultra. All that power does come at a price: $1999 for the M1 Max version and $3999 for the M1 Ultra. It's worth noting that this brings the entire Mac lineup to Apple Silicon except the Mac Pro, which was specifically mentioned as being for another day.
Mac Studio Display
What should you hook your Mac Studio up to? Well, although it does allow for up to 4 Pro Display XDRs monitors plus a 4K TV, why not consider the awesome new Mac Studio Display as your main display? I found it a little strange that I was excited about the display at the end of the announcements, but it's actually pretty cool. It's a 27″ 5K Retina screen but also contains its own A13 Bionic chip!
Why? So it can drive its 12MP Ultra Wide camera with Center Stage (the first time it'll be available on a "Mac"), its studio quality 3-microphone array, and a 6-speaker sound system with 4 woofers and 2 tweeters that support spatial audio for music and video with Dolby Atmos. Plus it's got 3 USB-C ports, a Thunderbolt port (capable of supplying 96W of power to charge a Mac notebook), and a couple of stand and screen options that may be of interest. At $1599, it's not cheap, but it does introduce probably Apple's most compelling monitor to date, and you can even get a new silver-and-black keyboard, mouse, and trackpad (just announced) to go with it.
What are you most excited by in the latest Apple announcement? Let us know on social media!