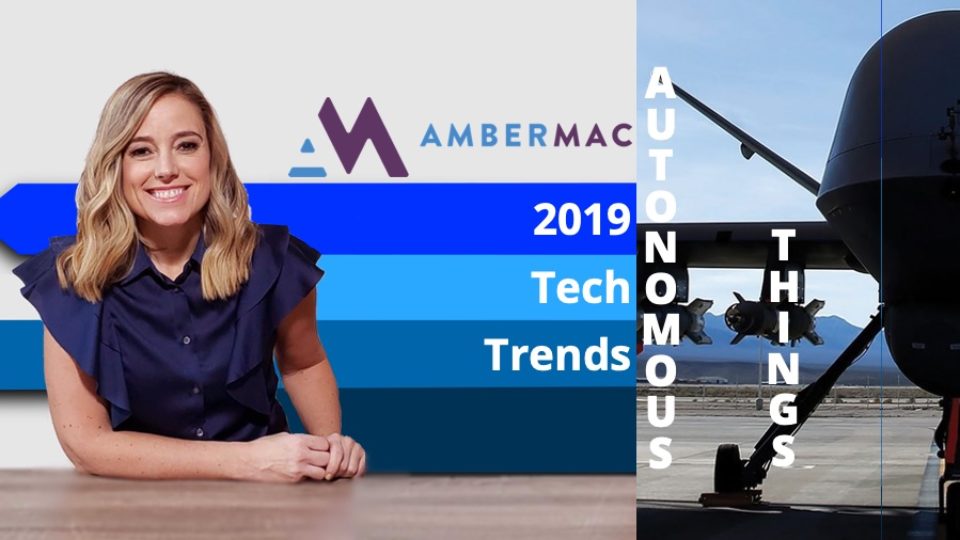 Autonomous Things (AmberMac 2019 Tech Trends 3/5)
by Amber Mac on January 11, 2019
Welcome to 2019 (and thank you for all your support in 2018). To kick off a new year, I'm sharing a mini-series of posts covering my top 5 tech trends – these trends will affect the way we work, live, and play.
One of the most popular autonomous things in the world today is the self-driving car. However, lawmakers are struggling to figure out how to prepare for the surge of autonomous vehicles soon coming to a road near you. As Gartner shares, "By 2021, 10% of new vehicles will have autonomous driving capabilities, compared to less than 1% in 2018."
Cars aside, we must also consider other autonomous things such as drones, robots, and toys. These technologies will change the future of warfare, work, and play (and hopefully not all at once). While we've seen drones in warfare for decades, today they can exist without much human operation. To understand these consequences, E&T Magazine puts it best, "Unlike remotely piloted aircraft, autonomous drones – commonly defined as 'system initiative' and 'full autonomy' in military terminology – can act accordingly based on a choice of options. They can be programmed with numerous alternative responses and react according to the different challenges they may encounter while performing a mission."
Just on the heels of the holiday season – and days before the Consumer Electronics Show – autonomous toys are also worth noting. After all, e-commerce giant Amazon released a self-driving toy car for coders late in 2018, a toy that allows customers to train and tweak machine learning models. Finally, autonomous robots made headlines this year, especially as a threat to the future of work. As Robotics Tomorrow explains, "From robot helpers in our workplaces to autonomous vacuum cleaners in our homes, we are entering a new era of robot-human cohabitation, where little machines facilitate our lives in unprecedented ways."
We're already using autonomous technology in our lives today, whether we realize it or not. These machines are more frequently where we go to check into a hotel, take out money from a bank, and prepare coffee in the morning. To read more about the future of work in the age of autonomous things, check out Human + Machine.