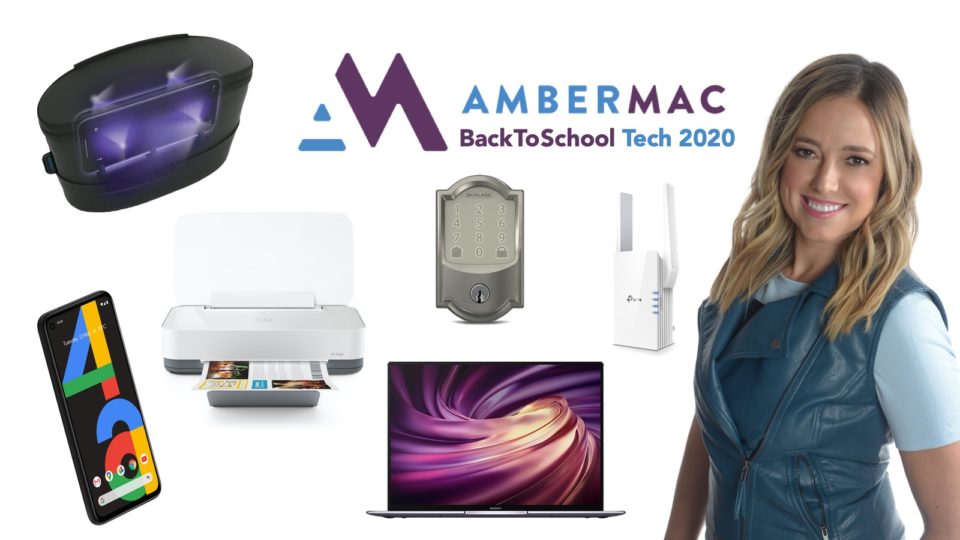 Back-to-School Tech 2020
by Amber Mac on August 17, 2020

The school year is going to look different for many families. Whether you're learning at home or heading back to the classroom, starting elementary school or kicking off university, here is a round-up of 6 new and practical tech picks to make a tough year a little bit easier.
1. HoMedics UV-Clean Sanitizer Bag
Sanitize your tech with the HoMedics UV-Clean Sanitizer Bag. At Best Buy Canada, the traditional back-to-school season is being reimagined. Because this year has been disruptive for Canadians beyond students, it represents a new start for many people. The Homedics UV-Clean Portable Sanitization Bag will help people ease back into a new routine. The UV light has a range of effectiveness, which interferes, destroys, and disrupts microbes by killing bacteria, viruses, proteins, and more. Simply place your item into the bag, zip it to close, and press the button on the side to start the process. It takes about 1 minutes to sanitize. ($119.99)

2. Schlage Encode Smart Wifi Deadbolt
Keep your kids safe with the Schlage Encode Smart Wifi Deadbolt, which features built-in WiFi connectivity, eliminating the need for an additional smart home hub. Program up to 100 unique codes, including codes for recurring, temporary or permanent access. It is great for students and parents. Plus, the Schlage Encode allows property owners to monitor access via customizable notifications or via the Schlage Home App activity log. ($349.99)
3. TP-Link AX1800 Range Extender
Extend your home WiFi with the TP-Link AX1800 Range Extender so you can remove wireless pain points. Extend coverage in hard-to-reach spots without reducing connectivity and speeds for all your devices. This range extender is equipped with the latest technology that makes Wi-Fi 6 powerful. Plus, for back-to-school season, download the Tether app to access Parental Controls and manage devices in the home for homework time, dinner time, and more. ($139.99)
4. HP Tango Smart Home Printer
Print from your phone using the HP Tango Smart Home Printer. Even though school may be a bit different this year, the HP Tango has you covered for all your printing needs. Its stylish design compliments any space, and its smart features allow you to print from anywhere, on your mobile device or computer, or by voice at home. Plus, with the Instant Ink program, you will never run out of ink again. This automated program is a great time saver for parents who already have enough on the go. Sign up, and the Tango will automatically order ink to your door when you're running low.  (Starting at $179.99)
5. HUAWEI MateBook X Pro 2020
Students who need a powerful laptop can do homework anywhere with HUAWEI's MateBook X Pro 2020. This is a professional notebook that's also portable.
Equipped with a sensitive touch screen, the HUAWEI MateBook X Pro 2020 allows you to scroll, zoom, select and interact efficiently and intuitively. With the remarkable 91% screen-to-body ratio, the 3K FullView Display gives you a massive view in vivid details. (Starting at $2299.99)
Google Pixel 4a
The Google Pixel 4a is a compact and powerful family phone, which is available for pre-order now and launches in Canada on September 10, 2020. The new Pixel 4a offers everything you love about a Google phone (and gets better over time) – an incredible camera (with features such as HDR+, dual exposure controls, Night Sight with astrophotography, social share, portrait mode and Super Res Zoom) and Google Assistant for voice help on the go – all at an affordable price. The Pixel 4a also features an adaptive battery that gives you the flexibility to do more of your favourite things (talking, streaming, selfies) and less charging. It adapts to the way you use your favourite apps and reduces power to the ones that you rarely use. ($479.99)
UPDATE: Watch my segment featuring the devices above on CTV Ottawa Morning Live and check out our Facebook Live special below!