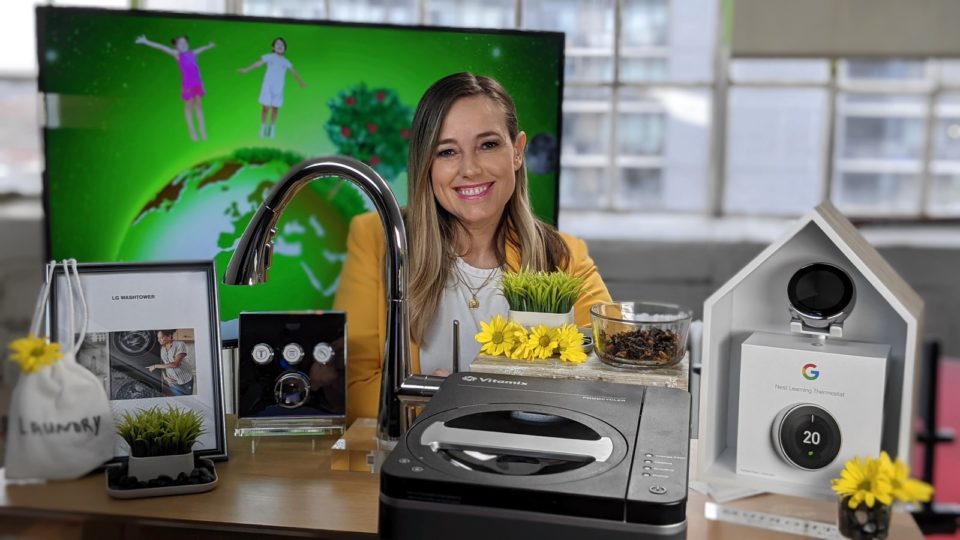 Earth Day 2021: Smart & Green Tech For Your Home
by Amber Mac on April 13, 2021
Earth Day is April 22nd, a day to learn more about how to make smart choices for the planet.  When it comes to choosing sustainable high-tech products for our homes, something I've been focusing on for the past few years, here is some of the latest tech for every room in your house to save water, conserve energy, and manage waste.
Laundry: Save Water & Energy

Thanks to built-in artificial intelligence, the LG WashTower™ uses sensors to detect fabric softness and load size so it automatically selects the right wash motions and cycle time for best results (think energy savings!). Speaking of energy savings, the sensor dry system also optimizes drying time so you don't run your dryer any longer than needed. The LG WashTower™ is ENERGY STAR® certified, so it uses 25 per cent less energy and 33 per cent less water than traditional models.
Bathroom: Save Water When You Shower
This GROHE SmartControl technology allows you to select your desired shower spray source and adjust the water volume at the push-turn of a button. It features Turbostat technology, which prevents any unpleasant temperature fluctuations so you can heat up your shower in a fraction of a second (instead of running your shower for minutes on end). Plus, the built-in EcoJoy™ technology that gives you the option of a reduced flow rate. I just installed this product in my basement bathroom and couldn't be happier.
Kitchen: Save Water When You Wash Dishes
This beautiful kitchen faucet has a lot of benefits beyond its pretty looks. First up, the powerful blade spray uses 50% less water, so you can wash dishes effieciently. Also,the touch technology means that you don't have to keep running water while your hands are dirty (just use the back of your hand or arm to turn off the faucet). Thanks to high-quality material, the GROHE LadyLux L2 kitchen faucet will last many, many years so it's a smart investment for the future.
Kitchen: Reduce Food Waste
The average household throws out a lot of food waste. With the Vitamin FoodCycler, you now have a compact food recycler that reduces food waste by transforming it into fertilizer while eliminating food scrap odors. Just toss your fruit cores, vegetable peels, dairy, and chicken bones into the FoodCycler and it breaks down food waste into a tenth of its original volume and creates a nutrient-rich fertilizer you can add to your garden soil. Plus, it's compact enough to fit even in the smallest kitchens.
Kitchen: Choose Recyclable Coffee Capsules
Coffee consumption is on the rise. Thankfully, with the Nespresso Vertuo system you're making a sustainable choice for your morning coffee routine. In fact, not only can you make a cup of regular coffee using this machine, the capsules are made of aluminum to ensure you get the freshest and highest quality cup of coffee every time. 
Aluminum is infinity recyclable fully recyclable, meaning Nespresso capsules are recycled and turned into second-life aluminum objects. In fact, by the end of 2021 Nespresso aims to have the full Vertuo ranges of coffee capsules made using recycled aluminum. Visit the Nespresso website to learn more about their recycling bags and which ones you can use depending on where you live. 
Bedroom: Conserve Energy With A Smart Thermostat
The Google Nest Learning Thermostat is easy-to-install, easy-to-use, and good for the planet and your pocketbook. When no one is home, you can use the app to switch to Eco Temperature, helping you save money and energy. In fact, most Google Nest Learning Thermostat owners saved an average of 10% to 12% on heating bills and 15% on cooling bills. In other words, in under two years, it can pay for itself.
If you have any smart and green home tech products I should include on my list for the future, please let me know. For more information on Earth Day, visit EarthDay.org.
Clients of AmberMac Media, Inc. listed above include: LG, GROHE, Vitamix, and NESPRESSO.