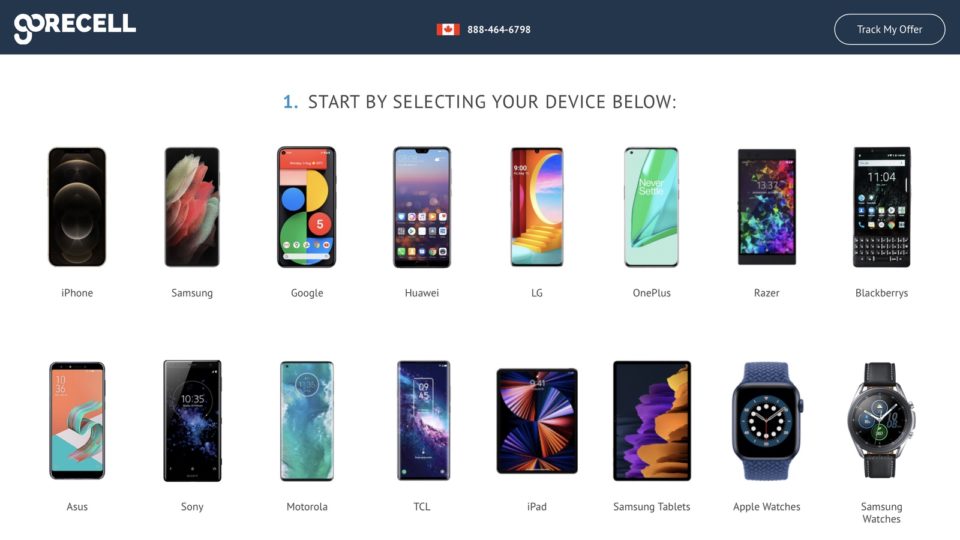 How to Sell Your Old Phone Online: Find Out at GoRecell
by Amber Mac on August 20, 2021
Let's have an honest conversation about your old phone. I'm going to guess that you have at least one in a drawer or a cupboard where it's collecting digital dust. This is perfectly understandable. The tech industry, myself included, has not done a great job of explaining how to buy and sell used electronics.
Thankfully, just this year, I learned about GoRecell. This Canadian service (finally) makes it easy to upcycle your personal device. In fact, you can also use their service to buy an upcycled personal device. I'm going to break it down for both sellers and buyers, so you have a chance to be part of a better process for people and the planet.
FOR SELLERS: How to Sell a Used Phone
Find out how much your phone is worth in less than a minute online at gorecell.ca/quote-request.
Thanks to the company's easy-to-use quote request tool, you'll be able to select the device you want to sell. There are dozens of manufacturers listed, including Blackberry, Sony, Samsung, iPhone, and beyond. You can even sell Apple or Samsung Watches.
Let's say you want to sell an old iPhone, once you know your model details, simply click on that specific image. For example, if you have an iPhone 7 Plus 128GB device, you then select your carrier. At this point in the process, simply choose the state of your device: like new, good, cracked or minor damage, or defective. If the condition is good (and GoRecell breaks down what this means), you'll discover that you will receive $145 for this phone. You can accept this offer, fill out the info, and GoRecell will send you a free shipping kit (or you can get a shipping label). This process is 100% guaranteed (see more on their website).

FOR BUYERS: How to Buy a Used Phone
Find a great variety of certified pre-owned devices at store.gorecell.ca.
If you want to buy an upcycled device, you select the device you want (there are also earbuds, accessories, and more tech for sale), and walk through the purchase process. Again, there are multiple manufacturers and lots of excellent phones in good condition. I even found a Google Nest Hub (2nd generation) for a stellar price (and it's brand new). The refund policy clearly explains that you have a full 30 days to return the device if you're not satisfied (see more on their website).
It's taken me a long time to find a service like GoRecell and I'm very keen to ensure more Canadians learn about what they have to offer, whether you're buying or selling a device. Most importantly, I'm committed to doing more this year and beyond for the planet, including ensuring that there is a responsible way to own or sell the latest in tech. GoRecell is based in Montreal, Quebec, but ships all across the country.
Amber Mac is a proud GoRecell partner.