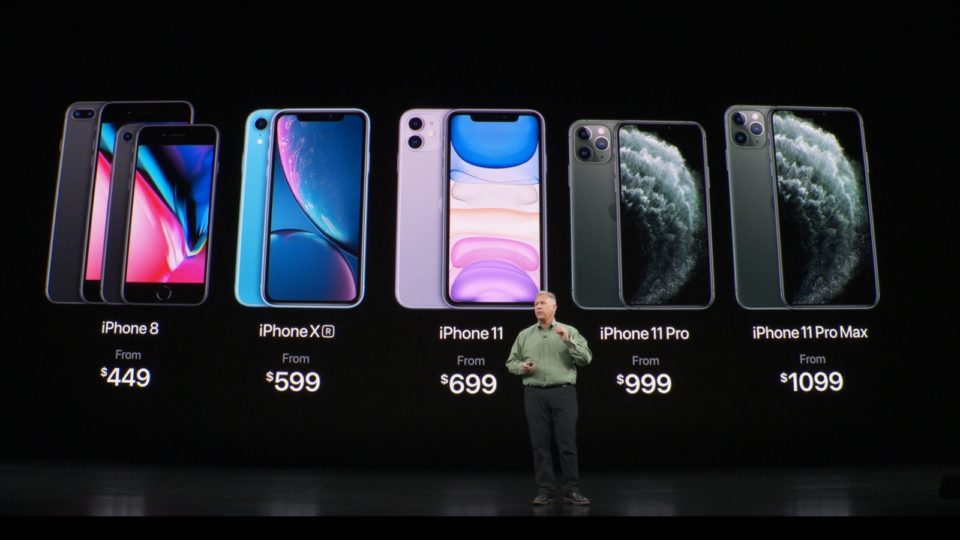 iPhone 11, Apple Watch Series 5, More at Apple's Sep 2019 Event
Apple announced a new Apple Watch, iPad, and iPhones alongside updates to the soon-to-be-released Apple TV+ and Apple Arcade products in their September 2019 event. Inspired by Tim Cook's very brief intro at the keynote, let's just get right to it.
iPhone 11
Apple seems to be veering back towards Jobs' original reckoning that you really just need a "consumer" version of a product (like the iPhone XR and the new iPhone 11) and a "pro" user version of a product (like the iPhone XS and the new iPhone 11 Pro) – oh, but add on a bigger version of that Pro category, too (like the iPhone Xs Max and the new iPhone 11 Pro Max). That works for me and allows for something I think is needed in Apple's current lineup: a great phone at a great price. Let the "pro" folks spend their money for things they use, but having the new "consumer" iPhone 11 come in at $699 shows there is still a new phone out there for more price-sensitive purchasers.
The basic iPhone 11 – available in six new colors, including purple – has a 6.1″ liquid retina display, spatial audio, and the fastest CPU (and GPU) ever in a smartphone (next generation A13 Bionic chip, etc.), but what has drawn the most attention since the design was leaked were the cameras. Thankfully, it seems like Apple has done right by balancing the perhaps less visually elegant camera arrays with some incredible new functionality.

The iPhone 11 has two 60fps 4K back cameras, one 12MP wide and one 12 MP ultra-wide. This provides for a 2x optical zoom when moving from one camera to the other, something that software lets you adjust through a continuous wheel interface even while you're taking video. The camera alignment allows for stereoscopic imagery and provides an amazing depth of field, but software boosts each part along the way through the enhanced image pipeline. There's also a Night Mode that has some incredible results (again, heavily leveraging software alongside the powerful two new cameras), and a QuickTake feature that lets you basically keep your finger on the shutter button during a photograph to automatically start taking video. The front camera is now also a more capable 12MP camera capable of 4K video and slow motion (which Apple uses to coin the term "slofie" for a "slow motion selfie" – we'll see about that one). Finally, the 11 improves on the battery life of the XR by one hour, has faster Face ID, and is water resistant to 2m for up to 30 minutes.
iPhone 11 Pro (& iPhone 11 Pro Max)
The beautiful new surgical grade stainless steel (available in four new finishes, including midnight green) iPhone 11 Pro has a 5.8″ "super retina XDR display" – that means very, very nice to look at and use (with the larger but otherwise identical 11 Pro Max sporting a 6.5″ screen). Basically the 11 Pro line has everything the 11 does but more. As one example, battery life of the 11 Pro is up to 4 hours more than the XS and the Max is 5 hours more than the XS Max, and it comes with a fast charger as well. As probably the most noticeable difference (aside from size), there is an additional front camera that's a 12MP telephoto lens, which means you can now choose from 0.5x to 2x, providing an optical 4x zoom. This is in fact the first of their iPhone cameras that Apple says it feels comfortable labeling as "professional" grade, and they provided ample evidence of this through the gorgeous video and photographic creations they shared during the keynote. The iPhone 11 Pro starts at $999 and the 11 Pro Max at $1099.
Apple Watch Series 5
While the new iPhones are considerably changed from their predecessors, the Series 5 Apple Watch is a gentler upgrade with a few key new features. Probably the most immediately noticeable new feature is that the new Apple Watch has an ingenious always-on display. Basically, this dims your display when you're not looking at it and decreases the refresh rate to conserve battery life – that way you can sneak a peek at the time anytime without worrying about your screen burning out your battery throughout the day (the Watch has an all-day, 18-hour battery). Next up is a built-in compass and associated app, so you can always tell what direction you're facing (and with built-in GPS the new app will provide you with longitude and latitude and other interesting info). Finally, the Series 5 now have International Emergency Calling so that – even without your iPhone – you can send an Emergency SOS in over 150 countries around the world.
Apple produced a really touching video on what an effect the Apple Watch has had on a variety of people's lives (e.g. a deaf father who gets alerts on his watch when his baby monitor senses noise) and also outlined some more amazing health-related programs they are becoming involved with (specifically the Apple Hearing Study, Apple Women's Health Study, and Apple Heart & Motion Study). This kind of stuff is so powerful and helps everyone, and I love to see Apple continuing down this health research path (if you're in the US then you can download their new Apple Research App this fall to enrol and view data with the privacy and security you'd expect from Apple).
7th Generation iPad
Apparently the existing 9.7″ iPad is what 60% of first-time iPad owners buy, and Apple seems to have decided to share a bunch of the advanced features from the iPad Pro line with everyone. The base iPad now has a 10.2″ display, is Apple Pencil compatible, and includes the awesome Smart Connector that made the iPad Pros such a compelling laptop replacement option (something Apple hints at with the positioning of the new iPad as faster and better than most PC laptops out there). It's also got all those great Slide Over and other features plus a cool new floating one-handed keyboard that you can bring up for thumb-typing while otherwise engaged. The 7th Generation iPad costs $329 USD and you can order now for shipping at the end of September.
Services: Apple Arcade & Apple TV+ Priced Right
Finally, although they led the presentation with this, we were treated to new previews and details for both Apple Arcade and Apple TV+. The crux of it is that they'll each be priced at $4.99 USD/month (which covers an entire Family account) and there will be free trials available (1 month for Apple Arcade and purchasers of a new iPhone, Mac, or other major Apple product will get Apple TV+ free for a year).
All in all, nothing earth-shattering but a lot to like. Plus, the cost of most of the older versions of these products will have gone done, so there's a lot to offer from Apple's full range for any budget these days (plus some new trade-in deals for your old devices, so check those out, too). Let us know what your favorite announcements were on social!