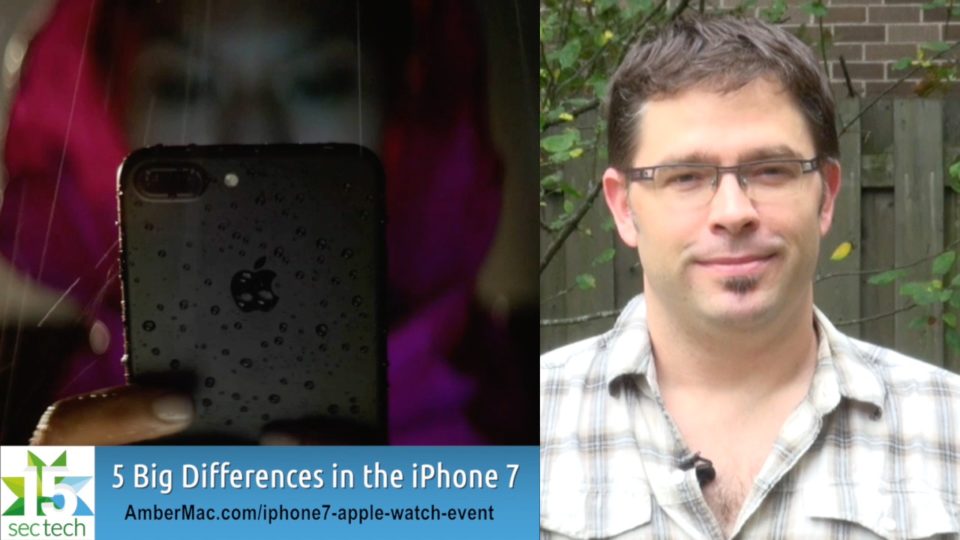 Apple's New iPhone 7, Apple Watch, and More
Apple's September iPhone event didn't have a lot of surprises due to some unusual leaks, but that doesn't mean there weren't some great announcements. The new iPhone 7 is a lot like the previous two versions, but putting aside some impressive speed, screen, and battery improvements, there are five key things that make it different.
First of all, say goodbye to the traditional headphone jack because you'll now be connecting headphones wirelessly, maybe using Apple's really cool AirPod wireless headphones announced at the event, or you can connect via the lightning jack on teh bottom of your phone. Thankfully, not only do all new iPhones come with a lightning version of Apple's traditional earbuds, Apple is also very wisely including a lightning to 1/8″ headphone jack adaptor in every box, so you can keep using whatever headphones you like.
So, why would they do this? Well, aside from the 1/8″ audio connector being a pretty limited standard that's over 100 years old, how about to finally make the iPhone water and dust resistant. This may be my biggest motivation to upgrade. Now, this doesn't mean you can swim with your iPhone or submerge it for long periods of time, but you can use it comfortably in the rain and generally worry a lot less about accidentally dropping it in water.
This has also caused Apple to abandon the physical home button. Instead you'll find a solid state, force sensitive replacement that can deliver haptic feedback instead of clicking, a feature Apple seems to be looking to share with app developers as well.
Next, we've got, as always, camera improvements, but for folks who care about the details, that includes the optical image stabilizer making its way down to include both the 7 and the 7 Plus, AND a new 4-LED flash. But the biggest news is that the iPhone 7 Plus will also include two forward-facing cameras, adding a telephoto lens beside the traditional wide angle lens that will allow up to 2-times optical zoom, plus some other great features.
Finally, the new iPhone will have stereo speakers, one on either side of the phone in landscape mode, and these will provide twice the previous volume and increased dynamic range, which is always good.
Other announcements included the next version of the Apple Watch, which now has GPS and is completely swim-proof; some pretty cool realtime collaboration features in the iWork suite; plus Nintendo's first game launch on iPhone, the one-handed side-scroller, Super Mario Run.