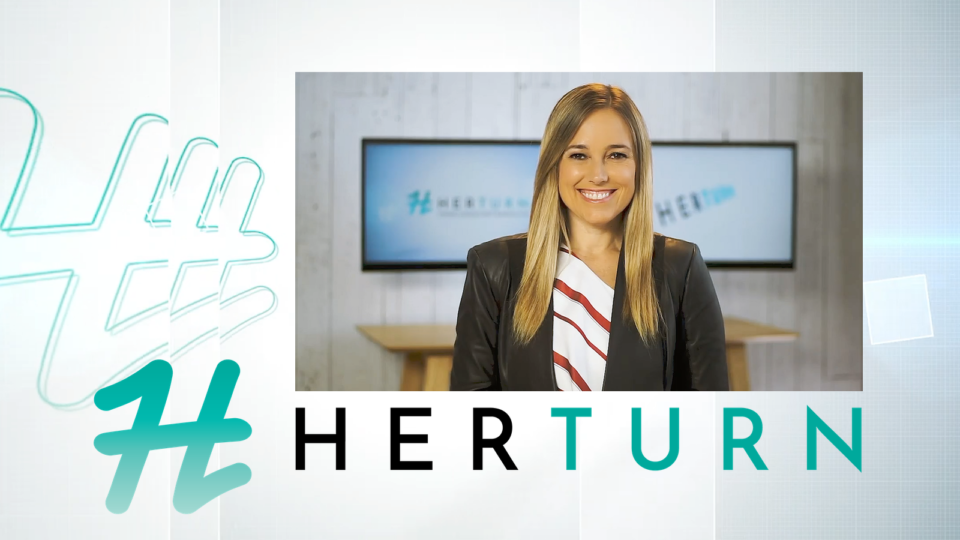 It's HerTurn: Canada's Online Business Competition Series for Women
PayPal Canada, Facebook Canada and BDC – Canada's only bank exclusively devoted to entrepreneurs – are joining AmberMac Media and Pint Glass Productions to launch HerTurn, Canada's new online business competition series for women entrepreneurs.
HerTurn will shine the spotlight on applicants, create weekly content to inspire more female entrepreneurs, and reward a deserving winner with a grand prize valued at $20,000 (cash & prizes), courtesy of PayPal Canada. After six weeks of open applications from women entrepreneurs at herturn.ca, the show's mentors will work together to choose three finalists.
Apply Now at HerTurn.ca
Over the course of a month, these three finalists will face challenges in small business marketing, public relations, and growth. Mentors from BDC, PayPal Canada, Facebook Canada, and other experts will provide feedback and insight along the way. Throughout the entire series, Canadians are invited to watch for weekly business tips and tactics from the HerTurn team.
According to BDC, women entrepreneurs are fueling the Canadian economy, contributing $148 billion annually and employing 1.5 million Canadians. However, only 16 percent of all small and medium-sized businesses are majority-owned by women, a number that can only increase with ongoing attention and support.
"BDC has made it a priority to support the growth and success of women entrepreneurs not just because it's right thing to do, but because it makes good business sense," says Laura Didyk, National Lead Women Entrepreneurs, BDC. "Research proves gender diverse leadership teams deliver higher profits, more revenue and better innovation. That's why we work with our teams across the country, and commit to amazing projects like HerTurn, to ensure women have access to the capital they need, plus the advice, network and support which are all critical to scale. BDC is proud to be a part of this exciting new series and can't wait to see what these women business owners accomplish!"
"Entrepreneurs are the driving force behind Canada's economy, but in order to truly thrive, we have to make sure business owners of all backgrounds have equal access to opportunity and success," says President of PayPal Canada, Paul Parisi. "Today, women report earning about 58 per cent less than their male counterparts for the same kind of work and that's unacceptable. PayPal is committed to helping narrow that gap by arming women entrepreneurs with the tools, insights and resources they need to bring their business to the next level. We are immensely proud to be part of HerTurn and help support the remarkable efforts of women business owners and the innovative businesses they have built."
Amber Mac, TV host, award-winning podcaster, and entrepreneur, will host the online competition series. Her company, AmberMac Media, is partnering with Trevor Hammond's Pint Glass Productions to bring this series to life across digital platforms. At the end of the three-month series, the mentors will pick the winner during a live broadcast on Facebook.
"Women entrepreneurs face distinct barriers to entry, and initiatives like HerTurn spotlight the passion of these women as well as give them the tools and resources necessary to scale," said Garrick Tiplady, Managing Director of Facebook and Instagram Canada, "Every day on our platform we witness women entrepreneurs at the front-lines growing their business and communities, which is why we are especially proud to be a part of this series and have the opportunity to work alongside these incredible women."
"We're excited to help bring this new digital series to life," says Trevor Hammond, principal at Pint Glass productions. "As a husband, and father to a 10-year-old daughter, I understand how important it is to tell the amazing stories of women entrepreneurs. This series will highlight inspiring women with courage, determination and tenacity that will resonate with everyone watching."
"As a small business owner, I'm thrilled to promote women across this country who are launching and running companies that need help," says Amber Mac, President of AmberMac Media. "This series is also an opportunity for all business owners to learn online in an accessible way thanks to expert advice from our cast."
Women entrepreneurs aged 18 and over from across Canada can apply to be on the series at www.herturn.ca. For more information, and partnership opportunities, contact info@herturn.ca. Follow HerTurn online using #HerTurnCA.