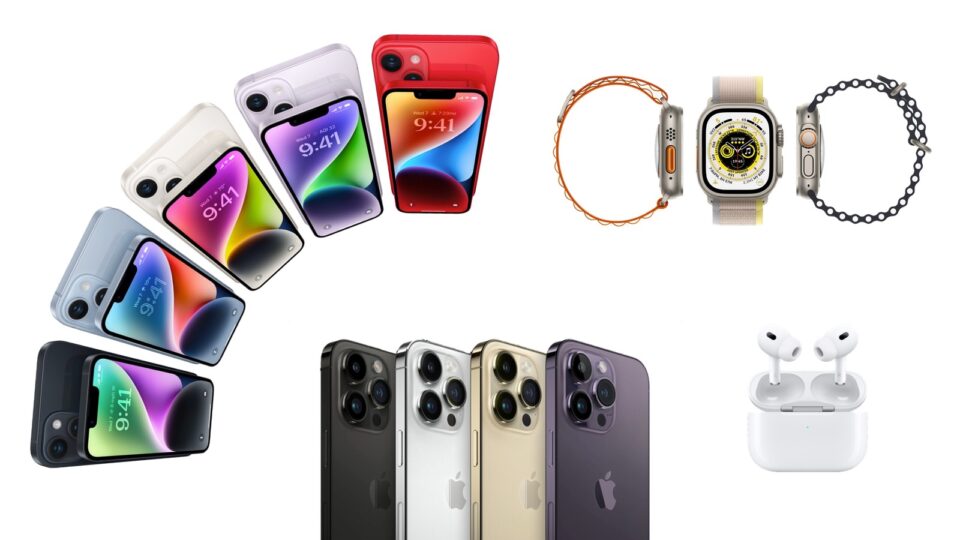 New iPhones, Airpods, and Watches at Apple's September 2022 Event

Apple's September 2022 event didn't have any huge surprises, but it did introduce some great upgrades and cool new features. So let's start with the most impressive new device, the incredible, completely new Apple Watch Ultra.
Apple Watch Ultra
The Apple Watch Ultra is geared towards pretty extreme users to survive pretty extreme conditions. It's got a titanium case that protects the edges of the glass screen, a larger (49mm) and twice-as-bright screen, twice the battery life (up to 36 hours), and a new, orange Action button that can be customized for what you need to access most (e.g. mark a Compass Waypoint, begin a dive, etc.). The compass (and accompanying app) has been improved, and the device's water resistance has increased to 100m. The Action button, as well as the larger Digital Crown and raised side button, are designed to make them easier to use while wearing gloves, which shows how much Apple is thinking of a very particular customer for this offering.
The Apple Watch Ultra also has dual-frequency GPS to provide more accurate location data, dual speakers to improve device audio volume, a three-microphone array to pick up sound better in noisy environments, a 40m depth gauge and water temperature sensor for diving, and even a siren to attract help (that can be heard up to 600'/180m away). There are also three new, specialized bands: the Alpine Loop for hiking, the Trail Loop for running, and the Ocean Band for diving. Apple is not kidding around with this new watch – it may not be for everyone, but the people who can make use of all of what it has to offer are sure to love it.
Apple Watch Series 8 & Apple Watch SE

The Series 8 Watch has a new mode that extends battery life from 18 hours to 36 hours (by disabling the always-on display and some other features), but the big addition is a new temperature sensor, which (among other things) can help with women's reproductive health. An interesting new safety feature is that this Watch can detect if you've been in a severe car crash and can call emergency services – hopefully something that most of us won't ever have to use, but pretty meaningful for anyone who needs it. The Apple Watch Series 8 comes in black, gold, red, and aluminum. The Apple Watch SE is basically a cheaper version of the Series 8.
iPhone 14 & iPhone 14 Plus

Apple's base model iPhones lose the 5.4″ iPhone mini option and replace it with a large iPhone 14 Plus with a 6.7″ ceramic screen (the iPhone 14 has a 6.1″ ceramic screen). Camera improvements will bring better low-light performance for the front-facing camera, and there's a cool new Action Mode that lets you stabilize your video while moving.  The new iPhone 14 does away with physical SIM cards in favor of the more flexible and secure digital eSIM, and they've also got improved battery life. Finally, Apple introduced an Emergency SOS via Satellite service (US and Canada only for now) that's free for iPhone 14 users. Both phones come in five colors, including a new lighter blue.
iPhone 14 Pro & iPhone 14 Pro Max
Apple's Pro line of iPhones are sized at 6.1″ and 6.7″ and stay at the same prices as their predecessors, but these new models pack in some great improvements. First up would be an always-on display, which is possible through a new low-power battery mode and lowering display refresh rates. The camera is better in low light and the main camera is now 48MP. The Pro models include iPhone 14 features like crash detection, Action Mode, satellite SOS, and eSIMs, and they have a new A16 Bionic chip and come in "space black" (sigh), silver, gold, and "deep purple" (I fully support this color name).

A feature that I think is very cool and shows how great Apple can be at design is the new Dynamic Island approach to the front-facing screen's sensor/camera cutout. By revealing the screen behind at the top of the (now-smaller) notch and then working in a notification and control system on either side, Apple has taken what most would consider an unfortunate necessity and made it into something that disappears from being a distraction because of its renewed purpose. Well done, I say.
AirPods Pro

The redesigned AirPods Pro sport an improved H2 chip, get up to 6 hours listening time, and have (as might be expected) better sound quality and clarity, including much-improved noise cancellation. There's a new touch control on the side of each headphone to adjust volume, a fourth pair of extra-small ear tips to accommodate more people (I'm guessing younger people especially, given Apple's family focus), and a speaker on the MagSafe charging case to help make finding your AirPods Pro easier. In an unusual addition (that I'll be curious to try), you can also use your iPhone to analyze your head and air shape to create a customized spatial audio profile for your AirPods Pro.
Which of the new devices excites you most? Let us know on our social media feeds!