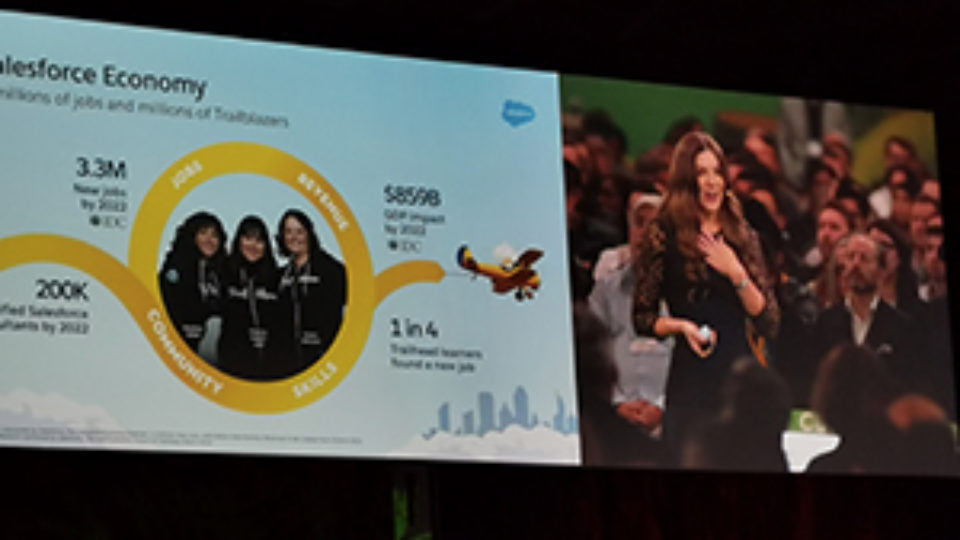 Salesforce World Tour: What I learned in Toronto
The Salesforce World Tour, which took place in Toronto on April 11th, was an incredible day filled with valuable lessons and insights. According to Salesforce Canada Country Manager Margaret Stuart, the objective of the Salesforce event is centered around sharing experiences related to B2B sales and marketing. Speakers and attendees have the opportunity to share their stories and experiences, so that others may apply the lessons learned to their own business endeavours.
Sessions included workshops on automation, email marketing, journey mapping, productivity, customer experience, growth acceleration, and more. In addition to the action-packed schedule,

participants at this free-to-attend event were also encouraged to engage with on-site businesses as part of the "Customer Success Expo & Campground" where they could chat with experts from Accenture, Box, Coveo, CloudSense, and Messagepoint – to name a few. For hands-on exhibits, MapAnything representatives shared how route optimization can save users headaches and improve field sales efficiency, and GetFeedback demonstrated how to measure customer loyalty and take action on survey feedback.
Keynote speaker Sarah Franklin, EVP and GM of Trailhead and Developer Relations at Salesforce, indicated that we can anticipate that the Salesforce economy will include 3.3m new jobs by 2022. Following her powerful message, I spoke with delegates and presenters to get their take on what else we'll need to know moving forward in the B2B sales and marketing space.
Some lessons incorporated values of social enterprise:
make time to mentor
set a goal, plant a tree
pack a hygiene kit, help those in need
Some lessons included how to succeed in 2019:
read one book every week
use your voice
get customer intelligence
Some lessons apply to all of us running businesses:
think globally, act locally
be ready for future technologies
foster a culture of learning
(And one lesson left me with the thought for food: There was a doughnut wall. 🤷)
In addition to traditional business exhibits, the Growing in Canada Grove activation encouraged attendees to "Tweet for a Tree." The grove served as a launch for Salesforce's Growing in Canada summer brand campaign with a fun and unique way to engage participation throughout the day.
I also met face-to-face with Vala Afshar, Salesforce's Chief Digital Evangelist, (video below) who shared the following advice:
Stay teachable
Adopt a beginner's mindset
Earn trust
Watch the full discussion below.