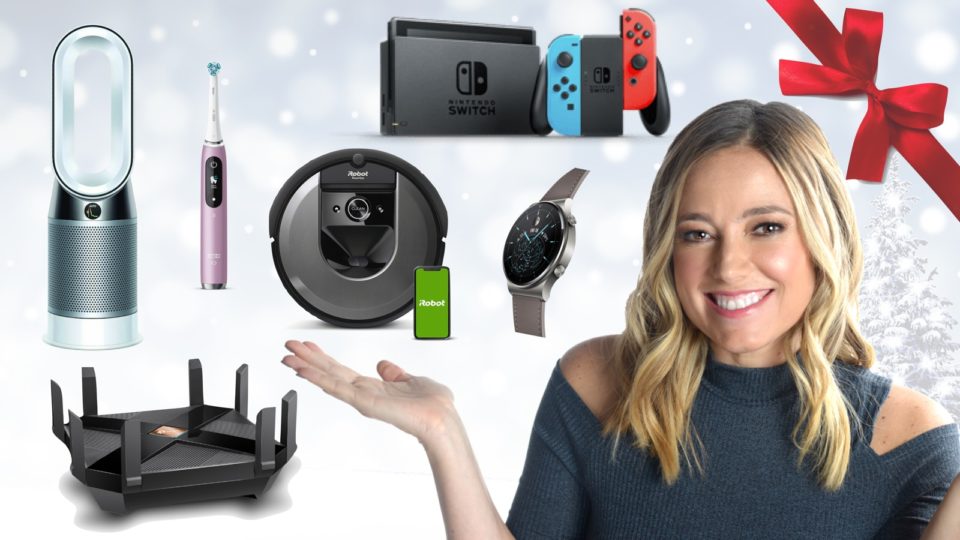 Smart Home Gift Ideas for the Holidays
by Amber Mac on November 9, 2020

The holidays are just around the corner, and we're spending more time in our houses this winter, so we've gathered together some great smart home gift ideas for you and your loved ones. Whether it's your mom, dad, siblings, or kids, we're sure you'll find something to love below.
Genius Vacuum: iRobot Roomba i7+ & the iRobot Genius Home Intelligence
The iRobot Roomba i7+ & the iRobot Genius Home Intelligence app learns your preferences and gets smarter over time. Also, the Clean Base Automatic Dirt Disposal takes cleaning to the next level – automatically emptying into an AllergenLock™ bag that holds 60 days of debris and traps 99% of pollen, mold, and dust mites.
Gaming Console: Nintendo Switch & Super Mario 3D All-Stars Game
The Nintendo Switch is a popular game system that is an excellent choice for the gaming family. You can play at home on your TV, or portably on the go. Also, check out the hottest new title: Super Mario 3D All-Stars.
Intelligent Toothbrush: Oral-B iO Power Brush
With many of us staying at home, Oral-B iO is the perfect self-care gift for your loved ones (or even yourself!) – brushing with this new brush gives you a professional-clean feeling at home.
It has a cute display screen, a smart pressure sensor that tells you if you are brushing too hard or just right, and uses AI technology to sync with your phone and let you know areas you might have missed brushing. Plus, it's available in different colours.
Powerful Router: TP-Link Archer AX6000
The TP-Link Archer AX6000 is the must-have router to remove wireless pain points in your home. This is the perfect product for gamers, streamers, workers, and anyone who needs reliable WiFi (let's face it – that's all of us!).
In short, give your latest Wi-Fi 6 gadgets the fastest and most stable performance. Plus, the Tether app gives you easy-to-use parental controls.

Smart Watch: HUAWEI Watch GT2 Pro
The HUAWEI Watch GT2 Pro features anti-scratch Sapphire glass, a lightweight titanium body, and a strong water-resistant ceramic case. The battery can last 2 weeks on a single charge (just amazing!). When working out at home, this is a must-own water-resistant wearable (iOS and Android) that includes 24-hour heart rate monitoring and 100 different workout modes.
eBay.ca Refurbished Tech: Dyson Air Purifier
EBay.ca is home to amazing tech deals for refurbished, factory-warranty items, saving you big bucks while reducing your environmental impact and giving new life to great quality products.
As one example of an eBay.ca refurbished gift for the home, the Dyson Pure Hot+Cool Air Purifier, Heater & Fan goes beyond standard tests by automatically sensing pollution, capturing ultrafine pollutants, and projecting purified and heated air. Tech gifts are a holiday season must-have, and this year more than ever, they're a great way to feel connected to distanced loved ones. 
We've got more awesome gift ideas on the way, so keep checking back in here at AmberMac.com and follow me on Facebook or Twitter for even more recommendations.