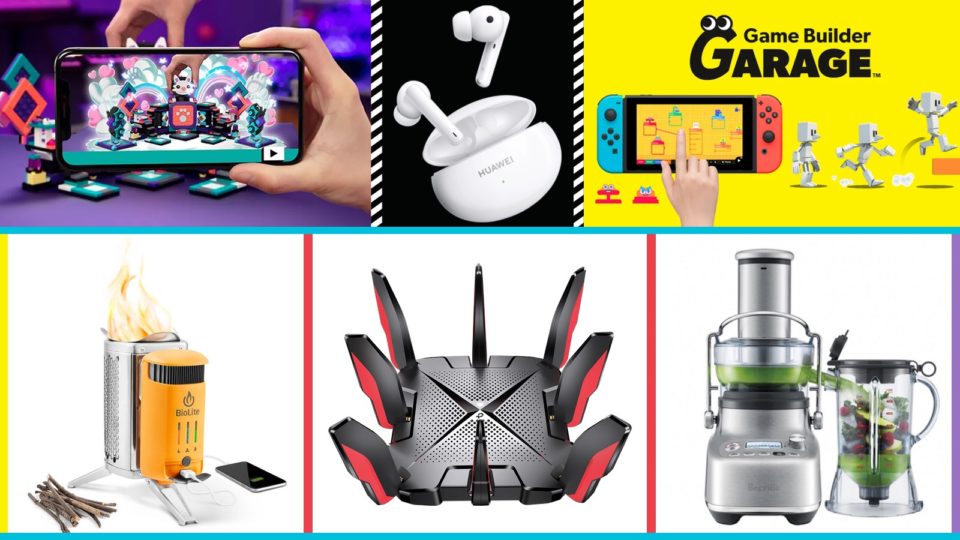 Summer Tech with Amber Mac: 6 Hot Picks
by Amber Mac on June 8, 2021
As the weather heats up, many of us are thinking about fun summer activities for the whole family. Here are a few of the hottest tech picks for all types of weather, starting with for the kids.

Create Your Own Video Games: Nintendo Game Builder Garage
If you want to keep your kids learning this summer, Nintendo Game Builder Garage is a great place to start. This game makes it easy to learn how to create (and share!) your own video game. The step-by-step lessons are easy to follow, making it accessible for all experience levels. Nintendo Game Builder Garage is available exclusively for Nintendo Switch.
Make Your Own Music Videos: LEGO VIDIYO Music Video Maker
Speaking of creativity and kids, LEGO VIDIYO Music Maker helps kids learn to direct, produce, and share their own music videos. Using the LEGO VIDIYO app, kids can scan a LEGO mini figure and add special effects so the character can come to life in a DIY music video. In August, there are eight new products coming to the LEGO VIDIYO line-up.
Get Pain-Free Streaming at Home: TP-Link Archer GX90 Wi-Fi 6 Gaming Router
With so many family members online, pain-free WiFi is a must this summer. To make your gaming, streaming, and working go smoothly, TP-Link has a new gaming router called the TP-Link Archer GX90. This router offers up greater capacity and low latency for game lovers in your house. Plus, it will allow you to have a dedicated gaming band so there will be no WiFi access competition between the gamers and streamers in your home. What does this all mean? You can finally remove those wireless pain points.
Make Cool Drinks With Kitchen Tech: Breville Bluicer 3X Pro
If you need to cool down this summer, consider the best in kitchen tech. The Breville 3X Bluicer Pro is 3 devices in 1. You can blend, juice, or do both! Basically, it's the world's most versatile blender, with healthy drinks top-of-mind. In fact, with Bluicing, you can add freshly made juices to your blended drinks (think summer daiquiris!). I also love the Auto-Clean feature for the Blender, so it's always an easy clean-up in the kitchen.

Exercise Outside with All-Day Music: Huawei FreeBuds 4i
Let's face it, it's easier than ever to enjoy all-day music or jump on a long work call. With the Huawei FreeBuds 4i, you can also work out with great sound outdoors and take advantage of 10 hours of continuous playback. If you do need to jump on a call on your morning walk, there is a dual-mic system so you can reduce outdoor wind noise. These earbuds also feature Active Noise Cancellation technology. Plus, just press one earbud to switch to Awareness Mode when you need to let in ambient sound and hear someone nearby.
Cook Outside with Clean Energy: BioLite CampStove 2+

If you're heading on a camping adventure, or just want to cook differently outside, the CampStove 2+ is a clean-burning and cool option. You can use wood or twigs to start your fire, so no need for gas canisters. The Complete Cook Kit also features a stove, kettle pot, portable grill, coffee press, and FlexLight. There is a rechargeable battery that can be charged at home or power it with your small flames. The display features your fan speeds, battery life, and fire strength. Plus, use the USB port to charge your phone so it's multi-tasking at its best.
Enjoy the launch into summer and let us know which products above you love on social!