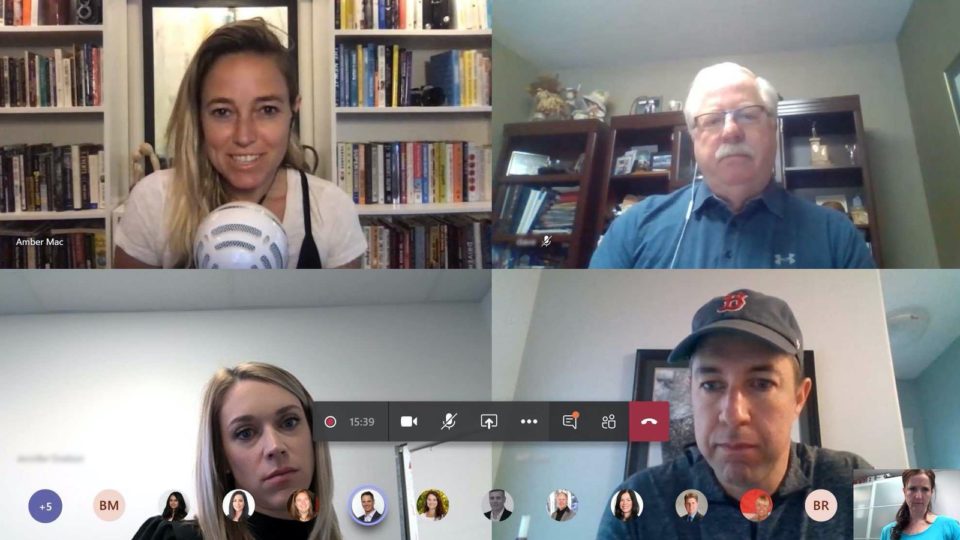 Video Conferencing Software Options During COVID-19
by Amber Mac on March 23, 2020
While the social distancing required by the coronavirus pandemic can be hard on people, we're lucky that we've got today's technology to stay in touch with friends, co-workers, and loved ones alike. I'll be writing more about video conferencing but to start with, here are a few options for you to try (or share with those you'd like to see on the other end of your call). [Psst. Check out our subsequent post on Video Conferencing Tips for Better Audio & Video Quality, too – your friends and co-workers will thank you!]
Simple Options for Families & Friends
When deciding on video conferencing options for you family and friends, it probably makes sense to consider what social networks they're part of (e.g. Messenger, WhatsApp) and/or what devices (FaceTime) or existing accounts (e.g. Hangouts, Skype) they have.
Facebook Messenger Video Chat
Free – Mobile & Web – More Info
Are you already on Facebook? Then all you have to do is log in, open Messenger, and select the Camera icon. It's easy for beginners and can handle up to 50 callers at once (but only 6 onscreen). There are also some neat camera effects and beauty filters you can use to spruce things up. Oh, and check for updates in Messenger app on mobile if you're having issues.

Apple FaceTime
Free – Mobile, Web & Desktop – More Info
Apple's FaceTime is built into its phones, tablets, and computers, so it's a natural if everyone you're dealing with are Apple users. It's also very easy to use and can handle up to 32 video callers at once.
Google Hangouts
Free – Mobile & Web – More Info
Do you have a Gmail account? Well, Google Hangouts has been around a while now and you can start a chat right from inside Gmail (or using a Google Calendar invite, or a few other ways – see More Info above). You can easily send a link to anyone you want to add to the call and it can handle up to 25 video callers simultaneously.
Skype Video Calls
Free – Mobile, Web & Desktop – More Info
Skype is probably the grand-daddy of this list. It can handle up to 50 video callers at once and you can even blur your video background if it's messy. Plus, it makes it easier to record video calls (in short, a helpful feature for 1:1 interviews).
UPDATE: Skype recently introduced a new feature called Skype Meet Now (no download required for guests). As the company explains, "You'll get a call link and a Share invite button to easily to invite others. Once you're ready, set your call to audio or video and select the Start call button. You can also create a meeting directly from the web." Here is a thorough comparison of Skype Meet Now vs Zoom.
WhatsApp
Free – Mobile – More Info
This one is mobile-only, but WhatsApp has such a big base of users that I wanted to include it as well. This (now) Facebook property can handle up to 4 video callers at a time, so it's better for smaller groups and one-on-ones.
Advanced Options for Working at Home
Working from home when you're part of a team can be challenging. If you've already had to overcome this challenge prior to the coronavirus pandemic then your organization probably has a go-to platform. If not then here are a few you might want to consider.
Zoom
Zoom has been getting a lot of press lately as one of the more common large group platforms for video chats. It's got cool features like polling and virtual backgrounds (depend on your device) plus lets you share files and much more. Please note: there are security precautions you can take to ensure you're not a victim of Zoombombing. More here from WIRED.

Microsoft Teams
If you're using Microsoft Teams then it's almost certainly because your work has adopted it, but that doesn't mean it's not a solid platform. It's a paid platform (~$10 and up per user per month) as is typically bundled in with a bunch of other Microsoft products. Online meetings (audio, video, and web conferences) can happen with anyone and include features like meeting recording, note taking, and more.
Slack
We use Slack messaging for work, but did you know it also does video conferencing? You can use Slack Calls with video or audio, but note that the people involved need to be part of your workspace, so this can be limiting.
BlueJeans
Finally, I wanted to mention BlueJeans Meetings. BlueJeans is available for Windows, Mac, Linux, iOS, and Android, and works on all major web browsers, so you've got a lot of options device-wise. For $10 and up (only the host needs to subscribe), you can have up to 50 (on the lowest plan) participants, unlimited meetings, video pinning (great if you want to stay focused on a single speaker for a while), and hours of meeting recording. Higher priced options even include third-party integrations for Slack and Microsoft Teams.
Which of these do you use? Let us know on social if we missed any great options – and stay safe out there! Want something fun to play on a video conference? Try our free TRIVIA: Video Conference Edition suggestion.