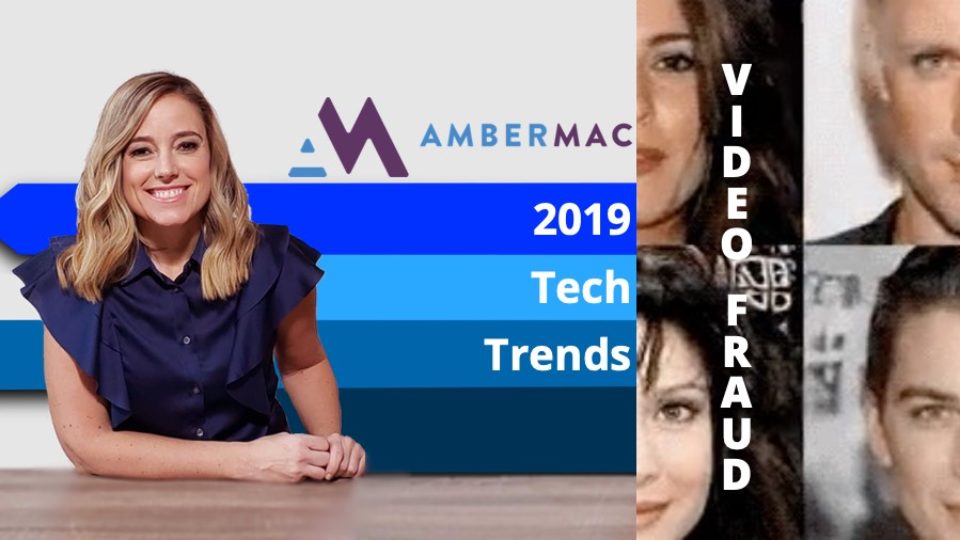 Video Fraud (AmberMac 2019 Tech Trends 5/5)
by Amber Mac on January 14, 2019
Welcome to 2019 (and thank you for all your support in 2018). To kick off a new year, I'm sharing a mini-series of posts covering my top 5 tech trends – these trends will affect the way we work, live, and play.
One of the most frightening examples of video fraud today is deepfakes. As The Verge explains, "although the term was originally only applied to pornographic fakes, it was quickly adopted as shorthand for a broad range of video and imagery edited using machine learning." Actor Scarlett Johansson, who is often target of online users who insert her face on porn star bodies, recently declared to the Washington Post that "the internet is a vast wormhole of darkness that eats itself." That's one way to describe what is perhaps one of the most troubling video trends of the future.
We are already living in a post-truth world, but as video manipulation gets more accessible to even non-technical users, we're destined for video fraud that targets not just celebrities, but also high-profile politicians, business executives, and anyone in the spotlight. Eventually, these fake videos will get into our newsfeeds and dupe millions of online users who are seeking out (and sharing) information that supports their views.
We first saw deepfakes put into the spotlight when Buzzfeed posted an article in the spring of 2018 with the sub-heading, "You're looking at the future of fake news and propaganda". Within the post they embedded a video featuring actor Jordan Peele putting words into President Barack Obama's mouth using a couple of different types of technology, including the FakeApp (which is most often used to target celebrities such as Johansson). While this trend does signal the alarms, there is a tiny bit of hope for truth. Law enforcement and technology experts are working on new solutions to detect deepfakes, but, if the darkness of the Internet tells us anything, it's that the fraudsters are often one step ahead in their wormhole.