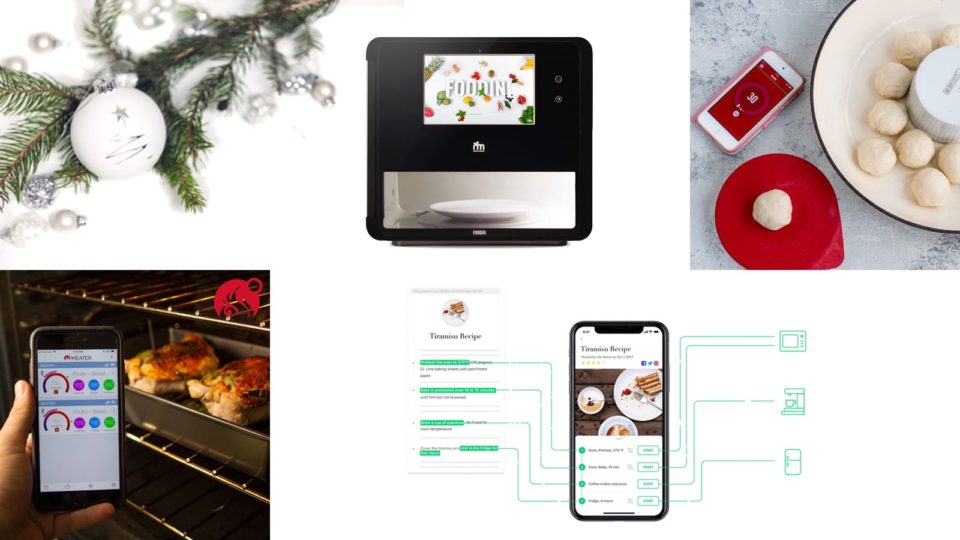 Your Smart Kitchen for Holiday Meals
by Amber Mac on November 26, 2018

The holidays are about coming together with family and friends to celebrate the season and, for most of us, to enjoy some delicious food. As much as we all love to indulge in the piles of shortbread or an extra scoop of mashed potatoes, wouldn't it be nice if preparing the food was as simple as eating it? Luckily, our kitchens are growing smarter by the day and there exists some very cool contraptions to help you on your way to culinary success this holiday season.
The Drop Scale and App
They say that baking is a science and precision is key. Get the drop on your pecan pie bake-off with The Drop Scale and App. While at its heart The Drop is a heat-resistant scale, when paired with its partner app, it can provide users with an interactive walk through hundreds of recipes. The Drop app also includes a number of bonus features such as Recipe Rescaling and Ingredient Substitutions to ensure the best results while using the items you have on-hand.
Meater Smart Thermometer
Nobody asks Santa for dry turkey! The Meater Smart Thermometer will help you get the best cook on your meats this holiday season. More than just a meat thermometer, Meater offers enhanced technical support. Pair with your smartphone, computer, or Amazon Alexa and you can monitor your cook as you go about your day. So, trim your tree and wrap your presents because Meater will let you know when your food has reached its ideal temperature for the perfect roast beast even a Grinch will enjoy.
Chefling UltraConnect AI Powered Kitchen Assistant

Sure your adorable niece may be keen to help out but until she's old enough to read a recipe, the Chefling UltraConnect is here to serve as your seasonal sous chef. The UltraConnect serves as the ultimate bridge between your smart appliances and your favourite recipes. By identifying and connecting with the appropriate kitchen appliances, UltraConnect will take the recipe reigns and automatically coordinate settings and instructions. No need to check your list twice – this app will check it for you, including pre-heating your oven, setting the timer, and more.
Foodini Food Printer

What's better than a tray of cookies, freshly baked? How about a tray of perfectly precise, identical cookies, freshly printed? That's right. Save yourself from tedious hours of rolling, shaping, and icing your goodies with the help of Foodini, the 3D printer that freshly prints food. Foodini can print onto any flat surface and comes pre-loaded with shape libraries as well as the applications to create your own. Design on your tablet before heading to the kitchen to set Foodini to create an array of delicacies. The mechanism works by pushing food from capsule to nozzle as it prints your desired dish. The precision control allows for accurate shapes to be stacked in layers for true 3D food creations for the most high-tech holiday meal.
What are the favorite tech helpers in your kitchen? Let me know on Facebook or Twitter!