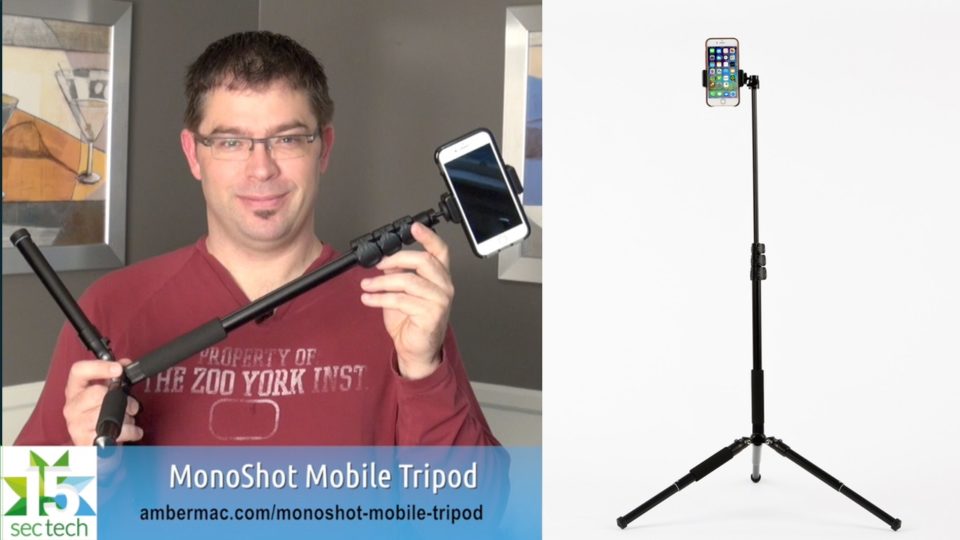 MonoShot Mobile Tripod
The MonoShot is an incredibly handy piece of equipment to really transform your mobile photograph and videography work. MonoShot is super portable at 1.9 lbs and a folded-up length of only 19.5″, and it's essentially three key components:
a sturdy tripod bottom with telescoping legs and four different positions to get the stability you need;
a telescoping monopod with convenient grip that, if you leave the tripod on (which also has a grip on one of its legs), reaches almost 6 feet (but you can detach it completely from the tripod for a more conventional monopod); and
a spring-loaded universal smartphone mount with a swivel head so you can use it in portrait or landscape (or anything in between) – you can even put the smartphone mount directly onto the tripod bottom to create a handy mini-stand!
The MonoShot also includes a zippered canvas case for when you're on the go, a Bluetooth shutter remote for when you can't directly click your phone, and even a spike mount for the monopod if you want to use it in soft surfaces like sand, snow, or grass. The MonoShot costs $59 and they've got new stock coming in for the holidays, so order yours now at MonoShot.co!