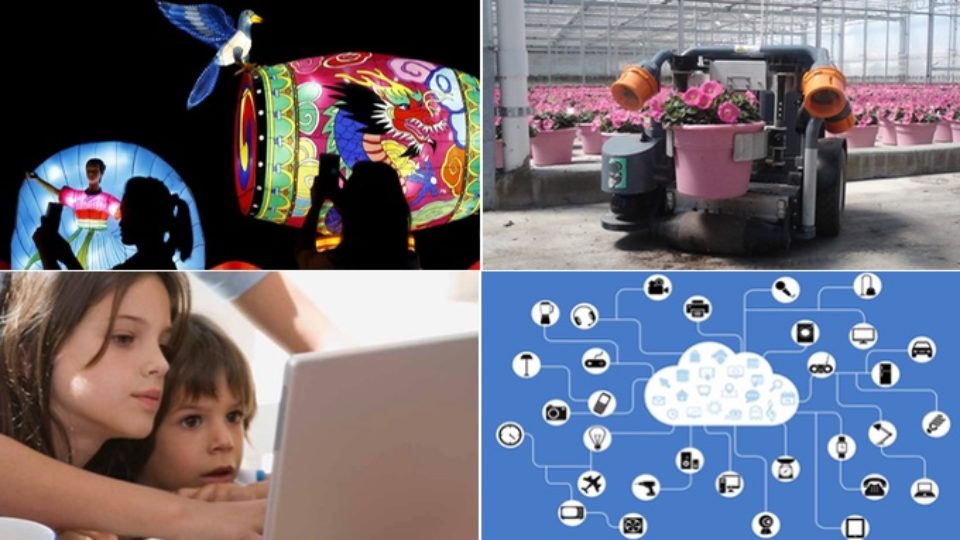 4 Tech Trends to Watch in 2017
by Amber Mac on January 19, 2017
"If we look at the life cycle of technologies, we see an early period of over-enthusiasm, then a 'bust' when disillusionment sets in, followed by the real revolution" – Ray Kurzweil
When I moved to work in San Francisco in the late 1990s, I experienced the dot-com boom's inflated tech enthusiasm (as an early Razorfish employee, this materialized in the form of excessive parties, overpaid people, and frivolous spending), quickly followed by the 2000 stock market crash (leaving the web design agency worth a small fraction of the $4B it was valued at just months before), and then the real Internet revolution began (in 2004, we saw the launch of tech giants such as Facebook).
Just last year, digital disillusionment set in once again thanks to a few high-profile tech fails (including the proliferation of fake news online, the explosive fate of Samsung's hottest smartphone, and US election hacking allegations). While these events mark micro busts in the life cycle of technology, we are inevitably lunging into a real revolution thanks to (among other things):
a surge in companies supporting social entrepreneurship;
an emerging generation of digital-first thinkers;
the rapid rise of artificial intelligence; and
the maturation of the Internet of Things.
These four trends will affect you in numerous ways, so let's take a look at each below.
1. Social Entrepreneurship Drives Business Growth
According to the The Schwab Foundation for Social Entrepreneurship, "A social entrepreneur is a leader or pragmatic visionary who: Achieves large scale, systemic and sustainable social change through a new invention, a different approach, a more rigorous application of known technologies or strategies, or a combination of these." While we see plenty of socially-driven companies in today's start-up world, we're also seeing a number of established businesses define success in the context of giving back to communities. This past November, Patagonia (a planet-first company) announced it would donate 100% of its Black Friday retail sales revenue to "grassroots organizations working to create positive change for the planet in their own backyards." In total that day, they donated $10 million dollars.
This fall, I hosted a Facebook Live series for retail giant Shopify. What struck me about the entrepreneurs that we interviewed was their unrelenting desire to ensure that their businesses make the world a better place. Jessica Sanchez, founder of jewellery company Santa Isla, is just one example. "We work with a small group of Embera artisans, providing them a source of income and an opportunity to showcase their art to the world." Sanchez's mission is to help these communities thrive. All of the founders I interviewed, mostly millennials, define their companies as purpose-driven entities.
The Quote: "Humanity's greatest advances are not in its discoveries, but in how those discoveries are applied to reduce inequity." -Bill Gates
The Read: The Best Place to be a Social Entrepreneur
2. Generation Z Emerges to Improve the World
Generation Z is wary of brands, committed to social change, and adept at filtering content. The New York Times noted that, while millennials have been dominating headlines for a few years, this growing group of youth born from around 1996 (ages ranging from 5-21 today) will steal our attention in 2017. "At approximately 60 million, native-born American members of Generation Z outnumber their endlessly dissected millennial older siblings by nearly one million, according to census data compiled by Susan Weber-Stoger, a demographer at Queens College."
When reading about this generation, we learn they are passionate about pursuing careers that allow them to give back to their communities and causes that they care about. While many of them are still in high school, they are starting to make decisions about where they will go to college and what type of work they will pursue. In a study on this next generation called Rogue One: How Generation Z is Going to Bring Balance to the (work)Force, it explains that the majority of Gen Z workers want a physical workspace (57%) combined with the ability to work remotely (48%) and have flexible hours (73%). It also suggests that this group will place a growing importance on face-to-face communication, unlike many millennials who prefer digital communication.
This is also a creative group, preferring to upvote how-to content on YouTube and to create lip-syncing videos on Musical.ly. Their digital habits almost entirely shape who they are, an important differentiator for both marketers and employers (and even parents!) to understand. As noted in Fast Company, "On a personal level, Gen Z seek immediate validation and acceptance through social media, since that's where all their peers are and where many of the important conversations happen. They create different social media personas in order to please each audience and minimize conflict or controversy." Generation Z chooses to support people who influence them online and to highlight causes that promote more equality in the world.
The Quote: "Despite their youth, the digitally sophisticated, socially conscious high achievers emerging from this group are causing some people to wonder: Is this the generation that will solve the world's problems?" -Shelley White, The Globe & Mail
The Read: The Next Big Disruptor: Generation Z (E&Y)
3. Automation Disrupts Powerful Industries Worldwide
Autonomous trucks carry our transport. Chat bots answer our customer service inquiries. Factory robots assemble our e-commerce shipments. They are all part of a growing trend of automation, powered by artificial intelligence. According to a recent study by consulting firm McKinsey & Co. "the 'automation bomb' could destroy 45% of the work activities currently performed in the United States, representing about $2 trillion in annual wages."
The inevitable downside of technology is that we are forced to adapt and change. While an insecure job market is certainly worrisome, automation offers cost savings and productivity increases that will ultimately attract more businesses and consumers. As a result, there will be many jobs on the endangered list. Within this job uncertainty, there lies opportunity, but this can only happen if we are aggressive in terms of properly training the next workforce.
As related on CNBC, "The question that politicians should be discussing now is what kind of education is needed to stay ahead of automation, or more likely, to complement technology. Previous changes in the nature of work all required massive policy shifts in education. Universal high school started at the beginning of the 19th Century in the move from the farm to the factory. The move from the factory to the office in the 1960s and 1970s required education after high school and began the universal college movement."
If we look at one of the simplest forms of automation, namely chat bots, we can already see a growing number of start-ups specializing in this area. Take SnapTravel, for example. This service lets you easily book a hotel using a half-bot, half-human system that is accessible on Facebook Messenger, text message, and even Slack. Not only does it easily allow you to get a hotel deal, but it also requests an upgrade. Check out Venture's outline of almost 200 up-and-coming bot companies that have received a total of $22B in funding for more info.
The Quote: "The Robotics Revolution promises a host of benefits that are compelling (especially in health care) and imaginative, but it may also come at a significant price." -RobotEnomics
The Read: Future of Artificial Intelligence, Robotics, and Jobs (Pew Internet)
4. Internet of Things Shifts Towards Mainstream Adoption
The Consumer Electronics Show (CES) in Las Vegas celebrated its 50th year this year and, as The Washington Post pointed out, Internet of Things (IoT) innovations once again stole the show: "Samsung has already teased a robot vacuum cleaner that will work with Amazon's Alexa so you can clean up using just your voice. Whirlpool is touting a smart garbage can that can compost your trash in one day. Lightbulb company Sylvania announced a smart lightbulb that won't require its own app to work, but will instead integrate completely with Apple's Siri and Home app."
While it's easy to see the wow factor in these many products, it's the data they're collecting that is worthy of our attention. These products, and others, can accurately inform us about everything from how much energy we are using to how much waste we are producing. At an enterprise level, the case for Internet of Things adoption is even more impressive (allowing for better efficiencies across many industries). In short, data is at the core of why IoT matters. However, we are still slow to figure out what to do with all this information. As reported by McKinsey, "in the oil-drilling industry, an early adopter, we found that only 1 percent of the data from the 30,000 sensors on a typical oil rig are used, and even this small fraction of data is not used for optimization, prediction, and data-driven decision making, which can drive large amounts of incremental value." This explains, in part, why there is a growing demand for big data analysts.
While those jobs will be filled, we still face another issue with the proliferation of IoT. Research firm Gartner predicts that the number of IoT devices will grow from 6.4 billion today to nearly 21 billion in 2020. With this growth comes significant security threats (e.g. one of the first large-scale attacks happened in October 2016, with "a botnet leveraging unprotected Internet of Things devices" was partly responsible for bringing down websites including PayPal, Twitter, and Netflix). While these headlines might scare you away from connected devices in your home, you will have a hard time getting away from sensor-driven devices that will ultimately run our cities and our businesses (and provide solutions to everyday problems such as traffic congestion and agriculture inefficiencies).
The Quote: ""[T]he Internet will disappear. There will be so many IP addresses, so many devices, sensors, things that you are wearing, things that you are interacting with, that you won't even sense it. It will be part of your presence all the time. Imagine you walk into a room, and the room is dynamic. And with your permission and all of that, you are interacting with the things going on in the room." -Eric Schmidt, Google chairman, on a panel at the World Economic Forum
The Read: The Internet of Things Heat Map (Forrester)
Of course, one of the wonderful things about the tech industry is how fast things change, but while these might not be the only trends to dominate 2017, they are definitely four to watch!
A version of this post was first published in my January 3, 2017 newsletter – find out more at AmberMac.com/newsletter!