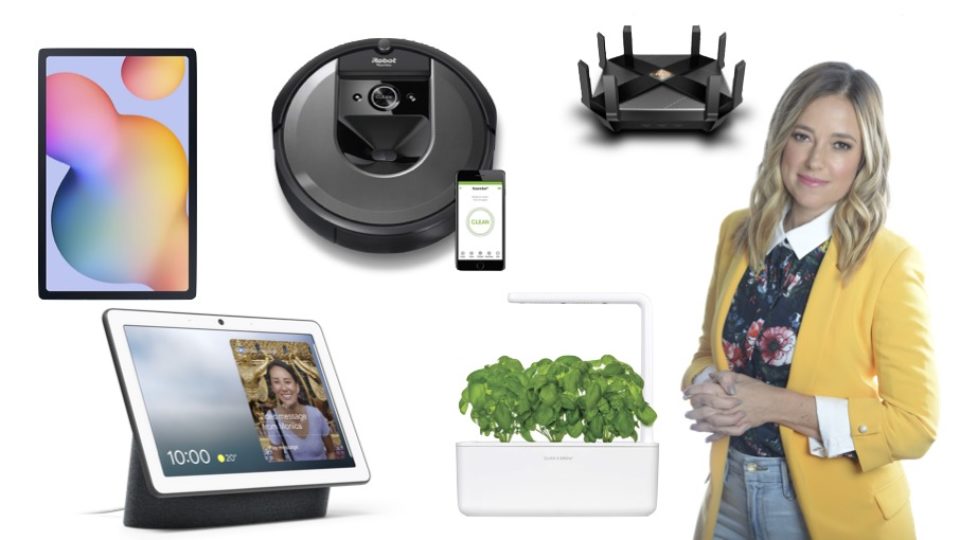 5 Mother's Day Tech Ideas for Life at Home
Mother's Day 2020 might look a little different than some years, but that doesn't mean you can't find some great tech gifts for the mom in your life. Check out five products I love below (and scroll to the bottom to see our AmberMac Mother's Day Tech 2020 video).
Click & Grow Indoor Garden
Starting at $99.99 – available BestBuy.ca (including store-front pick up at most Best Buy retail locations)
Nothing beats fresh food, so make it easy for your mom with this amazing smart garden. With over 200 plants and herbs available, this innovative self-growing garden uses built-in sensors and special Smart Soil to make your job easy.

Samsung Tab S6 Lite
Starting at $429.99 at Samsung.ca
The Samsung Tab S6 Lite is a gorgeous tablet that's available in three different colours (grey, blue, and pink) and includes a matching S-Pen (and optional Book Cover). The S-Pen snaps magnetically onto the side of your tablet, making for easy storage, and the tablet has a built-in web cam that's great for video chats with friends and family using Google Duo and other services. Your mom can even take calls and send and receive text messages through her Samsung account on the tablet – even when her smartphone in another room.

iRobot Roomba i7 Robot Vacuum
Starting at $549.99 from iRobot.ca
Did you know that the average person spends 122 hours each year vacuuming? Find some better ways to spend your time and let the iRobot Robot vacuum do the dirty work. It sucks up dirt, hair, and other debris and even has a filter to capture pollen, and it uses Imprint Smart Mapping so that it can tell your kitchen from your living room. Want to make mom even happier? Pick up its cute cousin, the iRobot Braava Jet Robot Mop for an even cleaner home.
TP-Link AX6000 Wifi6 Router
Starting at $399 at TP-Link.com/ca
You may not think much about your home's router, but with so many devices online these days, it pays to get the right tech. The TP-Link AX6000 Wifi6 Router removes all your wireless pain points and gives each of your connected devices their own fast last so there's no lag, buffering, or other issues when everyone in your house is online at the same time. It even has advanced parental controls within the associated app, so you can set things like access to certain devices for your kids so that you know they're, for example, working on school stuff when they should be.
Google Nest Hub Max
I've loved Google's smarthome products for a long time now, and the Google Nest Hub Max may be my favourite. It's got a nice HD screen, so it's great for watching YouTube videos and displaying family photos, plus it's got a built-in video camera, so you can even use it for making video calls. Whether she uses it as a digital picture frame, a virtual sous chef, her personal DJ, or with over a thousand available apps, you can bet your mom will love it.