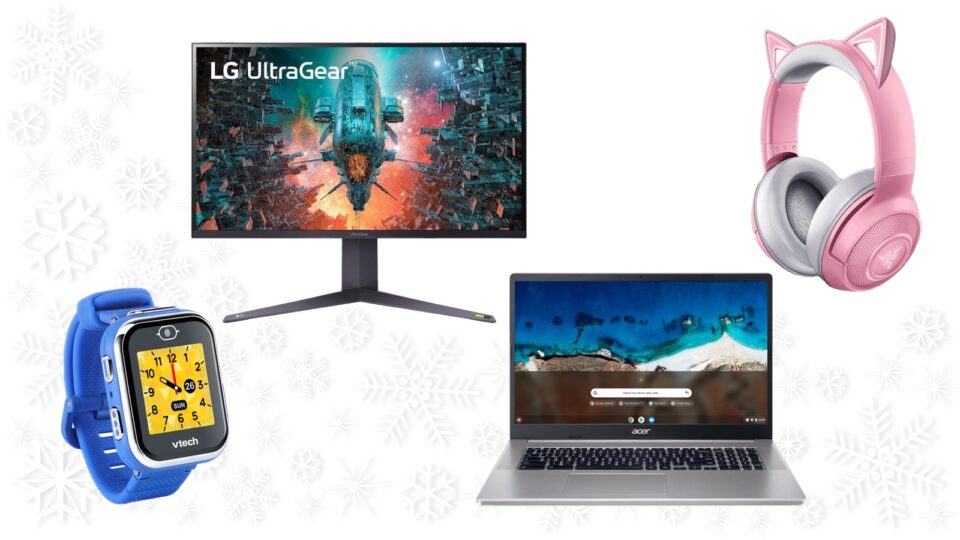 Affordable & Adorable Holiday Tech Gifts for Kids
by Amber Mac on December 1, 2022
The holidays are just a few short weeks away. If you're looking for the perfect gift for the kid on your list, here are four affordable and adorable ideas that I love both as a mom and a tech expert!
For the Kid Creator: Smartwatch
The Best Buy Canada Holiday Gift Guide is a great place to find gifts for the holidays and beyond. One of my favourite picks for kids ages 4+ is the VTech Kidizoom DX3 Smartwatch with camera, which includes 50 animated clock faces, dual camera with filters for funny effects, and a school mode so kids don't get distracted while in class. Even better, Best Buy Canada makes shopping easy with store pick-up in as little as one hour after ordering online at a store near you.
For the Savvy Student: Everyday Laptop

The Acer Chromebook 317 is the ideal everyday laptop for teens. Featuring the easy-to-use Chrome OS, you can use your favourite apps, stream videos, and do homework. It features a beautiful 17.3-inch full HD display, which is great for watching YouTube videos or their favourite TV shows. This Chromebook's battery life will last for up to 12 hours on a single charge. Plus, it comes with built-in virus protection (which parents will love)!
For the Stylish Streamer: Wireless Headphones

Razer is one of my son's favourite lifestyle gaming brands. The Razer Kraken BT Kitty Wireless Headset is the perfect pick for any gamer on your list. This wireless, Bluetooth headset features adorable custom kitty ears and RBG lighting to make them your own with 16.8 million colours options. While gamers will love this headset, it's also a great gift for any teen on your list who loves tech.
For the Teen Gamer: External Monitor

For the gamer on your list, the LG 32" UltraGear ™ UHD 4K Gaming Monitor is the ultimate addition to their set-up. Thanks to LG's Nano IPS technology, you get true-to-life colour, making it a more lifelike gaming experience for your teen. The monitor is also equipped with a fast speed of 144Hz, allowing for gamers to have rapid response time, putting them at an advantage to their opponents. Also, let's take a minute to appreciate the stunning gamer-centric look with new hexagon lighting and a 3-side, virtually borderless design.
I hope you find some great gifts from the list above and happy holidays to you and yours!
Thank you to our brand partners: Best Buy Canada, Google, Razer, and LG.