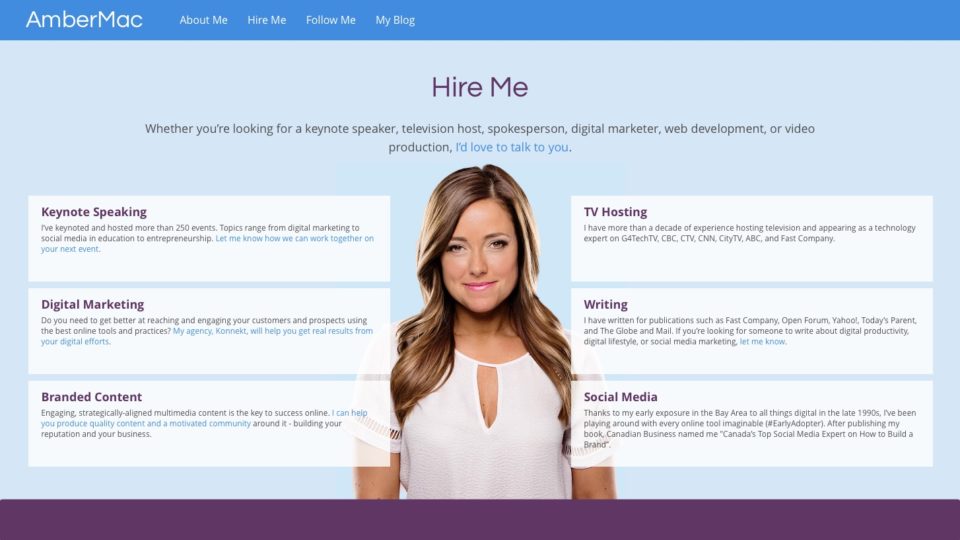 AmberMac.com v2015
by Amber Mac on January 1, 2015
It's been a long time since I launched my first website back on Blogspot in 2004; since then, I've always loved the process of building something online. In fact, in 1999 when I worked at Razorfish San Francisco, I clearly remember the excitement in the room when we'd go live with a new online property. Over the past decade at my agency Konnekt, we've launched dozens of websites. Every couple of years I get an itch to improve my own site, recognizing that design and development work on today's modern web can quickly feel outdated. This week, I'm proud to announce the re-launch of AmberMac.com.
My friend Tony Schibono helped with some core design work and photographer extraordinaire Denise Jones did all of the headshots, and then the Konnekt team took those elements and built something fast, fluid, and functional.
The new design is clean and compact and looks great on mobile devices, which is a big priority for me. As important, it's in a form that can evolve gracefully over time (we've already got a list of additions for the next release) and that reintroduces a blog into the mix for me (and I can't wait to start writing here).
Later this year, I'm looking forward to adding a major new component to my web presence that I can't wait to share with all of you, so feel free to sign up below for occasional updates if you want to stay in the loop!