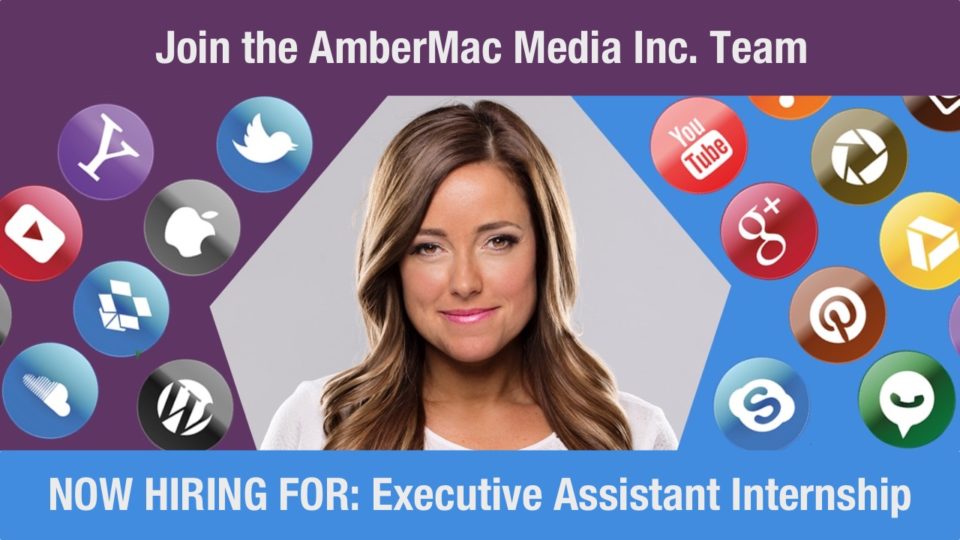 AMMI Executive Assistant Paid Internship Position
by Amber Mac on January 26, 2018
The AmberMac Media Inc. Executive Assistant Internship is an exciting, challenging, and career-building half-time (~20 hours/week, though varying from week-to-week) paid entry-level position that will develop key skills and provide essential experience for the successful applicant. The key aspects of this job are (in order of time spent):
providing direct support and other services to Amber Mac herself (which may include everything from helping Amber at Toronto-area events; to snapping casual photos for social media; to handling pickups, mail deliveries, and other casual tasks related to AMMI)

this will usually be the majority of your hours spent on this job

working with AMMI's Director of Marketing to help with social media management, content development, and other digital marketing tasks

these will be regular tasks that can be conducted anywhere the successful applicant has an internet connection and a place to work

assisting AMMI's Director of Production on occasional video shoots

this will be occasional on-location work in the Toronto area

helping provide AMMI's remote Bookkeeper with scans of receipts, documents, etc.

these tasks will typically be conducted at the AMMI office in Toronto
Since hours of work will vary considerably based on Amber Mac activities, time tracking will be done through Freshbooks and trip tracking for vehicle use conducted through a mutually-agreeable software solution. There will be an initial 8-week probationary period for this position. A confidentiality agreement must also be signed.
Location: Toronto, Ontario
Required Experience/Skills/Fit
We're looking for energy and enthusiasm balanced with discipline, professionalism, and hard work. Someone who enjoys what they do and is excited about learning taking things to the next level with this unique opportunity. Specifically you will need:
University degree or college diploma in digital marketing, public relations, communications, or similar training – We're happy to do training in various areas, and see that as an important part of our job, but we also need someone who has some existing expertise in the areas we deal with every day.
Professionalism – You'll be representing AMMI and Amber Mac in various ways, and we need you to be well-spoken, well-dressed, on-message, and on-time.
Excellent written communication skills – In addition to being well-spoken, you will need solid writing skills in this role, as you may be asked to proofread copy, write blogs posts, make social media posts, and more.
Interest in photography –  You'll be taking a lot of photos in this role, and whether you have existing skills or you need some training from AMMI, it's important that you are interested in capturing great images.
Valid driver's license – You'll also need a valid driver's license and to be comfortable driving an AMMI vehicle in downtown Toronto from time-to-time to do the occasional pick-up, drop off, or similar tasks. If you have access to your own vehicle that you can use for this work then please let us know in your submission.
Located in Toronto area – While some parts of this job can be done remotely, there are many tasks that you'll need to be directly on-hand to complete in Toronto, so only applicants in the GTA will qualify.
Driving record check – For insurance requirements related to use of the AMMI vehicle.
Are You A Great Fit?
Please submit a (minimum 250-word) cover letter detailing why you think you're a great fit for this position, along with an up-to-date resume with your experience, education, contact information, and other details outlining what you would bring to this role. Combine these two items into a single PDF file and email with the subject "AMMI Executive Assistant Internship Position" to jobs (at) ambermac (dot) com. We will invite successful applicants to proceed to the in-person interview via email on or before February 15, 2018.