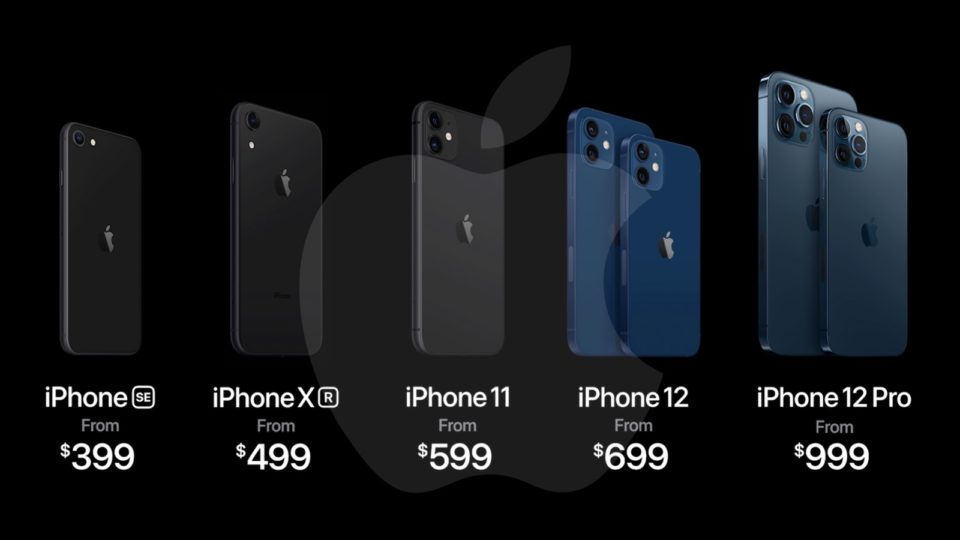 Apple October 2020 iPhone 12 (+ HomePod Mini) Event
Apple's October 13, 2020, event took a slightly different form than usual, with the opening focusing on the smarthome-capable HomePod Mini before continuing on to cover the four new iPhone 12 models. I'll note here that the new iPhones are all 5G capable, but since few of us currently have access to 5G networks, let's just leave it at that.
What do all the new iPhones have in common?
All of the new iPhones are 5G capable, which means very fast data transfers. Verizon took to the stage early on to announce they're launching their 5G network nation-wide in the US, but a lot of people will not be so lucky. That said, unless you're remotely playing the also-announced League of Legends Wild Rift iPhone game or looking to share some of the very high-quality video these devices are able to capture, you probably won't miss much (until you someday get 5G, at which point you'll never be able to go back – ah, technology).
They all also have improved, edge-to-edge OLED "Super Retina XDR" displays that use Apple's new Ceramic Shield technology, which results in four times better "drop performance" (i.e. the screen is much less likely to smash when you drop it), so that's great – and also fits in well with the new MagSafe addition we'll discuss below. Finally, all models use the new A14 Bionic chip, which is very, very fast and capable of doing some really amazing things with machine learning.

But by far the coolest thing all of these iPhones have in common is the new MagSafe integration. This is a magnetic system built into the back of the iPhones that will not only enable them to wirelessly charge more effectively (with the magnet helping to centre the phone properly on many Qi chargers), but also unleashes a whole new mini-ecosystem of iPhone accessories that attach to your phone solely through the magic of magnets. This includes new cases (which nicely don't have to be removed for contactless charging), a wallet 'pocket', a charger, and the long-awaited and (possibly renamed) AirPower charging mat for iPhone and Apple Watch. Expect non-Apple manufacturers to quickly jump on the bandwagon (Belkin has a couple of new ones ready to roll, including a car mount and a multi-charging pad) and we're excited to see what they come up with.
Apple has also announced that they will no longer be including a power adapter and EarPods in these or future iPhones (they do include the fast-charging USB-C to Lightning cable, though). This lets them shrink the packaging and reduce waste ("carbon savings equal to 450,000 fewer cars on the road per year", so that seems reasonable).
What are the differences between the iPhone 12 and the iPhone 12 mini?
Remarkably, absolutely nothing except for the display size (6.1″ vs. 5.4″) and the price ($799 vs. $699 USD for the entry models) differs between the iPhone 12 and iPhone 12 mini models. Both use "aerospace-grade" aluminum edges that wrap around the phone as part of their new design, and both have improved dust and water resistance, with an IP68 rating (meaning they can be submerged to a maximum depth of 6m/20′ for up to 30 minutes.
Both also have improved cameras (the same for each, with a 12MP Ultra Wide camera and a new Wide camera, plus the ability to shoot HDR video with Dolby Vision) with Night mode (including 27% improvement in low light and Night mode time-lapse) and both are available in blue, green, black, white, red, and the new "Pacific Blue". Pre-orders for the 12 start October 16 (available October 23) and for the mini November 6 (available November 13) .
What about the iPhone 12 Pro and Pro Max?
It shouldn't take much more than a look at the relative price tags (which are unchanged from the iPhone 11 Pro/Max versions) to see that the Pro versions of the new iPhone have some extras that the 12 and 12 mini are missing. For example, the aluminum edges are replaced by a surgical-grade stainless steel design that's available in silver, gold, graphite, and Pacific Blue. The iPhone 12 Pro has a 6.1″ screen size (same as the iPhone 12) but the iPhone 12 Pro Max has a 6.7″ screen – the largest ever in an iPhone.
The Pro cameras are also incredibly impressive, with Wide, Telephoto, and Ultra Wide (with a 120-degree field of view!) lenses, which means these phones can optically zoom up to 2.5 times. They also have all the abilities of the lower level phones and more, including an 87% low light improvement (because of a larger sensor and bigger pixels) and "sensor-shift" optical image stabilization (which moves the whole chip instead of just the lens). In a gift to professional photographers, Apple has also introduced the Apple ProRAW file format, which allows for the quality of RAW photographs with the flexibility of being able to access and modify complex photo elements that are created during capture.

Perhaps the most surprising addition (well, there was a leak, so not THAT surprising) is the addition of LiDAR sensors to the Pro lineup. This not only enables some incredibly improved AR abilities, it's used for very cool purposes like detecting where the focal point should be in a low light photograph to improve response time and picture quality. Pre-orders for the iPhone 12 Pro begin October 16 ($999 and available October 23), while the iPhone 12 Pro Max will be available for pre-order on November 6 ($1099 and available on November 13) – which parallels the availability of the 12 and 12 mini, respectively. Both Pro models now ship with a minimum of 128GB of memory (twice the former level).
So there was also some smarthome stuff?

There was really just one other product announcement – the new HomePod mini – but it was interesting to see Apple open its event with this and then focus intently on the smarthome experience, so I'm hoping we'll see even more in this area. The HomePod mini is a smart speaker and little brother to the full-sized (and much more expensive, at $299 vs. the mini's awesome $99 price tag) HomePod, and while it has a more globular 3.3″-tall form factor, the acoustic mesh and touch-screen controls will be familiar to anyone who has had the pleasure of owning the full-sized HomePod.
The HomePod mini delivers 360-degree audio and two of them can be combined to create a stereo pair (i.e. assigning one speaker as the left and one as the right). Apple has added a great new feature called Intercom, which allows you to talk through one or more of the HomePods in your house, and – in an extension that it's hard to see anyone but Apple being able to pull off – even extends this walkie-talkie-like ability to other Apple devices (e.g. you'll hear it through connected AirPods or see an alert on your Apple Watch, iPhone, Apple TV, iPad, and even CarPlay). Music-wise, HomePod mini is design to work with Apple Music, podcasts, and radio stations from iHeartRadio and TuneIn, with additional services coming in the future (e.g. Pandora was mentioned specifically).

Siri can recognize up to six different family members and execute personal requests (e.g. sending a message or reading a calendar) appropriately according to who is giving the command. HomePod mini connects via the Home app, so it's easy to control anything in your house, and you can get more inspiration by visiting the Discover tab. Finally, in alignment with Apple's robust privacy and security standards – the HomePod only listens for "Hey Siri" (it doesn't record anything until it hears that) and your requests are associated with a random identifier (not your Apple ID).
What did you think of the new Apple products? What new features make you want to take the leap? Let us know on Amber's social media channels!