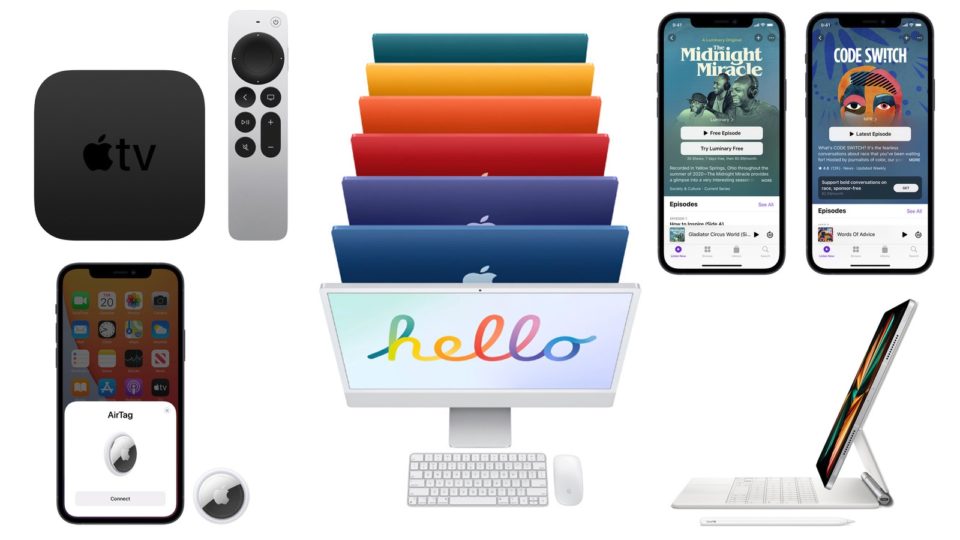 Apple's Spring 2021 Event: M1 iMac & iPad Pro; AirTags; Apple TV 4k; & a purple iPhone 12
Apple's Spring 2021 event was a fairly focused event, so we'll cover each of the announcements in turn below (and, heck, let's even do it in the same order that Tim did).
Family Treatment Expands to AppleCard
Almost right off the top, Tim Cook dropped that AppleCard will now be expanded so that anyone under your Apple Family Sharing (specifically your spouse and your over 13-year-old kids) will be able to use your AppleCard (if you want). An interesting positioning for this was around it helping some people develop credit scores who might not otherwise have (e.g. if you always used your spouse's cards). Regardless, it's a very interesting expansion of Apple's family-related services, which have grown a lot in the past couple of years.
Apple Podcasts Subscriptions

While Tim didn't take up too much time on this either, his Apple Podcasts announcements are actually kind of huge (well, one is). To get the others out of the way: a new Podcasts app with enhanced search, landing pages for each podcast episode, and the concept of channels will be introduced.  But the really big news is that Apple unveiled Apple Podcast Subscriptions. These can be flexible in a variety of ways, such as giving access to additional content, early or exclusive access to new content, and/or just having an ad-free listening experience. With Amber's many podcasts and our background in commandN and 15secTech together, you can trust that we're very excited about this!
Purple iPhone 12
There's a new iPhone 12 color and it's purple. I really quite like purple. Um, that's about it on this one.
Find My… AirTag
Apple recently announced their very useful Find My service (hitherto only available to Apple devices) has been expanded to allow third parties to develop devices that integrate into Apple's Find My network. To anyone who's been paying attention, this was a very heavy clue that the rumored AirTag would soon be launched and we weren't disappointed. And it's actually pretty cool!
An AirTag is a small disc about the size of a quarter that sends out a secure Bluetooth signal that can be detected – anonymously and securely – by devices on the Find My network. Once the AirTag has been located, you can view it on a map through any Apple device, have it emit a sound, or – if you're on an iPhone 11 or newer (i.e. with the U1 chip) – use the new Precision Finding functionality. This lets you see the distance and direction to your AirTag (or Apple device), which is very cool. You can put devices into Lost Mode so that you're notified as soon as they're detected, and you can even make it so someone can get your contact info by tapping your AirTag with an NFC-capable device. Finally, AirTags can even be personalized with an engraving if you want and potentially paired with one of Apple's new AirTag Key Rings/Holders.
Apple TV 4K: The Next Generation
After showing us the trailer for Season 2 of the wonderful Ted Lasso (debuting in July), we got a few decent Apple TV 4k announcements. First of all, the "next generation" 4k will get the much more powerful A12 chip, which will allow for things like high framerate HDR. Very unexpectedly, the new Apple TV can also use your iPhone to calibrate the picture on your TV. This is done by using your phone to scan an image your Apple TV puts up and then your Apple TV will adjust the picture it sends your TV to compensate for any shortcomings. It's like we're living in the future.
But the most exciting Apple TV news is the new Siri Remote. The touchpad part of the old 4k remote has been replaced with a 5-way, swipable/touch-sensitive clickpad, with the outer ring serving as a "jog" control (i.e. scrubbing forward and back in the timeline of a video) and a dedicated Siri button on the side. Beyond that there's also a power button to turn your TV off and – finally – a mute button. It's even compatible with not only the 1st Generation Apple TV 4k, but also with the Apple TV HD – yay!
The Big One: New iMac with M1 & More

When I say new iMac with M1, I don't just mean it has Apple's awesome new chip, I mean it's a pretty seriously redesigned iMac. The M1 lets Apple get rid of the giant logic board and fan, and they've managed to shrink the volume by 50%, making the iMac only 11.5mm thick. The 24″ 4.5k Retina display has narrower borders than previous versions, so it's not much larger than the old 21.5″ iMac, and it has a smaller base as well. Oh, did I mention it's available in 7 colors, and with matching accessories?
That's all great, but Apple has really knocked it out of the park in another area that's become central to many of our lives: video conferencing. The camera is now a 1080p FaceTime camera (leveraging lots of great visual processing through that M1 chip), the microphone is now a studio 3-mic array for much better sound isolation, and it's got a six speaker sound system with spatial audio (so should be great for games and videos as well). All of those are "the best ever in a Mac", by the way. It's also got 4 USB-C ports (2 of which are Thunderbolt), a new magnetic power connector (with the option of connecting Ethernet through the power brick, which is interesting), and a choice of three keyboards (Magic, Magic with Touch ID, and Magic with Touch ID + Number Pad) as well as matching mouse or trackpad.
iPad Pro with M1 & XDR Display
Well, I thought that might be it but looks like the M1 is also making it into the top of the iPad line with the new iPad Pro. The craziest thing about the new iPad Pro is that it basically uses the same display as Apple's (incredibly expensive) ProDisplay XDR, so this goes way beyond consumer needs into the realm of professional production. Doubling down on this, the USB-C port is now Thunderbolt (~4x the bandwidth) and supports Thunderbolt accessories like storage and displays, which is also a game-changer.
The cameras have been updated and there's a very cool Center Stage effect that detects people in the frame for video calls and zooms and pans to keep them centered on the screen. Beyond that they've added a new white version of their keyboard case/stand and the cellular version is 5G-compatible.
All in all, a pretty good event and some great products I can't wait to get my hands on! What were your favorites? Let us know on Amber's social channels!