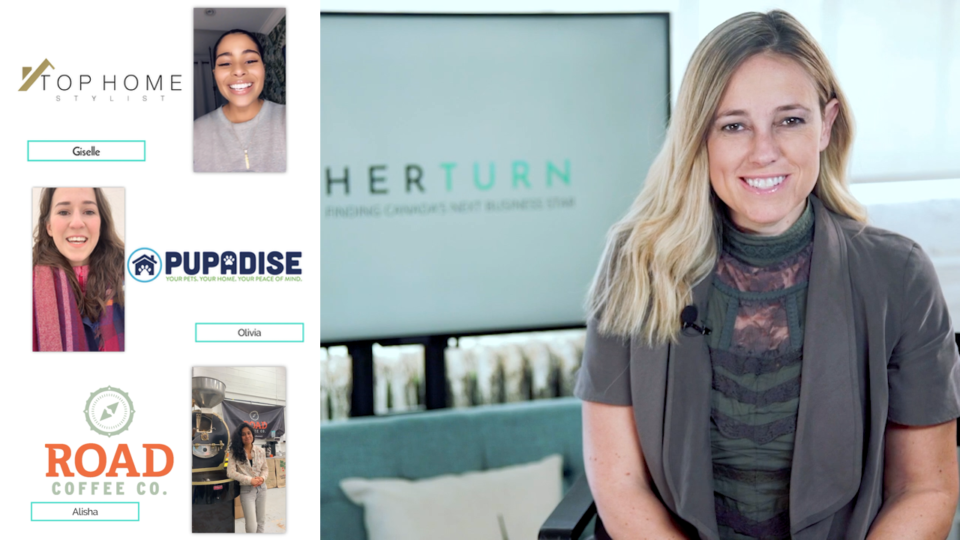 HerTurn: Top 3 Finalists & Where to Watch Dec. 2nd Finale
Earlier this fall, we partnered with BDC, PayPal Canada, and Facebook Canada to produce HerTurn, Canada's new online business competition series for women entrepreneurs with a grand prize valued at $20,000.
Over the past few weeks, our mentors have narrowed down the list of incredible applicants to the top three finalists who are now facing mentor challenges in small business marketing, public relations, and growth. Check out the finalist announcement in the video below.

HerTurn-Finalists-Announcement from Amber Mac on Vimeo.
Finalist Alisha Esmail is the CEO and owner of Saskatoon-based Road Coffee Co. In an interview with CTV news she shared that, if she were to win, the $20,000 prize would be used towards the microloan side of her business.

"It could definitely help us in this next phase of growth, growth is expensive … I think some of the finances would go towards one of our upcoming microloan projects and help a family in Peru, help move their business to the next stage as well."
Read the full CTV profile here.
Join us on Facebook at www.facebook.com/ambermac for the HerTurn Facebook Live Finale on Dec 2nd, 8pm ET – Produced by AmberMac Media, Inc. & Pint Glass Productions.