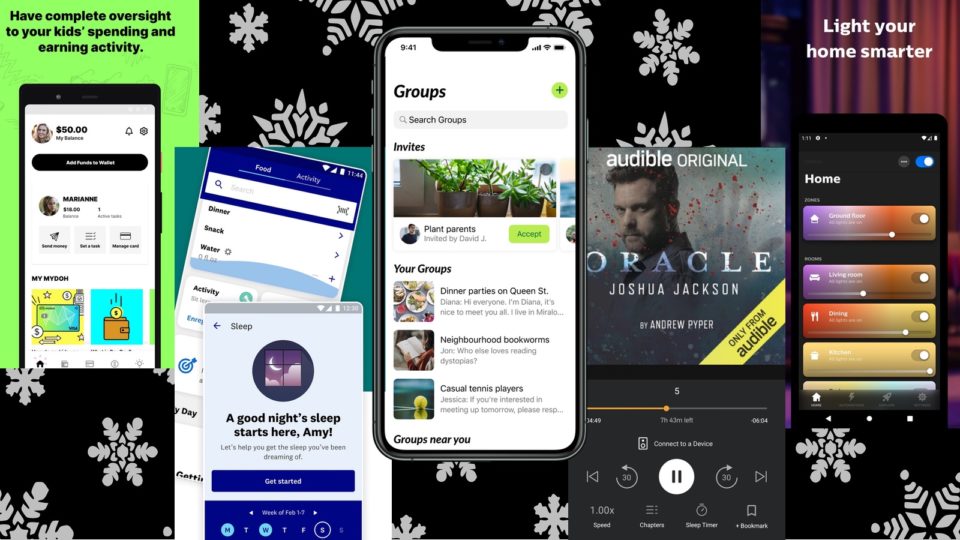 Holiday Apps 2021: 5 Picks for a Stress-Free December
by Amber Mac on December 10, 2021

Whether it's holiday decorating, gift giving, or healthy living, many of us could use a little help to make our lives easier during these busy December days. Check out these 5 innovative apps for a stress-free holiday season.
Control Holiday Lighting
When paired with a Hue Bridge, the Philips Hue App can help you to control up to 50 lights in your smart light system. You can manage your LED lights from anywhere, and you can set automated routines and timers, which is so handy during the holidays. Plus, I love that you can pick lighting to match the season and your Philips Hue lights can react to the music you're playing.
Help Nextdoor Neighbours
Nextdoor makes it easy to connect your neighbours in real life. During the holiday season, this is especially important. Since Nextdoor is focused on hyperlocal relationships, you can easily find that neighbour who might need help hanging their Christmas lights or maybe you need help finding a local business. The goal of Nextdoor is to create kinder communities.
Keep Kids Learning
Mydoh is a money management app and Smart Cash Card that helps parents raise money-smart kids. I'm using this right now, and as a parent I can assign my son tasks within the app so he can earn his own money. For example, he now regularly washes the dishes and shovels our walkway so he can get paid every week and spend the money on the things he wants.
Give the Gift of Listening
Audible.ca is a leading provider of audio storytelling, from audiobooks and podcasts to Audible Originals. I'm currently listening to Oracle, one of the new Canadian Audible Originals by Andrew Pyper, which is narrated by actor Joshua Jackson. An Audible membership is a great gift for someone on your list or for you if you want a great way to stay entertained around the house or when you get some fresh air.
Get a Wellness Coach
WW is like having a wellness coach in your pocket. The WW app gives you the tools to make healthier choices that affect your overall wellness and help you on your journey. WW's comprehensive digital app features expert Coaches and engaging experiences to help members follow proven, sustainable, science-based programs based on four key pillars: Food, activity, mindset and sleep.
I hope these apps make your holiday season a little bit brighter. Thanks to our Holiday Apps 2021 partners: Philips, Mydoh, WW Canada, Audible Canada, and Nextdoor Canada.