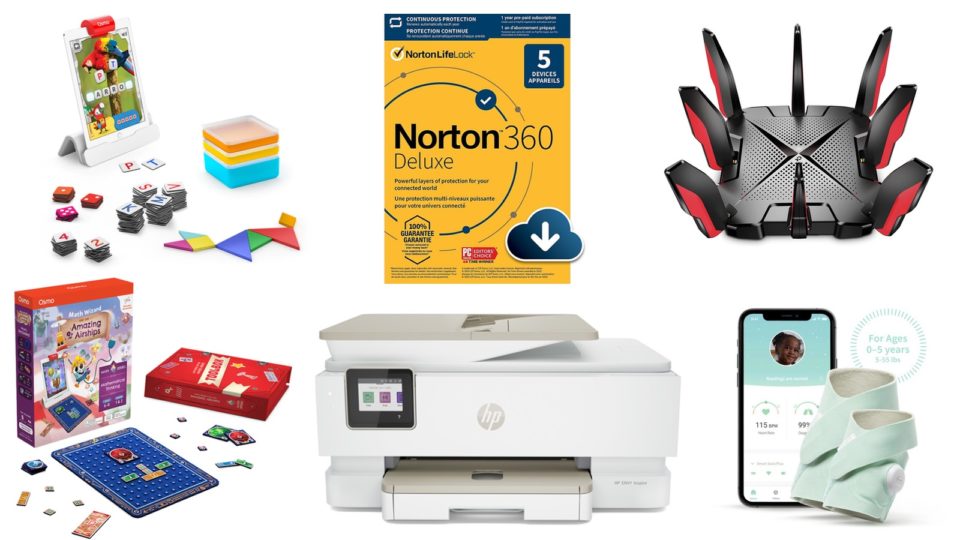 Holiday Kids Tech 2021: 5 Gift Ideas for Families
by Amber Mac on December 6, 2021

Whether you're buying a gift for a new parent, searching for tech for a teenager, or keeping kids safe online, here is some of the smartest technology of 2021 for the whole family this holiday season and beyond.
Track Baby's Sleep: Owlet Smart Sock Plus
The Owlet Smart Sock Plus gives peace of mind as it tracks your baby's sleep, heart rate, and oxygen level. With the Owlet app you can see live reading and historical data from anywhere. The Owlet Smart Sock Plus is designed for newborns to age 5 (5lbs to 55lbs).
Encourage Healthy Screentime: Osmo Genius Starter Kit + Math Wizard and the Amazing Airships
With the Osmo Genius Starter Kit and Math Wizard and the Amazing Airships, kids can go on their very own math adventure. Children ages 6-10 can enjoy hands-on play and learning, including mental math, addition, and subtraction. This helps kids build confidence in a stress-free way. All learning is self-paced, so there is time to master a math concept before moving along.

Give a Gaming Router: TP-Link Archer GX90
This is the perfect gift for busy online families, especially if you have tween or teens gamers in the house. In fact, this router is built for gamers so they can game in the fast lane while other family members can stream or work uninterrupted . With the TP-Link Archer GX-90, you can remove wireless pain points in your home.
Print Family Memories: HP Envy Inspire

This all-in-one printer is a must in my home this holiday season. So far this September, I've used the HP Envy Inspire to print photos from phone (which I can frame for gifts). Plus, I've printed greeting cards for friends and family celebrating different holidays. Thanks to custom two-sided printing, I can do a number of easy crafts with my son and print other festive projects.
Protect Kids Online: Norton 360 Deluxe

One of the features within Norton 360 Deluxe that I love is Parental Control, which makes it easy to stay on top of how much time your kids spend on their devices (supported on Windows PC, iOS, Android). This means you can limit their screen time and also block any unsuitable websites. If your kids are learning online, this is a must so they can stay focused on school without digital distractions.
Thanks to our Holiday Kids Tech 2021 partners: Owlet, Osmo, HP, TP-Link, and Norton!