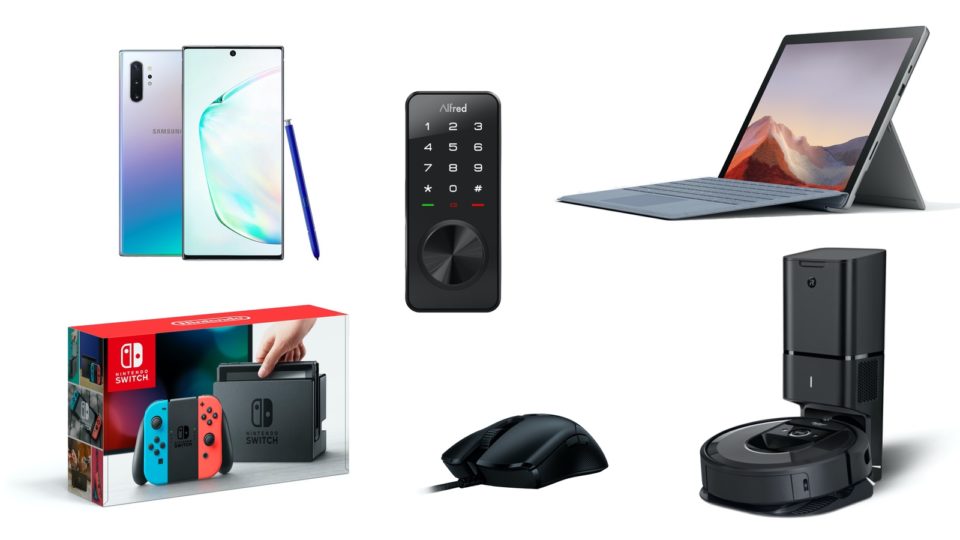 Holiday Sneak Peek: November Tech Tour
by Amber Mac on November 4, 2019
It's holiday time again. This week, I'm going across the country with a sneak peek of the best in holiday gifts.
For the entrepreneur (Microsoft Surface Pro 7 $999; Galaxy Note 10 & 10+ in AURA GLOW $1259.99+),
For the family and gamers (Nintendo Switch $399.99; Luigi's Mansion 3 $79.99; Razer Viper Optical Mouse $99.99; Razer Huntsmen TE Optical Keyboard $179.99), and
For the smart home lovers (Roomba i7+ with Clean Base & Automatic Dirt Disposal $1349.99+; Alfred Smart Door Lock $199.99; OralB Pro 2000 $88.99; Reebee FREE).
Here's a closer look at all of these great gift ideas.
Roomba i7+ with Clean Base™ Automatic Dirt Disposal
$1,349.99 | Available at all major retailers
Take convenience to a new level and forget about vacuuming this busy holiday season. Roomba saves users an average 122 hours per year of vacuuming! The Roomba i7 automatically empties into an AllergenLock™ bag that holds 60 days of debris and traps 99% of pollen, mold and dust mites. The Roomba® i7+ robot vacuum uses Imprint™ Smart Mapping technology to learn a home's floor plan, so it knows the kitchen from the living room, giving the user total control to choose which rooms are cleaned and when. 
Razer Viper
$99.99 | Available at major retailers
Have a gamer in your life? This is the lightest Esports gaming mouse at 69g with new Razer optical switch — 3x faster than mechanical switches, 99.4% Resolution Accuracy and new Razer Speedflex Cable for less drag and unhindered flicks while playing. The Razer™ Optical Mouse Switch utilizes an infrared light beam to register a click, resulting in an industry-leading response time of 0.2 milliseconds. Its instant actuation eliminates debounce and unintended clicks, giving you complete control in execution.
reebee App
FREE | Download from the Apple App Store or Google Play Store 
Shop smarter this Black Friday – reebee is a free app that allows you to browse retail flyers all in one place,  search for deals, and create personalized shopping lists. With the busy holiday season approaching, reebee is the perfect tool to find and organize deals.
Oral-B Pro 2000
$88.99+ | Available at Amazon, Walmart, Costco & Shoppers Drug Mart
The Oral-B Pro 2000 is the perfect gift for those who want to try an electric toothbrush for the first time. It's gentle and provides superior plaque removal but at the same time is affordable (compared to other electric toothbrushes on the market). It has key features to help your teeth cleaning routine, from a Visible Pressure Sensor to a helpful on-handle timer. Your teeth will be shining for all the family photos.
Nintendo Switch
$399.99 | Available at major retailers
Bring home fun for the whole family this Black Friday. The most incredible thing about Nintendo Switch is its versatility. Kids, families and everyone in between can play it at on a TV at home, or pick it up and take it with you wherever you go. New to Nintendo's amazing library of games is Luigi's Mansion 3, which just launched October 31st!

Microsoft Surface Pro 7

Starting at $999 | Available at Microsoft Store or MicrosoftStore.ca 
The Microsoft Surface Pro 7 is a 2-in-1, meaning it's a tablet and a laptop! It is lightweight, features all-day battery life, improved graphics and has a fast processor with a high-resolution touchscreen. Pair it perfectly with the Surface Pen or Type Cover and voila, you can work anywhere.
Galaxy Note10 & Note10+ in Aura Glow
Starting at $1,259.99 | Available at Samsung Experience Stores, samsung.com/ca, Best Buy Canada and select Canadian carriers on special order
Black Friday is a big day for phone shoppers. The new Galaxy Note10 and Note10+ from Samsung bring the power of a computer, a gaming console, a movie-tech camera, and an intelligent S Pen in a beautiful, slim form factor with Cinematic Infinity Display. The Pro-Grade Camera is perfect for creators on-the-go and the powerful processor makes for easy ultimate mobile productivity.
Alfred Door Lock
$199.99 | Available at Best Buy & Amazon
Alfred is the smart lock you need for your home. Made by a proudly Canadian company, Alfred uses Bluetooth and connects to the Alfred Home app to allow users to set up, control and program their locks. You can assign full time, recurring, or time sensitive Pin Codes with specific associated users, with every 'unlock' event recorded on the lock.