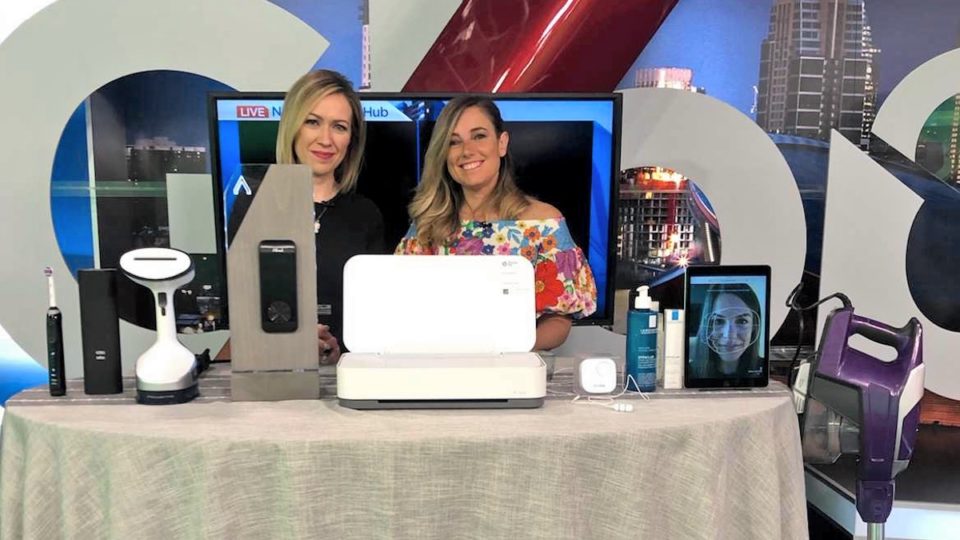 Smart Home Tech: 7 Spring Picks
by Amber Mac on May 13, 2019
This week I am on a media tour across Canada sharing 7 of the best tech picks for spring. See below to make your home smart, use AI for better skincare, try an electric toothbrush, and lots more.
Alfred Door Lock
$339 each + $59.99 for Zwave Module at Alfredinc.com & Amazon.com 
Door lock meets beautifully-designed tech! Alfred is a smart lock that can unlock your front door with Bluetooth on your mobile device (with access that can be shared with anyone, anywhere), a traditional key, or with the purchase of the Zwave plus module can integrate with your smart home system (including Google and Alexa voice controls). Get full activity logs to see who and when people came in, and program virtually all of your settings from your Alfred Home app.
Use code ambermac to get 20% off.
The Genius 9600 by Oral-B
$289.99 at Amazon.ca
Bring tech to the bathroom with this new, technologically advanced power toothbrush that can help solve your gum health problems by removing up to 500% more plaque than a manual brush. It's a premium gift option with personalized and technologically-advanced innovations, and luxurious stylistic qualities.
SpotScan by La-Roche Posay
Free to download on App Store or Google Play
Even your skincare routine can benefit from tech! Effaclar SpotScan is the first acne analyzer powered by artificial intelligence. Just scan your face, discover your results, get your personalized routine, and track your progress with the Skin Diary. Approved by dermatologists, powered by artificial intelligence
Rowenta Hand Steamer
$84 at ebay.ca
In the laundry room, skip pulling out the ironing board and instead use this steamer. It's ready to use in 45 seconds, which means your clothes will be wrinkle-free in no time! A variety of useful home tech can be found at a deep discount anytime at ebay.ca – with fast, free shipping and no membership fee!
Tango Smart Home Printer
$179.99 at Staples Canada
The first smart home printer. Built to match the way you live and designed to use with the HP Smart app, Tango helps you stay a step ahead by connecting and printing from any device, anywhere. Available at Staples Canada, one of Canada's top tech retailers. Staples Canada has experts on hand who understand that the tech world is changing daily.
Shark Rocket with Zero-MTM Self-Cleaning Brush Roll Corded Stick Vacuum
$299.99 at Canadian Tire, London Drugs, Amazon.ca, and SharkClean.ca
Shark's Zero-M self-cleaning brushroll delivers nonstop hair removal. It has powerful suction and outstanding cleaning performance while actively removing long hair, short hair and pet hair from the brush roll. It cleans everything from hard floors to carpets, and easily converts to a handheld vacuum.
D-Link Battery Powered Wi-Fi Water Sensor
$59.99 at major consumer electronics retailers
Have peace of mind about the state of your home with this sensor that detects water leaks and flooding in your home. Be alerted with the built-in siren or by real-time push notifications on your mobile device, no matter where you are! It connects with your existing Wi-Fi router, so no hub is required, and works with Google Assistant and IFTTT.
Watch Now:
Home is Where the Hub is! CTV News Saskatoon
Smart Tech for Your Home Global News Morning Calgary
The Best Tech for the Modern Home Global News National The Morning Show