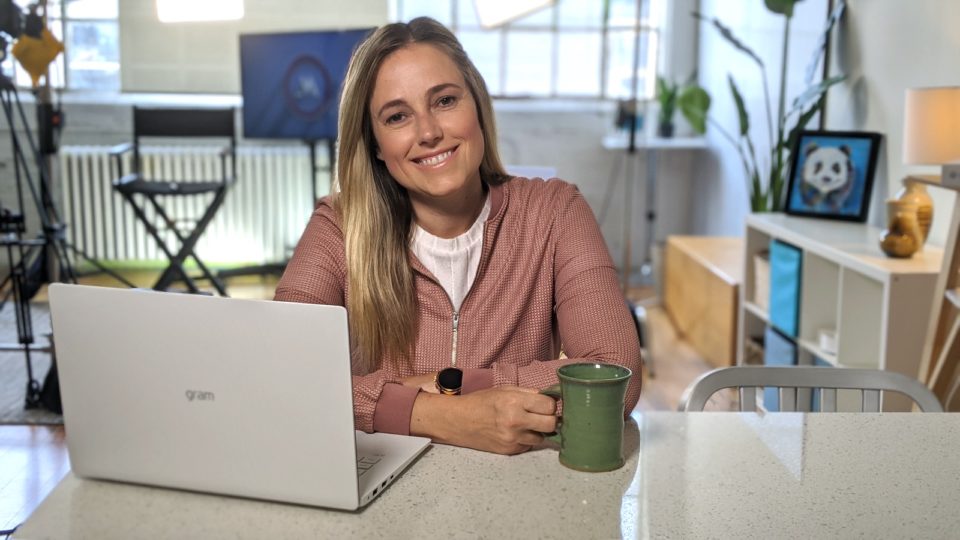 Tech Test: The LG gram for Entrepreneurs
by Amber Mac on June 3, 2020

For more than a decade, I've embraced the freedom to grow my business from coffee shops, airport terminals, hotel rooms, and, yes (especially now), my house. While we do have a dedicated studio space for video production, as a creative professional I enjoy a change in scenery to work on broadcasts, podcasts, presentations, and more.
When LG Canada invited me to review the sleek new 14-inch LG gram, there were a few key features that I discovered were game-changers for entrepreneurs and workers in the knowledge economy. For starters, no day looks the same for me – even during this time of physical distancing. Sometimes I'm working at our kitchen table but sometimes I need to duck away into a bedroom for a Skype video interview while our 11-year-old son is busy doing virtual school. As the weather improves, I'm also tackling tasks on our front porch and in our small downtown backyard.
The LG gram is an excellent choice for a powerful and portable laptop for the following reasons…
Battery Life: I know many tech reviewers put battery life at the bottom of their list of compelling features, but it always tops my list. That's because I'm often in situations where I can't easily get to a power outlet. The 14-inch LG gram boasts up to a whopping 18.5 hours of battery life when you're working on-the-go.
Ultra Lightweight: With all models weighing less than three pounds (there are 3 sizes: 14″ / 15" / 17"), the LG gram is easy to take with you wherever you may need to go. While many lightweight laptops achieve this goal with a smaller screen, the crisp and clear 17-inch screen makes multi-tasking a cinch and comes packed into a 15.6-inch body size.
Physical Durability: As a mom and entrepreneur, life is busy and sometimes messy. That's why I need durable electronics. The LG gram is made of magnesium alloy – an aircraft-quality material. Plus, this laptop passed a US military test for ruggedness, meaning it can withstand varying temperatures, drops, etc.
When it comes to other tech specs, it's worth nothing that the LG gram features the 10th Generation Gen Intel® Core™ Processor with the Intel® Iris® Plus graphics. That's a fancy way to say that LG gram users will have all the power they need to create and edit videos, design complex documents, or just stream their favourite content. Since I've been writing a lot about the new Wi-fi standard, Wi-fi 6, it's also worth mentioning that the LG gram is Wi-fi 6 ready.
I'm always amazed at what is possible today for entrepreneurs across the country. While there are definitely day-to-day small business challenges ahead, choosing the right technology is an important step in the right direction. Want to learn more about the LG gram? Click here!

Disclosure: This post was sponsored by LG Canada. All opinions are my own.