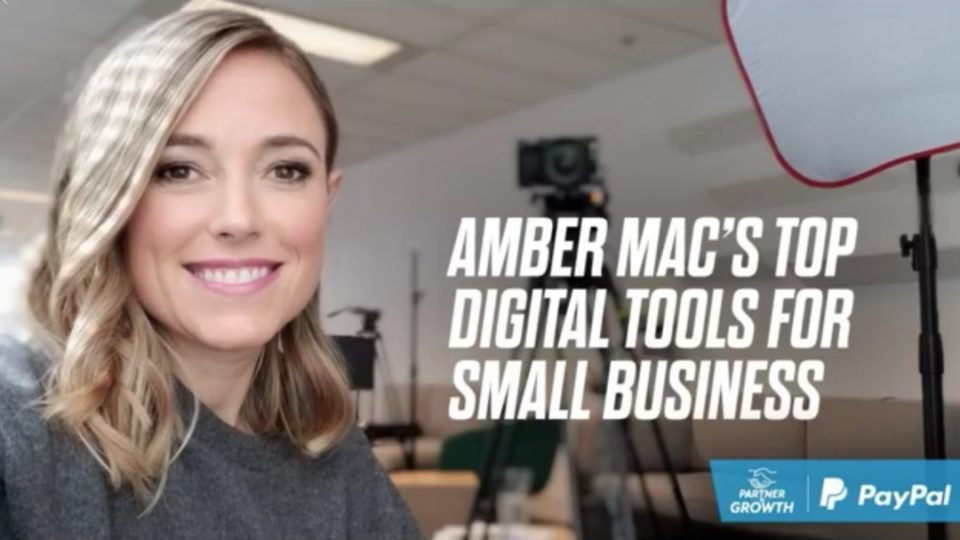 Top 5 Tools for Entrepreneurs with PayPal Canada
by Amber Mac on October 22, 2018
I recently did a Facebook Live for PayPal Canada that included some great tools and tips for entrepreneurs. Check them out below, along with some great info on small businesses from PayPal.
New data from PayPal Canada shows that small businesses leveraging e-commerce grew 22% in 2017 versus non-financial SMBs which grew less than 1% in 2016 (according to the Government of Canada). It's clear that technology is accelerating growth for small businesses. For the first time, PayPal Canada is releasing proprietary insights from its merchant customers. These insights show that e-commerce helps drive greater growth and opens trade corridors for small businesses. To find these insights, PayPal analyzed data from 4,000 digital small businesses in Canada, which are those that sold more than $30,000 and less than $3 million per year using PayPal between 2016 and 2017.
As the owner of a small business, AmberMac Media, Inc., our business revenue has grown five-fold since we first incorporated in 2013. It's thanks to digital tools that we have been able to realize this growth. Now we can build our company anywhere, anytime. PayPal understands this new business reality and it's thanks to them that we now know more about the state of small digital businesses in Canada.
TOOL: PayPal
Although you operate a small business, embrace and access international markets. We too often limit ourselves to local opportunities. While the US and Mexico are two of the top 10 export corridors, digital small businesses across Canada export to over 80 different countries including Australia, China, Japan and the UK. To facilitate this growth, PayPal can help you accept payments. More than 63% of Canadian SMBs that use PayPal for payments export versus only about 12% of traditional Canadian SMBs that export according to Statistics Canada. PayPal is the best tool for payments in Canada and beyond our borders.
PayPal has processed more than $400B cross-border trade transactions since PayPal's first international market launch in 2003 (Timeframe: Q1 2016; Source: PayPal). So, they know the cross-border scene well. And here are a few tips from the experts at PayPal:
Tip 1: Explore familiar regions
Test your success in a few key international markets before expanding further.
The U.S., U.K. and Australia are a good place to start as they share English as a common language, making it easy for you to communicate with your customers, ultimately offering an opportunity to test and perfect your international sales processes before tackling additional markets.
Tip 2: Streamline shipping
Shipping cost is of paramount importance to cross-border shoppers.
Get to know shipping solution providers that service the markets you hope to sell to – many providers offer special rates and packages that can help bring down costs.
All-in-one payment and shipping solutions, like the one offered by PayPal and Canada Post, can help simplify processes like shipping and order fulfillment.
Tip 3: Simplify the purchase process
Reduce the number of steps required to checkout, offering a secure way to pay, and displaying prices in the local currency helps give shoppers confidence to buy from your business.
TOOL: Hootsuite
Leverage digital marketing to grow your business both locally and beyond. Although 64% of Canadians have a social media profile, only 35% of Canadian business use social media to sell their products and services (Sherpa Marketing). This means that there is a significant gap in how entrepreneurs are leveraging digital tools to increase engagement and sell online. Using a tool such as Hootsuite can help you to manage, plan, and track your digital marketing success across today's top social media platforms.
TOOL: Magisto
Increase your digital video marketing spend to raise brand awareness. According to the state of video marketing, "81% of people have been convinced to buy a product or service by watching a brand's video, up from 74% in 2017." One of the top tools to create quick promotional videos, using AI intelligence, is Magisto. It makes it easy to string together photos and videos for high-quality marketing movies for just a few dollars a month. Whether you're selling a product or service, video is the winning ticket in the digital marketing space.
TOOL: Upwork
Hire independent contractors as needed to keep your personnel costs manageable. For many small businesses, this approach can save you time and money. Sure, you might need a few permanent employees, but there will be times when a contractor makes the most sense. For example, if you run an e-commerce business that ramps up during the holiday season, this might be the perfect time to get access to another "set of hands" for a few weeks or months. This means that you have access to skills, lower overhead, and fast access to more help. Upwork is a great resource to find these professionals.
TOOL: Freshbooks
Pay close and careful attention to your business' financial growth and success. While you're likely too busy running your business to take care of these day-to-day details, this is where you need to hire a capable professional who can help to keep your revenue on track and your expenses in check. This person can also help you scale your business. There are plenty of tools you can use to make this process easier. If you're a digital business that provides services, Freshbooks is a great cloudbased accounting application for your small business so you can track and grow. If you use PayPal to accept payments, you can now connect it to FreshBooks to record those payments.
Watch the full Facebook Live below or check it out on Facebook for comments and more.