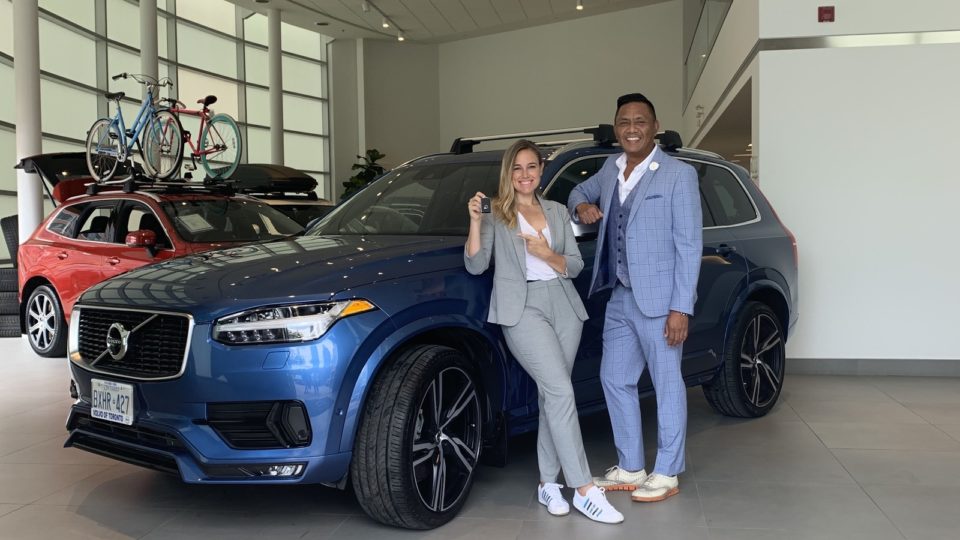 Volvo's E.V.A Initiative & Safety Firsts
by Amber Mac on October 23, 2019
I'm one of those parents who kept our child in a rear-facing car seat well beyond the one-year recommendation. As a self-described safety enthusiast, I'm always indulging in the art of what is possible to protect people, especially kids. Plus, as I get older, I'm keen to work closely with companies that personify courage in industries that are often led by mediocrity.
That's why earlier this year, I started sharing a story in my keynote presentation about Volvo Cars' E.V.A. Initiative (which stands for Equal Vehicles for All). Way back in 1970, the Volvo Traffic Accident Research Team regularly gathered data from more than 40,000 cars and 70,000 people – both men and women.
This last point is a key differentiator because today crash data on male crash dummies is the norm. Volvo, on the other hand, studies both male and female dummies – which revealed, as one example, that women are at higher risk of whiplash than men. In turn, Volvo introduced the Whiplash Protection System (WHIPS) to keep both men and women safe. This innovative data-driven tech has helped to reduce whiplash risk by 50 percent.
Volvo didn't keep this research to itself, but instead made more than 100 papers available for anyone to download. The E.V.A. Initiative is part of a long history of Volvo safety milestones and firsts. To name just a few:
1972 – First rearward-facing child safety seat
1991 – Side Impact Protection System (SIPS)
1994 – World's first side-impact airbags
1998 – Whiplash Protection System (WHIPS) and Inflatable Curtain
2002 – Roll-Over Protection System (ROPS)
2003 – Blind Spot Information System (BLIS)
2008 – City Safety 2010 – Pedestrian Detection with Full Auto Brake
2014 – Run-off Road Protection 2016 – Connected Safety
Going back even further, in 1959, Volvo introduced the standard three-point safety belt (which was adopted in the US in 1963 for the front seat and in 1972 for back seat passengers). In 2019, they're celebrating 60 years of seat-belt success and over one million lives saved.

The E.V.A. Initiative, and these other improvements, revealed something for me that is critical for businesses that survive and thrive in the future – companies that balance purpose and profit. Beyond safety, this extends to environmental protection. Just recently, Volvo unveiled the company's first all-electric car, the XC40 Recharge and announced that they would become climate neutral by 2040. What Volvo has done for personal safety will now transcend into environmental safety and I'm excited to share more about these initiatives in the coming weeks.
For these reasons and more, I approached Volvo to see if we could build a long-term partnership together that focused on sharing these stories of innovation and important firsts. I announced this partnership in August and we bought a Volvo XC90 to replace our family minivan.
I'm looking forward to sharing more stories with you here and elsewhere online as a proud Volvo brand ambassador in Canada. And while my son is now 10 years old and well out of a car seat, I feel confident driving on the country's highways with him in a car with a long history of safety firsts.
Amber Mac is a Volvo Car Canada partner.