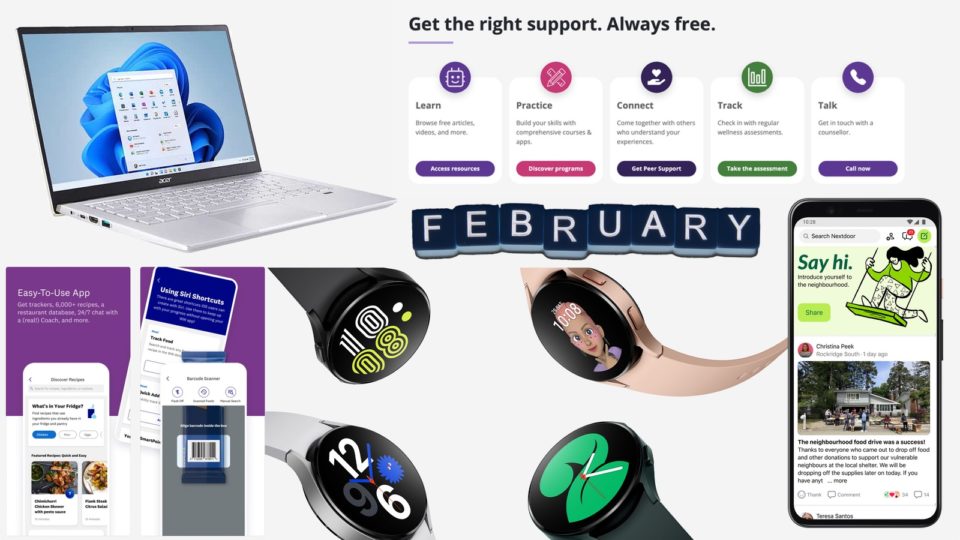 Wellness Tech: 5 Tips, Tech, and Tools to Fight February Blues
by Amber Mac on February 11, 2022
We hear a lot about the February blues, that time of the year when people need extra help to stay healthy, connected, and well. Here are more of the latest tech, best apps, and newest tools to get through this winter.
Track Wellness with Wearables: Samsung Galaxy Watch 4
For many people, wearable tech helps with a better understanding of health data. With the Samsung Galaxy Watch 4, you can get an overall picture of your health data in seconds. Use the all-new Body Composition Measurement tool to measure your body composition in real time, including your body fat percentage, skeletal muscle, and more. Plus, you can easily track your sleep and rest.

Embrace On-the-Go Screentime: Acer Swift X

While we often think about sitting in front of a screen, here's a laptop that is perfect for on-to-go professionals. Whether you want to watch an online exercise class or meet virtually with your doctor, the Acer Swift X has a beautiful 14-inch high-brightness display and is powered by the latest AMD Ryzen 5000 Series processor. Plus, it provides up to 17 hours of battery life.
Focus on Healthier Choices: WW App
WW is like having a wellness coach in your pocket. The WW app gives you the tools to make healthier choices that affect your overall wellness and help you on your journey. WW's comprehensive digital app features expert Coaches and engaging experiences to help members follow proven, sustainable, science-based programs based on four key pillars: Food, activity, mindset and sleep.

Fight Neighbourhood Isolation: Nextdoor App
Nextdoor makes it easy to connect with your neighbours in real life. Since Nextdoor is focused on hyperlocal relationships, you can easily find that neighbour who might need help shovelling snow or maybe you want to start a community walking group to meet some new people. The goal of Nextdoor is to create kinder communities.

Get Mental Health Support: Wellness Together Canada
Canada's first and only online platform offering free, immediate and confidential mental health and substance use support for people of all ages, across Canada. To make mental health support more accessible to all people, WTC launched PocketWell – a free app that offers information on common mental health issues, independent and coached mental wellness programs, monitored communities of support, as well as assessments to track mental wellness over time (iOS/ Android).  This is a joint venture between Stepped Care Solutions, Kids Help Phone and Homewood Health – three of Canada's leading and most innovative mental health organizations.

Thank you to our brand partners that are supporting this Wellness Tech Campaign: Samsung Canada, Acer, Nextdoor Canada, WW Canada, Wellness Together Canada