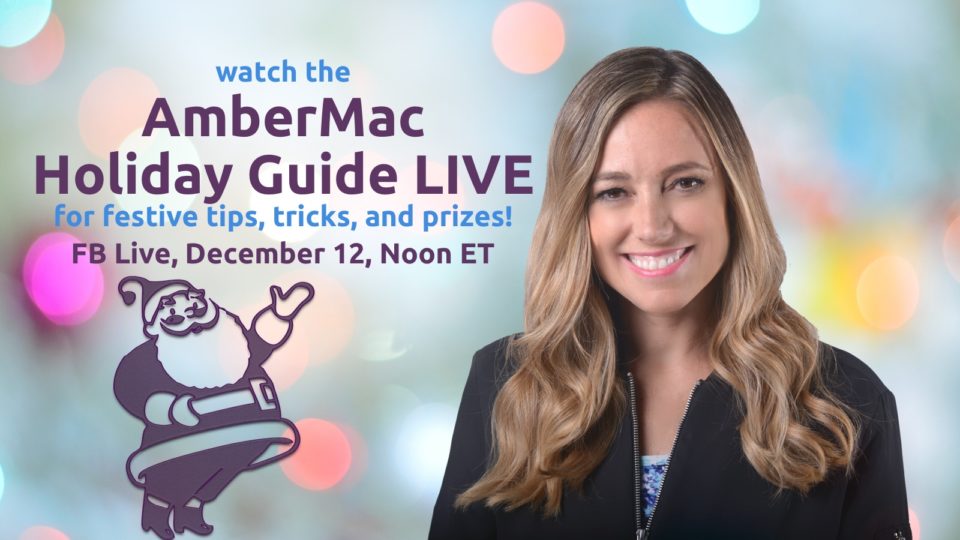 AmberMac Holiday Guide LIVE 2017 Video Special & Giveaway
by Amber Mac on December 8, 2017
It's that time of the year again, so be sure to check out my second annual AmberMac Holiday Guide on Facebook Live we did live on Tuesday, December 12th at Noon ET.
In addition to some fun seasonal tips, like a special Toys for Kids segment and a holiday cookie recipe, we've got some great giveaways of Google Home Minis, HP Sprockets, Bitdefender software, and more, so check it out (and go on my AmberMac Facebook Page before the end of the week to enter)!
OFFICIAL AMHG GIVEAWAY RULES
ELIGIBILITY: Open to adult residents of the continental USA and of Canada (excluding Quebec).
HOW TO ENTER: Leave a comment on the Facebook post that includes the name of the prize you'd like to win and why you'd like to win it.
DATE: Contest closes midnight ET on Sunday, December 17.
NOTIFICATION: You will be contacted by Amber Mac within 24 hours of the end of the contest through the Facebook account that you left your qualifying comment on. If you do not reply within 48 hours then you will be removed from the competition and a different winner will be picked in your place, so please reply promptly.
OTHER NOTES: Please note that delivery before Christmas is unlikely given the short timeframe after the contest closes. This giveaway is not sponsored by, run by, or associated with Facebook.