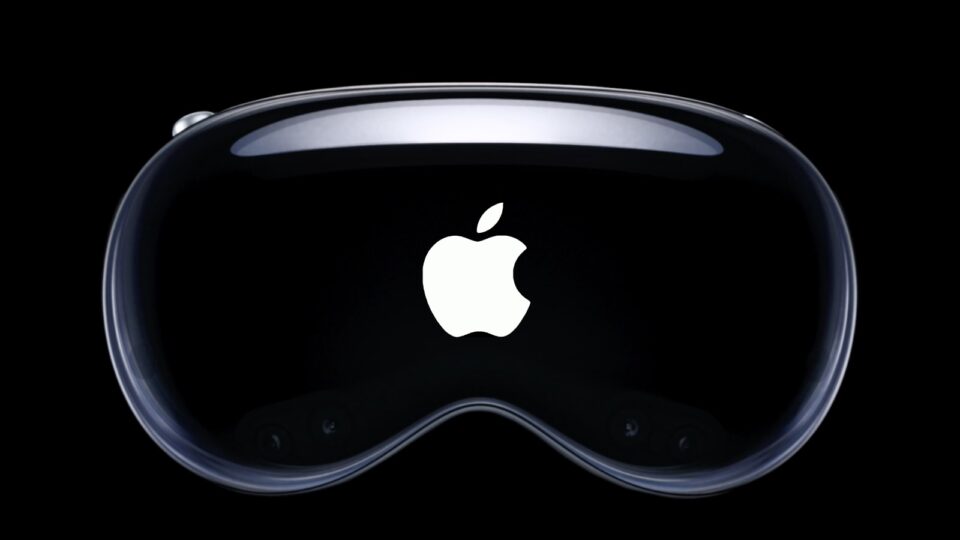 Apple's WWDC 2023 Announcements: Vision Pro Headset, 15″ MacBook Air, and More!
Apple's 2023 Worldwide Developers Conference has kicked off and, as usual, we had a keynote from the CEO (and many others) to talk about new software advances and probably more hardware updates than usual for the event. Let's start with the other stuff and get to the big "one more thing" announcement at the end.
New Computers
Apple unexpectedly had three computer hardware announcements, the one I'm most excited about being the arrival of the 15″ MacBook Air (basically pretty much exactly like the recent 13″ MBA but with 6-speaker sound). The Mac Studio – which looks a lot like three Mac Minis stacked on top of one another – is getting updated to the new M2 Max or M2 Ultra Chip, but with additional memory capacity (up to 192 GB of unified memory) and increased video bandwith for 8k displays, etc. The Mac Pro also gets its first update in four years, a processor update that makes the cheese-grater heavyweight the final member of the Mac family to move over to Apple Silicon. It's got 6 internal PCI expansion slots, 8 Thunderbolt ports, 3 USB-A ports, 2 HDMI ports, and a dual 10Gb Ethernet port to round out the most connectible Mac around.
iOS 17

The operating system that runs your favorite phone has a scattering of interesting updates. Simplified sharing of photos, videos, and more can now occur by bringing two newer iPhones (and this extends to the Apple Watch in some cases, e.g. the new NameDrop for contacts) close together and tapping your approval on the screen. The Phone app gets Live Voicemail, which shows a transcription in realtime of the message being left and lets you take the call if it looks important, and new personalized contact "Posters" that serve as your calling card (set up similarly to the Lock Screen). FaceTime now allows you to leave a message if the person you're calling doesn't answer, and Messages has a bunch of small tweaks (Love Stickers, etc.). There's also a "Check In" feature which lets you make sure a loved one gets home safely, a new Journal app, the ability to download Maps for offline use, and pet recognition in Photos. Finally, you can now put your iPhone in Standby mode by turning it on its side while charging and it will present a custom screen with widgets, live activities, smart stacks, etc., made to be seen from across the room (and which adapts to low light with a mellow red tone).
iPadOS 17
After the recent launch of dedicated iPad apps for Final Cut Pro and Logic Pro (amazing!), the new iPadOS will bring quick interactions for widgets, a customizable lock screen like the iPhone, a dedicated Health app, and some cool PDF functionality (automatically identifying fields in PDFs and making them fillable – even if it's just a document you took a picture of with your phone/iPad). You can also now use a built-in camera on an external display for FaceTime, and there are some Stage Manager and follow-along improvements in collaborative activities.
macOS Sonoma

The widget advances continue into macOS, with the ability to drag widgets from your Notifications area onto your desktop (which will fade or tint depending on your focus). There's also a new Game Mode that prioritizes the CPU and GPU when you want your Mac's top performance and some video conferencing additions (like a presenter overlay that puts you on top of content you're sharing). Finally, you'll be able to create "Web Apps" from any webpage and launch them like self-contained apps, and Safari gets PassKeys (shareable), password profiles (e.g. to fill in different passwords based on whether you're in "Work" or "Home" mode), and other privacy improvements.
Audio & Home Experiences
Apple opened up a new grouping in this keynote with "Audio & Home Experiences", and I guess that kind of makes some sense. The biggest announcement to me is tvOS 17 finally getting FaceTime (using Continuity Camera through your iPhone or iPad), complete with Center Stage and SharePlay – plus a Control Center redesign.

AirPods are getting a cool adaptive audio feature so that when they detect your voice talking, they'll lower the sound in your headphones. watchOS 10 has a slew of little announcements, including revealing widgets from any watch face by turning the digital crown, and new Cycling (cadence and power added) and Hiking (updated Compass that generates waypoints at cellular reception points, plus elevation view) advances. There's also a new vision health feature that includes Screen Distance alerts on iPad and iPhone to reduce eye strain.
Vision Pro

Well, Apple's Vision Pro mixed reality headset has finally been shared with the public and I have to admit that (aside from the $3500 USD price), I find it more compelling now that I've seen it in use. Apple stressed that you look through the Vision Pro, not at it, and this is key to the Augmented Reality features. The simplest example is one of work, so imagine putting on your headset in a hotel room because you're on the road. If the room is distracting then you might want to use one of Apple's Environments as a background space instead, and you can control how much of your visual field this encompasses by turning a digital crown on the top right of the headset – spin one way to block the rest of the world out, spin the other to see through clearly to the rest of the world. You're presented with a somewhat watchOS-looking set of apps to launch and the device tracks your eyes to see what you want to interact with on the screen and your hands (through cameras mounted on the bottom of the headset, so you don't have to have your hands in front of you) to figure out what you want to do with it (touch your fingers together to click, etc. – it also works with Bluetooth accessories like keyboards, mice, and game controllers). It actually looks like it works very well. If someone comes into the room when you're in an Environment, then the part of what you're seeing that they're behind/in will fade away around them. The headset even projects the live image of your eyes onto the front/external screen on the Vision Pro so people can tell that you're looking at them.
The Vision Pro can also take 3D images and video, and it looks like a great way to consume that kind of content (although you can just sit back and watch a normal movie on Apple TV+ or Disney+, resizing it how you want for your field of vision and using the built-in speakers to listen). When you're making a presentation or on a FaceTime call, a new virtual "persona" will be used that you can set up when you get the headset (which can scan your face to make the 3D avatar). It requires an external battery that gets up to 2 hours use (you keep it in your pocket), so it's really made to be plugged in (unfortunately but understandably). There will be third-party apps and the Vision Pro should be available in "early 2024".

Which announcement has you most excited? Let us know on Amber's socials!