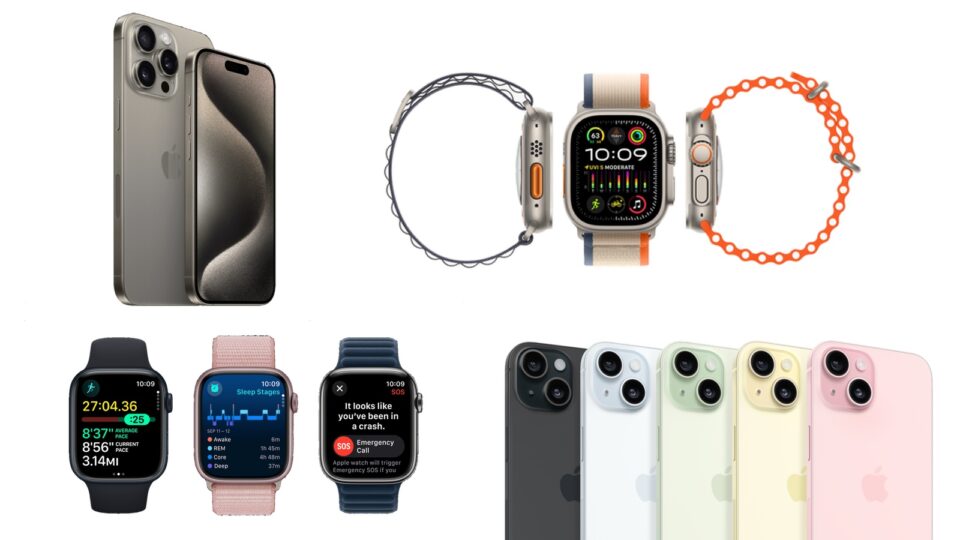 New iPhones & Apple Watches at Apple's September 2023 Event
Apple's September 2023 event kept things pretty focused, with a lot of references to the considerable (and impressive and commendable) environment efforts Apple has been making (check out the "Mother Nature" video from the event – it's pretty entertaining), but came down to just two things: new iPhones and Apple Watches. PS: I'm not including prices, release dates, etc., below and instead have included links to those pages on the Apple site so you can get the proper info based on your country.
iPhone 15 & iPhone 15 Plus

As expected, much of the event revolved around the new iPhones, including the iPhone 15. Apple's Dynamic Island treatment for the entire new iPhone lineup (previously introduced on the Pro models only and which I kinda like most of the time), so it's safe to say that the years of complaining about "the notch" are over (cue the beginning of complaining about the dynamic island – long live the king!). The new iPhones are brighter than ever, with 2000 nits to help you see the screen in extra sunny settings, and are using a colored glass and new contoured edge treatment to update the enclosure a bit. Its camera system has gotten some improvements that may be a bit more meaningful, what with the 48 MP main camera and next gen portrait photography moving over to the non-Pro lineup (which is awesome and lets you adjust focus AFTER you take a photo, which is very cool – it even works with dogs and cats).
We've also got the A16 bionic chip from the 14 Pro, as well as the next iteration of its Ultra Wideband chip, which lets you locate things from 3x further away and has added finding friends to its (super useful) ability to find your other Apple devices. They also, finally, have a USB-C connector (so all new Apple devices are now USB-C and you can even charge another device from your iPhone, which is handy). Nothing revolutionary, but a solid iterative upgrade if you've got an older iPhone (and can deal with the – relative to my personal style – very disappointing colors).
iPhone 15 Pro & iPhone 15 Pro Max

The iPhone 15 Pro models sport a couple of much more significant changes than their junior siblings (along with all of their upgrades), the first of which is being made with Grade 5 titanium, thus making them the lightest iPhone Pros ever (and super durable). The second is co-opted from the first generation Apple Watch Ultra and it consists of replacing the ring/silent toggle button with a new customizable Action Button in roughly the same location. This button defaults to the ring/silent functionality (press and hold to activate and you'll get haptic feedback that helps identify if you've turned it on or off), but you can customize this to a variety of other functions as well (including voice recording, translation, camera, etc.).
The camera system has also been updated giving what Apple claims is "the equivalent of 7 camera lenses" given that your phone can now shoot in: Macro, 13mm, 24mm, 28mm, 35mm, 48mm, and 120mm. There are also some very valuable improvements for professional photo/video folks, including the ability to record footage directly onto a connect external drive (this is huge, as well as being able to capture spatial videos (in the first external crossover with the Apple Vision Pro, which can use this format).
Apple Watch Series 9 & Apple Watch Ultra 2
Apple's Series 9 Watches are getting Siri requests processed on-device, which not only allows you to use these features without a connection, it opens Siri up to access secure health and other data ("Hey Siri, how much did I sleep last night?"). But the new feature I'm most intrigued by is the one-handed Double Tap gesture (just tap your index finger and thumb together twice on your watch hand to activate). This deals with a wide array of situations where you might only have one hand free, whether that's walking your dog, carrying a coffee, or just having hands too soiled to touch your watch with (e.g. you've been cutting up some raw chicken to prepare dinner). Series 9 also has a brighter screen (2000 nits like the iPhone 15), new bands (no more leather for Apple), new cycling features,  and more.

The Apple Watch Ultra 2 gets all this stuff, too, but with a 3000 nit screen, a new Modular Ultra customizable watch face, and automatically-activated Night Mode.
Other Things
Uh, there really wasn't much else, but the two non-enviro things not mentioned above that I caught were: Earpods are going USB-C and iCloud+ will have new 6TB and 12TB tiers (probably to help deal with all those high quality videos and photos you'll be taking). What are your favorite things that Apple announced? Let us know on Amber's socials!