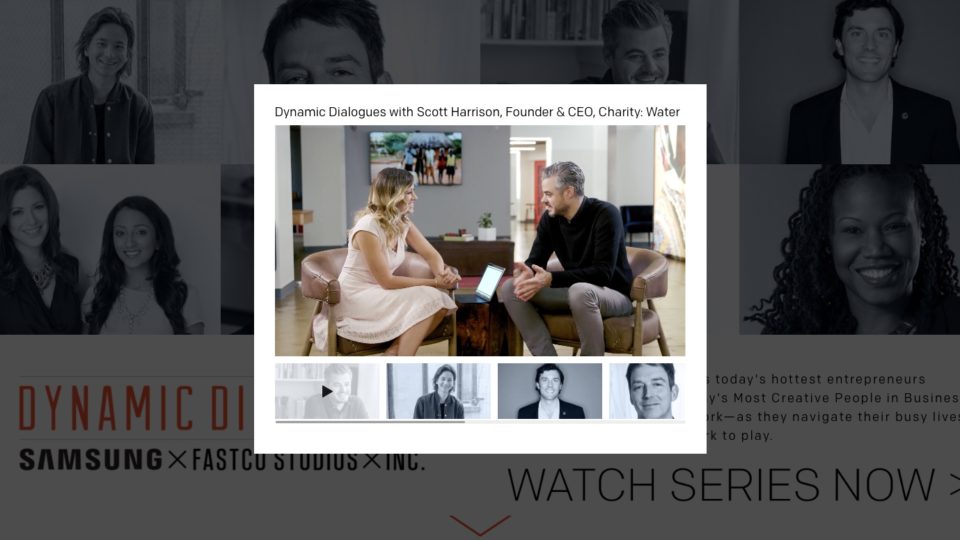 NEW Video Series: Fast Company's Dynamic Dialogues
If you follow me on social media, you know April And May were busy travel months. I stopped counting the number of take-offs and landings, but I do have some excellent memories of our shoots across the country. I've worked as a host for Fast Company for a number of years, but this series is extra special. Unlike most of the interviews I've done, I actually got to spend a substantial amount of time with Fast Company's Most Creative People in Business and Inc.'s 30 under 30. Here are the first of eight features.
Scott Harrison, Founder & CEO, Charity: Water – http://dynamicdialogues.com/scott-harrison
Nathaniel Ru, Co-Founder & Co-CEO of sweetgreen – http://dynamicdialogues.com/nathaniel-ru
Joel Beckerman, Founder & Lead Composer, Man Made Music – http://dynamicdialogues.com/joel-beckerman
Christopher Kelly, Founder & President, Convene – http://dynamicdialogues.com/christopher-kelly
More to come!  Bookmark the Dynamic Dialogues site for our final four episodes, which will be online soon.