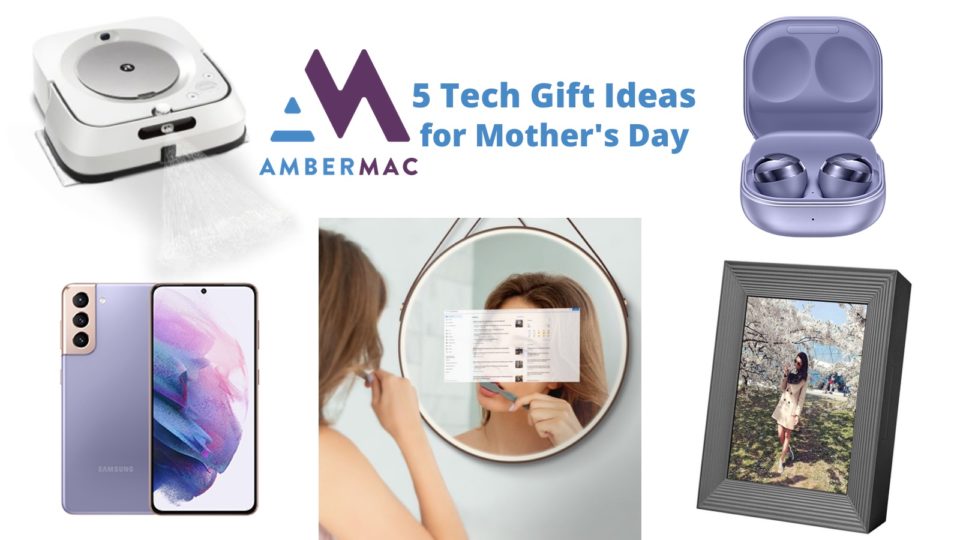 5 Tech Gift Ideas for Mother's Day 2021
by Amber Mac on April 30, 2021

Mother's Day is just a few days away. To learn more about the latest technology for the special mom in your life, Amber Mac is here with all the newest tech to make memories, enjoy music, get help around the house, and lots more.
Share Family Moments & Memories
Best Buy Canada has some great gift ideas for mom this year, including tech to stay connected, entertained, healthy, and more. One of my top picks from the Best Buy Gift Guide list is the Aura Mason Digital Photo Frame. Thanks to built-in WiFi and an easy-to-use app, you can share photos from your phone to your frame in seconds. There are also two ways to use the Aura Mason Digital Photo Frame: portrait and landscape modes

Take Beautiful Phone Photos
Let's face it, the best camera is the one in your pockets. The Samsung Galaxy S21 5G smartphone has cameras that include Night Mode and Portrait mode, so you can take beautiful photos anytime of the day. If mom wants a new and stylish colour, the Samsung Galaxy S21 5G in Phantom Violet is a winner.
Enjoy Superior Sound All Day
As a busy mom and entrepreneur, I know sometimes it's good to have some alone time or block out everyday noise. The Samsung Galaxy Buds Pro, also available in Phantom Violet, feature Intelligence Active Noise Cancellation so moms like me can focus on our favourite podcasts, music, and even work calls.
Save Time Sweeping & Mopping
In my house, sweeping and mopping is a daily task. For more than a year now, I've been using and loving the iRobot Braava jet m6 Mop. It tackles sticky messes, grime and kitchen grease on hard floors. Plus, you can dry sweep any of these spaces. When it comes to technology, Smart Mapping means that your iRobot Braava jet m6 Mop knows your kitchen from your dining room, so you can decide where it mops and when. Plus, I love that you can set Keep-Out Zones so you can keep your robot mop away from areas like your pet's food and water dishes.

Try a Smart & Stylish Mirror
Every day in our studio, I use my Hilo Light Smart Mirror. The lighting options are great for doing my on-air make-up, but I mostly love that I can watch videos while I get ready for a shoot. The leather handle makes the Hilo  Light Smart Mirror easy to hang, so while I use it in the bathroom, it can also be a beautiful accessory in any other room.
I'll be sharing these products and more on morning TV shows and radio programs across the country this week. If you have any other good Mother's Day tech ideas, let me know on social media @AmberMac.