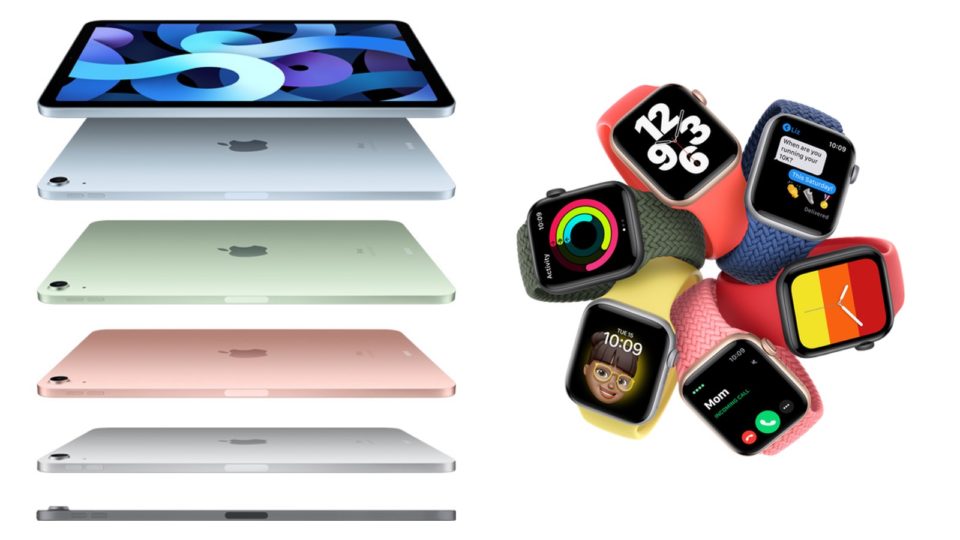 New iPad Air, Apple Watch Series 6/SE, Fitness+ & the Apple One Bundle
Apple's September 15, 2020 launch event was pretty focused on a couple of product categories (Apple Watch & iPad), along with some interesting service-related announcements. We won't get into the OS updates, but iOS 14, iPad OS 14, watchOS 7, and tvOS 14 will all be available the day after the event (i.e. September 16th). Noticeably absent was any discussion of new iPhones, for which an event is expected later this year. Read lots more about the September 2020 event below.
Apple Watch Series 6

The Apple Watch Series 6 introduces the S6 chip, which is 20% faster than the previous generation, and brings with it the completely new ability to monitor the wearer's blood oxygen levels. The new health sensor involved in this can measure your blood oxygen in just 15 seconds and will capture periodic readings so you can track your health. Other improvements include a 44/40mm-size always-on display that's 2.5-times-as-bright when you have your wrist down, as well as an always-on altimeter, which means you can leave your iPhone at home and still get your altitude.
As usual, there were also a bunch of cool new face designs ("stripes" looks very cool and customizable), interchangeable bands (including the new "solo loop" bands with no clasp or buckle), and colors (introducing Product Red and blue aluminum cases). The Series 6 starts at $399 USD.
Apple Watch SE
The greatly-anticipated "less expensive Apple Watch" also arrived, and it looks quite compelling. It has the same display size as the Series 6, but omits the blood oxygen and ECG abilities, and foregoes the always-on display. That said, it does include fall detection and the new always-on altimeter, and the price point of $279 USD makes this the best value Apple Watch yet (the Series 3 watch is $199 USD).
Both the Apple Watch Series 6 and the Apple Watch SE can also take advantage of the new Family Setup functionality available in watchOS 7. This is aimed at making the Apple Watch a standalone device for children or perhaps aging parents or relatives who don't own an iPhone. It includes a "school time" mode for kids, automatic location notifications, and other safety and communications features, but is only starting with certain countries and carriers, so see the Apple website for more details.
iPad Air (4th Generation)

The new iPad Air is probably the most exciting product, with a nice redesign bringing it more in-line with the iPad Pro, although with a brand new A14 Bionic chip for a 40% increase in performance relative to the previous iPad Air. One very cool new addition that I fully expect to make its way across any iPad that doesn't have a Home button – and that is currently only in the new iPad Air – is a fingerprint Touch ID built into the top button on the device. This works just like it always did, you just are using a different part of the device to authenticate (curious to see how naturally it works in that position). Another change that I expect to see across all current Lightning-connected Apple devices is that the iPad Air joins the iPad Pro in its (10x faster) USB-C connector.
The new 10.9″ all-screen display is Liquid Retina with True Tone (like the iPad Pro but no ProMotion tech), and there's a 12MP back camera (like the one in the iPad Pro but no ultra-wide camera in addition) and a 7MP front camera. Again like the iPad Pro, the Air is able to use both the Magic Keyboard and the Smart Keyboard Folio, as well as the 2nd generation Apple Pencil, and it features a 2-speaker audio landscape mode (Pro has a 4-speaker array, 8th generation iPad has 2-speaker normal audio configuration). However, the iPad Pro remains the only iPad with a LiDAR scanner.
The 4th generation iPad Air starts at $599 USD (64 GB Wi-Fi), is available in October, and comes in five colors, including the new Green and Sky Blue (plus Silver, Space Gray, and Rose Gold).
iPad (8th Generation)
Not much to say about this except that it uses the A12 Bionic chip, has a 10.2″ display, and supports the Apple Pencil and Smart Keyboard. Starting at $329 (32 GB Wi-Fi), this is the least expensive full-sized iPad in the lineup (not sure where the iPad mini stands at this point, but hope they keep up with it, as the form factor is just great for some things). For anyone who missed it, Apple updated the iPad Pro line in March 2020.
Apple Fitness+

As was leaked without too many details, Apple has indeed added another service offering in the form of Apple Fitness+. Fitness+ leverages your Apple Watch (requires Apple Watch Series 3 or later) alongside your iPhone, iPad, or Apple TV to deliver instructor-based video workout classes (think Peloton). There are 10 different workouts (Treadmill Walk or Run, HIIT, Rowing, Dance, Cycling, Yoga, Core, Strength, and Mindful Cooldown) that integrate your personal fitness metrics (as gathered by your Apple Watch), use playlists from Apple Music, and deliver your results and personalized workout suggestions through the updated Fitness app.
No special equipment is required (although you'll want a treadmill, rowing machine, or free weights for some of those specific workouts), and each week new workouts will become available. Fitness+ is coming in late 2020 with subscription rates of $9.99/month or $79.99/year (USD, and these are eligible for Family Sharing – yay!), and a new Apple Watch purchase will give you 3 months for free.
Apple One Subscription Bundle
Or maybe you want to bundle your Fitness+ into an Apple One subscription? Yes, another leaked service addition is the fairly compelling Apple One subscription bundle. This is focused on 6 core Apple services:
Apple Music
Apple TV+
Apple Arcade
iCloud
Apple News+
Apple Fitness+
Currently you pay for all of these separately, but coming in late 2020, you'll be able to instead subscribe to the following bundles:
Individual ($14.95/month) with Music, TV+, Arcade, and 50GB iCloud storage (saves $6/month relative to separate subscriptions)
Family ($19.95/month) with Music, TV+, Arcade, and 200GB iCloud storage (shareable with 5 other people & saves $8/month relative to separate subscriptions)
Premier ($29.95/month) with Music, TV+, Arcade, News+, Fitness+, and 2TB iCloud storage (shareable with 5 other people & saves $25/month relative to separate subscriptions)
What do you like most in Apple's latest offerings? Let us know on Amber's social channels!