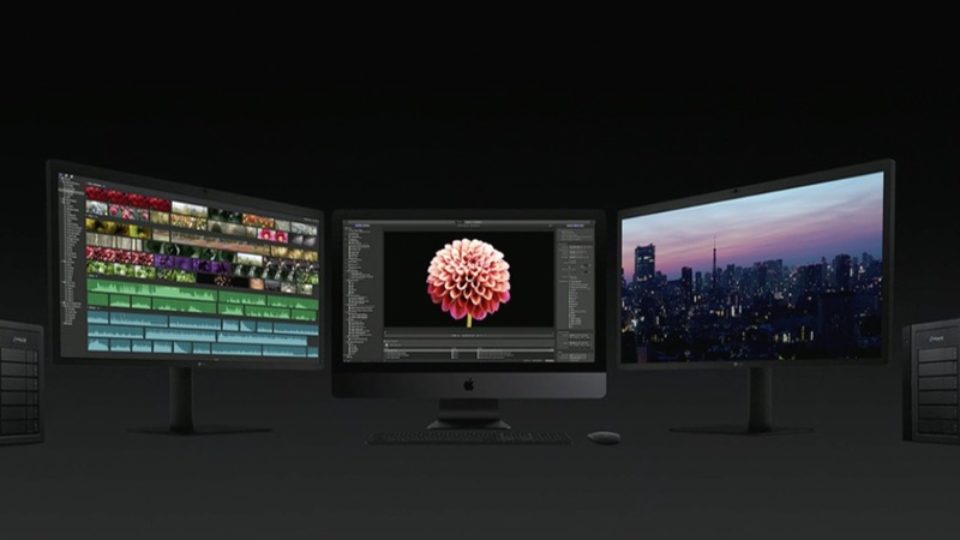 TheOtherMac: Augmented reality, the iMac Pro, and more at Apple's WWDC17
I recently wrote about Apple's new "Siri speaker", iPads, and iOS 11 announcements from their Worldwide Developers Conference, so I'll cover off the rest of the keynote below. Again, the underlying thrust for a lot of things was about machine learning, especially how this relates to Siri's abilities, and setting the stage for augmented reality to really break through. So let's begin there.
Augmented Reality: Consume & Create
There were no new Apple AR devices per se at WWDC17, but there was an enormous focus on bringing Apple's software (like their new core ARKit technology) and hardware to a position where it will overnight become the biggest AR platform in the world. There were some cool demos, but the big thing to absorb here is that Apple isn't looking to just create something where users can consume augmented reality, they want to establish the Mac as the place to create augmented reality (just like they previously did with video, with Final Cut, and music production, with Logic/Garageband). Very cool stuff and I'm sure lots more to come.


iMac Pro: The End of the Mac Pro?
It's hard to say whether the iMac Pro will completely take over for the professionals who were the Mac Pro's audience, but Apple really needed to throw this crew a bone and I think they've put together a great offering. First of all, the space grey finish on this thing looks so cool I just have to imagine it's what Darth Vader would have on his desk. Secondly, it's "the most powerful Mac ever" in a pretty big way – up to 18-core processor, up to 16GB VRAM, up to 128GB memory, etc., etc. It's available in December at $4999 (and I really want one).
watchOS 4: Solid Upgrades Continue
Nothing earth-shattering in the watchOS department (e.g. a new Dock to vertically scroll through recently used apps; new apps for News and Music, which can auto-sync playlists that can be associated with specific workouts), but a lot of nice upgrades that should make the Apple Watch better for those who use it. Here are the main additions:
new UI for workouts, plus additional workouts including pool swim (which will automatically detect sets based on your taking a rest at the end of the pool) and high intensity interval training – you'll also be  able to do multiple workouts in a single session;
Apple Watch-enabled gym equipment, covering the biggest manufacturers in the space, so that your Watch and the fitness machine you're using can have two-way data exchange (definitely a surprise announcement for me, but kind of makes sense for Apple to use its weight to come in here in a big way that other manufacturers will be hard-pressed to quickly follow-up);
new watch faces, including an "intelligent" Siri watch face that surfaces what's most relevant to you at the time; some Toy Story characters, complete with short vignettes; and an animated kaleidoscope option;
activity notifications that are more personalized, can include monthly challenges, and have celebration animations; and
there's now a Flashlight control in the control center, which can even be set to blinking if you're doing a nighttime run.
macOS: Simple Evolution, Terrible Naming
I'm not sure why Apple bothers giving names to its macOS versions anymore, especially with the next one being called High Sierra (basically it's strengthening everything in Sierra, just like what they did with Lion to Mountain Lion). In any case, there were a few interesting things (I'll leave out a bunch of actually awesome under-the-hood stuff, like the new file system, upgraded video encoding, and more):
Safari is going to get Autoplay Blocking (which should be the default on all browsers, IMHO) and Intelligent Tracking Prevention (which is a great way to stop ads from following you around the web and monitoring your activities – note, this is NOT ad blocking, so you'll still see ads, they just won't "know who you are");
Mail will get better search and optional fullscreen split view for Compose windows; and
Photos will get better organization (including persistent sidebar); new edit tools (e.g. Curves, Select Color); and (in the "it's about time" category) Faces will finally be synchronized across devices (previously each device had to do its own Faces analysis).
Then there were a few odds and ends…
tvOS: Amazon Prime Video will be coming to Apple TV and there will supposedly be "a lot more later this year", so let's keep our fingers crossed for something awesome at Apple's fall event;
iMacs & Notebooks: nothing exciting here, just faster processors, brighter monitors, and a couple of price improvements; and
I forgot to mention this in my last post, but looks like iOS is finally getting QR code support integrated right into the camera (something that really needs to happen for QR codes to be broadly useful).
Let us know on social media what came up at WWDC17 that you're most excited about!