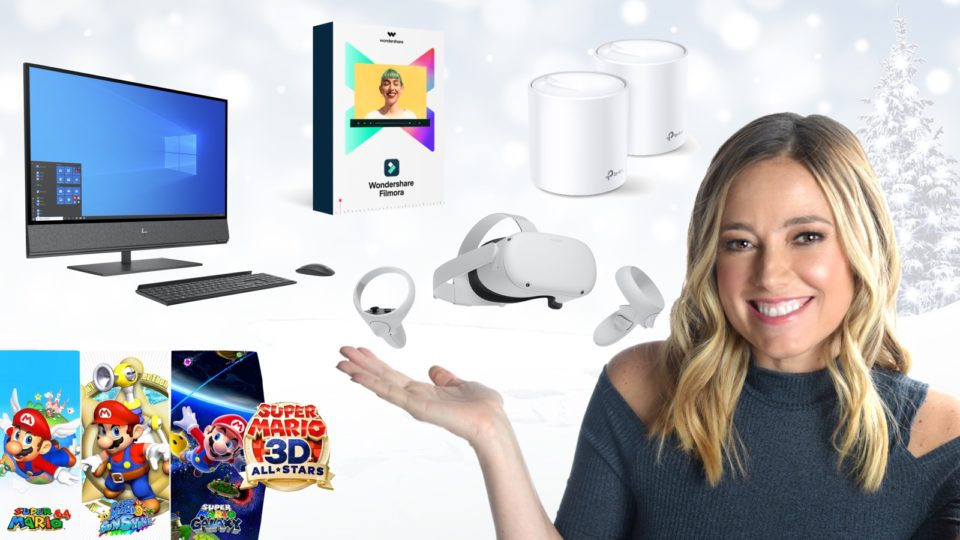 Tween & Teen Gift Ideas for the Holidays

If you have a tween or teen at home, chances are that they want some kind of tech for the holidays. Whether you're looking for an all-in-one desktop, affordable video editing software, a VR headset for your gamer, better WiFi in the home for everyone, or the hottest new Nintendo Switch game, we have you covered.
For parents looking for a more permanent home computer set-up for 2021, HP has a range of All-in-One computers for every budget starting at $999 – from the ENVY that is great for graphic design, video editing, and more, to the Pavilion that is great for the whole family. The HP Envy All-in-One has a pop-up privacy camera and microphone that are only enabled when in use.

My 11-year-son loves to edit his own videos. That's why I'm excited to share that Wondershare Filmora X is now available for $70 for a lifetime subscription. This is the perfect easy-to-learn, video-editing tool to make extraordinary content with advanced animation, motion tracking, and all the features you need to create magical videos this holiday season and beyond

This virtual reality headset is the perfect gift from Best Buy for the teen in your house for live concerts, immersive films, interactive gaming, and more. This is available at the Holiday Hub at BestBuy.ca, along with other gifts for the whole family. Holiday purchases can be made safely by Quick and Easy Store Pickup within as little as an hour or ordered online (with 2-day shipping nationally and next day delivery in Montreal, Toronto and Vancouver).
For a pain-free gaming, streaming, and learning experience, the TP-Link Deco X60 creates umbrella WiFi 6 coverage so everyone gets fast and stable device performance. This mesh system is perfect for a two-story home where you want to remove wireless pain points. There are also parental controls built-in so you can pause the Internet and manage all devices on the network with ease.

The Nintendo Switch is a video game system that is an excellent choice for the gaming family. You can play at home on your TV, or portably on the go. The hottest new title is Super Mario 3D All-Stars – it's three classic Mario games in one.
We've got more awesome gift ideas on the way, so keep checking back in here at AmberMac.com and follow me on Facebook or Twitter for even more recommendations.