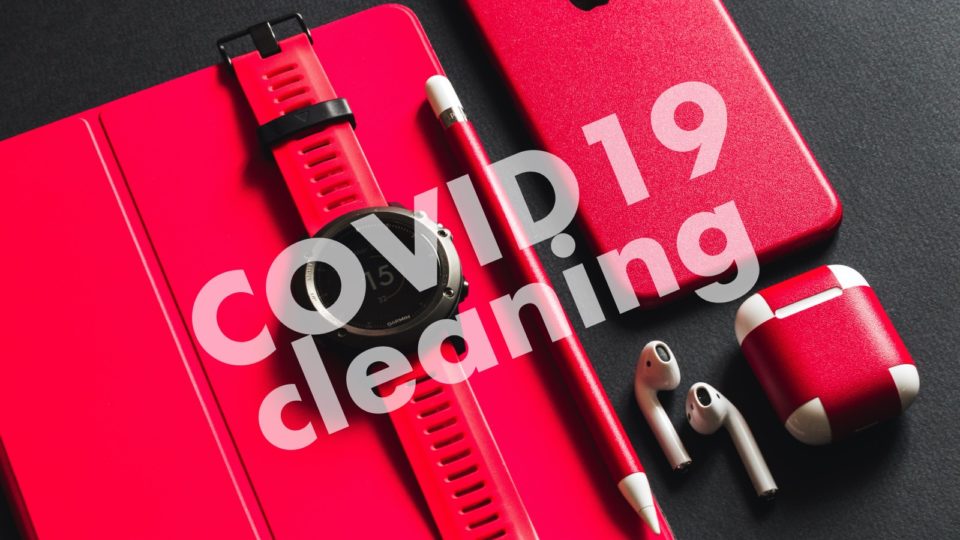 4 Tips for Cleaning Electronic Devices During COVID-19
by Amber Mac on March 30, 2020
At this point, hopefully everyone is doing a great job of washing their hands, not touching their faces, and maintaining a physical distance from others. However, there has been some confusion about how best to keep your electronic devices clean, and some companies (like Apple) have updated their guidance in the time of the coronavirus pandemic.
Before we begin, please keep in mind that it's not much use cleaning your devices if you don't clean your hands regularly as well. COVID-19 can survive on surfaces anywhere from a few hours to roughly a week, so the virus can travel by touch easily. Also, while UV light can be effective against some viruses, it's not clear that it's effective with respect to COVID-19, so we'll be looking at physical cleaning below. Also, note that most liquor does not have a high enough percentage of alcohol to be useful (isopropyl alcohol between 60-90% is best – actually better than 99% alcohol because you need more water in the solution).
We'll focus on some of the most common devices, but remember that your TV remote, game controllers, and other electronics should also be cleaned, so it's not just about computers and phones. With that said, here are four things you should do to clean your electronic devices.
Ideally check with the manufacturer of your device for the best cleaning methods (e.g. did you know that you're not supposed to clean the tip of an Apple Pencil?).
Turn off any electronics and unplug all connections before cleaning (remove batteries from anything with a removable battery).
Disinfecting wipes and/or a 70% isopropyl alcohol solution will work fine for most devices – don't soak the cloth, just make sure it's damp and lint-free. You should avoid using aerosol sprays and window cleaners, as well as cleaning products with abrasives, hydrogen peroxide, chlorine, acetone, ammonia, or bleach, as these may discolor or otherwise harm your devices. Make sure whatever you're using for a cloth is soft – avoid paper towels and other abrasive items.
Gently wipe all hard, nonporous surfaces (display, keyboard, frame, etc.) on devices. You don't need to scrub or press hard. Do not spray cleaner on the device or submerge it in cleaner, but do spray cleaner onto a cloth so you don't risk getting unwanted moisture in any places where it shouldn't be. You may want to test on fabric, leather, or other porous surfaces to make sure this won't damage them (a mild solution of soap and water may be preferable for those). Don't clean inside any ports or openings – if you need to remove something from these then use a dry cloth.
It's as easy as that. Just make sure you don't overdo it, as this kind of cleaning can, for instance, diminish the oleophobic coating on an iPad. Finally, here are a few links that can help with keeping things clean during the pandemic.