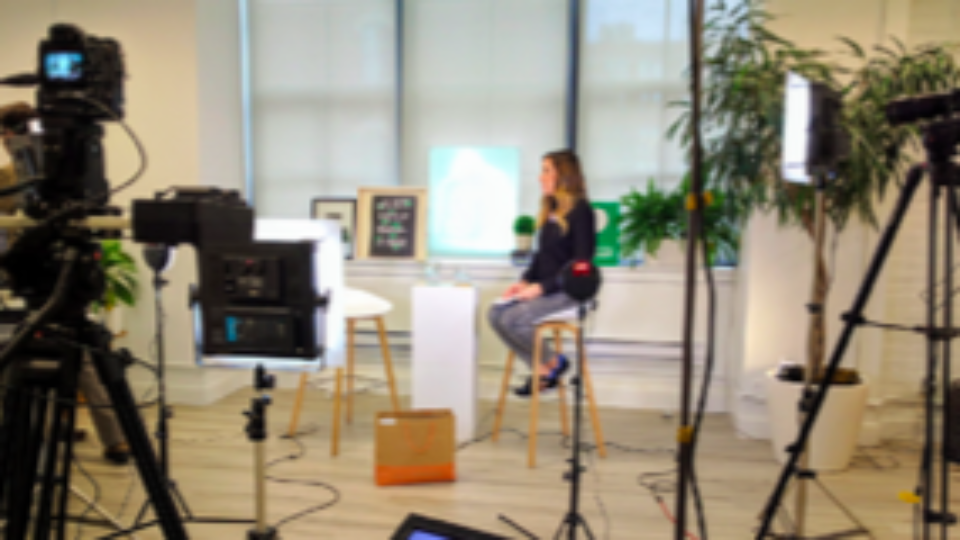 Facebook LIVE: 5 Hacks You Probably Don't Know
by Amber Mac on April 25, 2017
The head of video at Facebook recently shared on her Facebook page that "…one in every five Facebook videos is a live broadcast – and over the past year, daily watch time for Facebook Live broadcasts has grown by more than 4x. Every day, we get to enjoy new use cases for Live that we would never have thought about." More importantly, the company has also reported that people watch live videos 3x longer than regular videos and live videos get 10x more engagement.
I realize the term hack is thrown around liberally in the digital space. However, there is no better way to describe these quick tips and tricks that are often unfamiliar to content creators and producers live streaming on the Facebook platform. To date, we've hosted and produced Facebook Live specials and series for Intel, Scotiabank, Shopify, Interac, and the list goes on. After dozens of hours of content, we've learned a few things that will help you amp up your live productions.
Create a GIF during live stream to promote on social
If you aren't sharing GIFs online, it's time to get started. It's an excellent way to repurpose existing video content into a tiny shareable moving image. If you're doing a live stream, gifs.com now makes it possible to make a gif while you're broadcasting. Drop your live URL into the GIF-making tool on gifs.com, add any desired effects (text, stickers, etc.), and you're good to go. If you don't get a chance to create a live GIF, you can also use gifs.com to create a GIF after your broadcast (follow the same process).
Pre-schedule a Facebook Live broadcast for easy reminders
It's now easy to pre-schedule your Facebook live broadcast (up to one week in advance). This is a good idea if you want to make a direct link available to share on social before you go live. To do this, within Publishing Tools go to Video Library and select Live. Copy your stream credentials (stream key, server URL). Create your live broadcast post content (keep it short, sweet, and shareable). Be prepared to go live at your scheduled time. Pre-scheduling your live broadcast also makes it easy for viewers to get an instant reminder and allows them to chat just before the show.
Replace the default live video thumbnail after the live stream



You have all of 8 seconds to grab someone's attention while they're browsing their Facebook feed, so make sure you consider uploading a compelling thumbnail. To do so, follow these steps. Click on your video's publication / air date. From there, click on the three dots on the top right-hand side of the post (see image). Click edit post. Change default thumbnail (choose one of 11 frames) or upload your own custom photo (click Custom). Our AmberMac Media, Inc. live production process includes taking a photo on set or on location after every show so we can get a high-res image for this purpose.
Launch a hotspot from your smartphone for live streaming

Ever since we started live streaming, despite the fact that we might have access to WiFi for our multi-camera shows, we often rely on my smartphone's cellular signal. Unless we have a solid Wi-Fi connection at a venue, we've found this option to be the most reliable (in fact, it gives us the additional capability to go live from anywhere). As a #TeamTELUS ambassador, I've learned a lot about Telus' 4G LTE coverage. As the company explains, "We provide a 4G LTE Advanced network with speeds up to 700 Mbps (expect average download speeds up to 200 Mbps)." It's still incredible to me that we can stream a multi-camera shoot from the Internet on my smartphone!
Always include a giveaway during your Facebook Live broadcast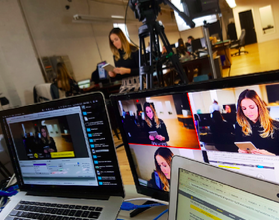 While engagement on Facebook Live is 10x the engagement on a regular Facebook video, you can drum up even more comments if you host a giveaway during your broadcast. This doesn't have to cost hundreds of dollars. In fact, we've recently done giveaways that consist of $50 gift cards and inexpensive gadgets (i.e. the price of the prize doesn't seem to matter). Not only does this give viewers an opportunity to win something, it also gives you more content. For example, during a recent online safety broadcast we produced for parents, we asked viewers to ask a tech question for a chance to win a prize. This engaged our audience and made the show much more interactive. One note to remember. You cannot ask viewers to like your page or share your broadcast post for a chance to win (this breaks Facebook's giveaway rules). You can, however, ask them to leave a comment for a chance to win (or ask a question). Plan to use these viewer comments during your broadcast.
To contact me at AmberMac Media, Inc. for a detailed PDF featuring our live streaming services, fill out the contact form below and we will be in touch.