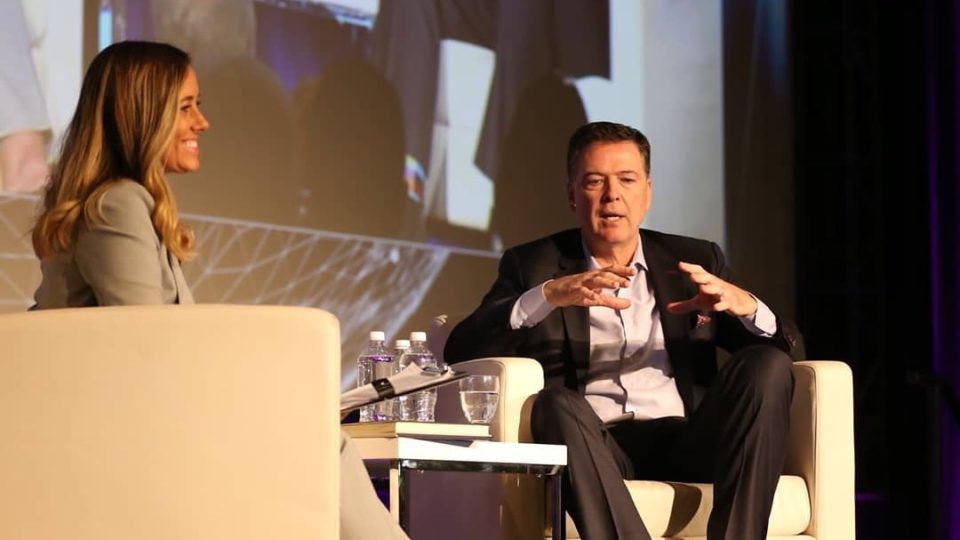 Amber Mac in Conversation with James Comey: WCISC 2019
by Amber Mac on May 30, 2019
I recently sat down with James Comey, former FBI director, at the Western Canada Information Security Conference at Winnipeg's RBC Convention Centre. Following his keynote, we had 30 minutes together to discuss cybersecurity, social media, artificial intelligence, ethical leadership, and more.
Last year Comey released his bestselling book, A Higher Loyalty. His book is a fascinating read that dives into the topic of truth through decades of stories from Comey's personal and professional life, and it helped inspire many of my questions.
Throughout the book, and on stage, Comey explained that in 2016 he chose the "least terrible option" when reopening the investigation into Hillary Clinton's email. Many people in the audience, and online, have strong opinions about what Comey should have done. My role during our conversation was not to rehash these events that took place shortly before the 2016 election, but instead to get the former public servant's opinion on threats and opportunities as we head into 2020.
Here are three moments from our time together that stood out.
Why Good Leaders Use Humour
Mr. Comey shared an interesting observation about his time working under three US presidents and their confidence (or lack thereof) to use humour in tense settings. He cited a number of examples of how President Barack Obama liked to joke around (but not necessarily at the expense of anyone else in the room), describing on the day of his nomination as FBI director that President Obama told him they needed to talk about something seemingly urgent. As Comey revealed, the President pulled him aside and said, "Bob has always allowed me to use the FBI gym to play basketball, and I need you to commit to continuing that."
Why We Should Be Optimistic
Comey described various moments in US history that he explained were much more "screwed up" than things are today. For this reason, he said, "Somehow American values, that ballast at the centre of our nation, always rights us." He also encouraged attendees in the audience to seize opportunities at our fingertips, such as the ability to influence and mentor a new generation of cybersecurity experts at a time when there is a 3M+ shortage in this space.
Why It's Time To Stand For Truth
Whether you're in the United States, Canada, or other parts of the world, there is a battle taking place right now with the truth. Whether it's a doctored video of House Speaker Nancy Pelosi or bots trying to influence elections, we live in dangerous times. As Comey explained, "The danger we face today in the States is there's such a tidal wave of lies that it risks washing away that touchstone like a sand castle at the beach. So the rest of us just give up, we become numb to it." I asked him what we should do to get closer to the truth, if there is value in speaking up and he had this to say. "If there's goodness — and I believe there is in this era — it's all of us realizing that every one of us owns that touchstone (of truth), and must speak about it, stand up for it and defend it."
A special thank you to Rob and Kyle at ISACA for inviting me to emcee and moderate.
If you're looking for a speaker, emcee, or moderator for your next event, please get in touch with me through the form below.