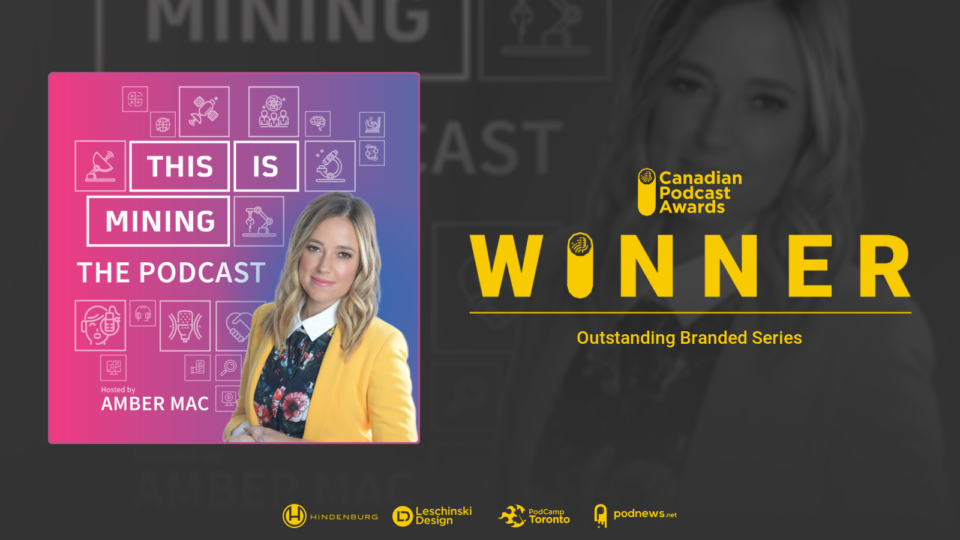 This Is Mining: The Podcast wins Best Branded Series in Canada
by Amber Mac on August 30, 2021
This is Mining: The Podcast, produced by AmberMac Media Inc. in partnership with the Ontario Mining Association, is the proud winner of Best Branded Series at the Canadian Podcast Awards. celebrating outstanding podcasts produced by Canadian podcasters, editors, and producers. Other nominees in this category include The Disruptors (RBC), and Behind the Breakthrough (UNH), and Hello Movies (Cineplex). Winners were announced Friday, August 27th via livestream featuring guest appearances from Canadian podcasting luminaries.
The Canadian Podcast Awards were established in 2018 by Podcamp Toronto to showcase the very best in Canadian on-demand digital audio production. The awards feature categories across topic areas such as documentary, politics, arts, and culture. Past winners include The BedPost, That's How I Remember It, Minds of Madness, and The Inadequate Life.
Listen to This is Mining: The Podcast here and watch the award announcement and thank you speech below.