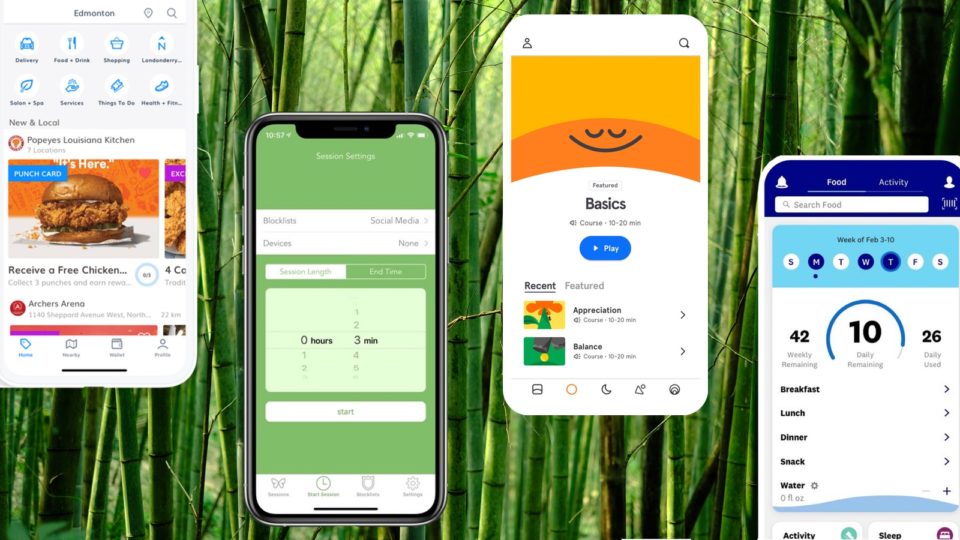 Top 4 Apps for a Healthy 2021
by Amber Mac on January 5, 2021

So far, 2021 is looking a lot different than other years, so to make your days a little bit easier and to start some healthy habits, here are some new-and-improved apps to eat better, shop local, stay calm, and stop doomscrolling.
1. Get Healthy: WW App
The WW App, formerly Weight Watchers, has put a major focus on optimizing its app experience in the past few years, and it has paid off, big time. Designed to be a wellness coach at your fingertips, the myWW+ program gives you science-based tools to make healthier choices across four key pillars: food, activity, mindset, and sleep — delivering holistic and personalized support. When it comes to movement, one of my favourite features is the equipment-free workouts. Go to ww.ca to learn more.
2. Shop Local: GetintheLoop App
GetintheLoop is a shop local community featuring special offers, rewards, and community events from more than 5,000 local businesses across Canada. During the pandemic, GetintheLoop has helped local businesses promote new services like take-out, delivery, and curb-side pick-up options. It's like having your local main street or favourite shopping neighbourhood in the palm of your hand.
3. Try Meditation: Headspace App
The Headspace app makes meditation easy. There are hundreds of guided meditations to help relieve stress or get a better sleep. Plus, you'll find super-short meditations that you can do if you're having a busy day and only have a few minutes to spare. There is also an SOS mode if you need help immediately, which are 3-minute sessions if you're feeling overwhelmed, panicking, or losing your temper.
4. Stop Doomscrolling: Freedom App
Freedom is an app and website blocker for Mac, Windows, Android, iOS, and Chrome so that you can block websites and apps and stay focused. Since so many of these apps are built to keep us hooked, this will give you the chance to take back your time. For example, I am slighting hooked on Twitter, so with Freedom I can block the Twitter app for a set amount of time while I'm trying to get work done. It's easy to use and you can block apps across all your devices.