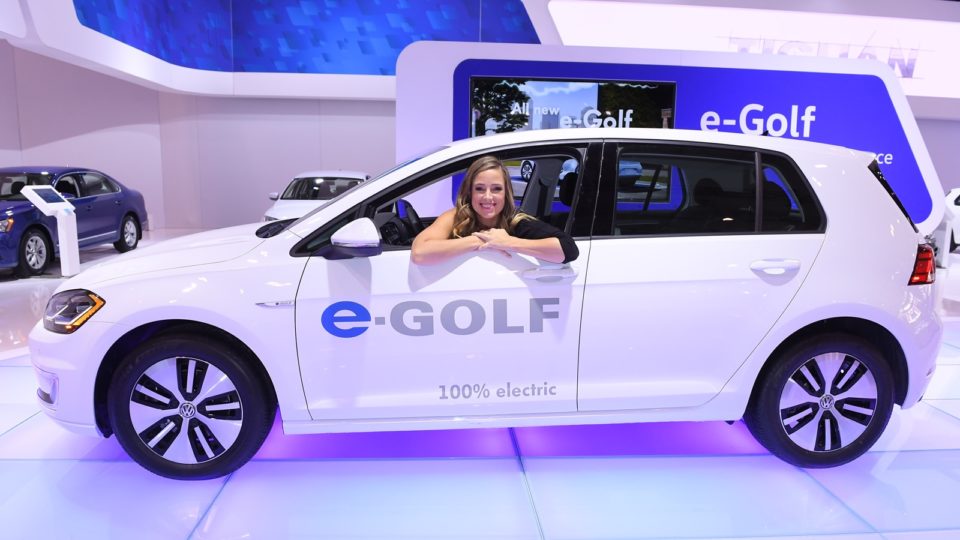 Top 5 Automotive Tech Trends
by Amber Mac on February 24, 2017
The largest auto show in Canada just hit downtown Toronto, featuring more than 1,000 hot new vehicles in a massive 650,000 square-foot space. I spoke at the Volkswagen booth on Friday about emerging tech trends in this industry, alongside one of the company's key marketing executives. During our chat with mainstream media and digital influencers, we discussed the following innovations that are defining the future of automotive today.
1.  Connected cars
From wifi hotspots to big data, both passengers and manufacturers are benefitting from connected cars. On a consumer level, buyers are keen to purchase vehicles that allow them to extend their mobile phone experience; this means easy music streaming and access to address books. In other words, when you walk into your car, you expect your smartphone life to seamlessly connect – and come along safely for the ride.
2.  Autonomous vehicles
In the next five to 10 years, most of us will have an experience with an autonomous vehicle. This might not mean that we jump into a car and let it drive us around, but that we accept the role of co-driver. This trend will lead to a decrease in traffic accidents and an increase in mobility for people who can't currently drive. According to the World Health Organization, in the United States, driver error causes 94% of all traffic accidents, so the hope is that computers can do (a lot) better.
3.  Augmented Reality
There is plenty of room for improvement in terms of how information is shared with drivers. For example, we're seeing further advances in automotive head-up displays, so instead of looking down at a screen or device, the information is front and centre on your windshield. Augmented Reality (AR) goes one step further.  As CNET explains," AR goes beyond head-up display technology by using GPS and sensors to pick out objects in the car's environment, calling out those objects for the driver. AR can be very helpful in urban environments where the amount of traffic, pedestrians and signage becomes overwhelming."
4.  Electric Vehicles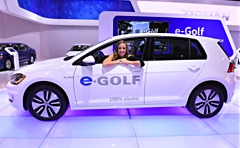 While much media hype surrounds the benefits of electric vehicles and hybrid models in terms of their positive impact on the environment, there are also significant cost savings for owners (including tax incentives). We are also seeing hybrid models growing in popularity. As a Bloomberg report predicts, electric vehicles will comprise 35 percent of global new car sales by 2040. In Norway, as of this year, they've already surpassed this number (with electric vehicles at 37% of total market share in that country). In terms of range, the Volkswagen e-Golf pictured above can go 201km on one single charge.
5. Retro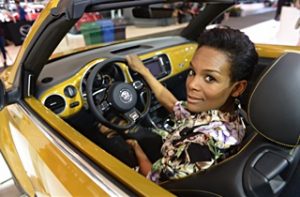 In the consumer tech world, everything that is old is new again. Let's take digital cameras, for example. There is a mini trend towards camera manufacturers selling devices that let consumers print instantly (a nod to the Polaroid years). In the automotive industry, there is a similar movement.  While we love old-school design, we want it with the latest techie bells and whistles. One example is the 2017 Volkswagen Beetle, which was an Auto Show all-star, with its app-connect feature, high-quality Fender audio, and slick LED taillights.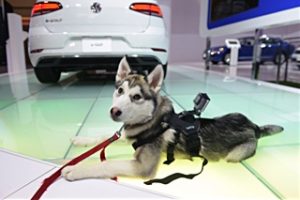 P.S. Thumbs up to Volkswagen for inviting dogs to its media day. I'm a big fan of this husky with its GoPro cam just chilling on site.
P.P.S.  Photos here from celebrity photographer George Pimental.