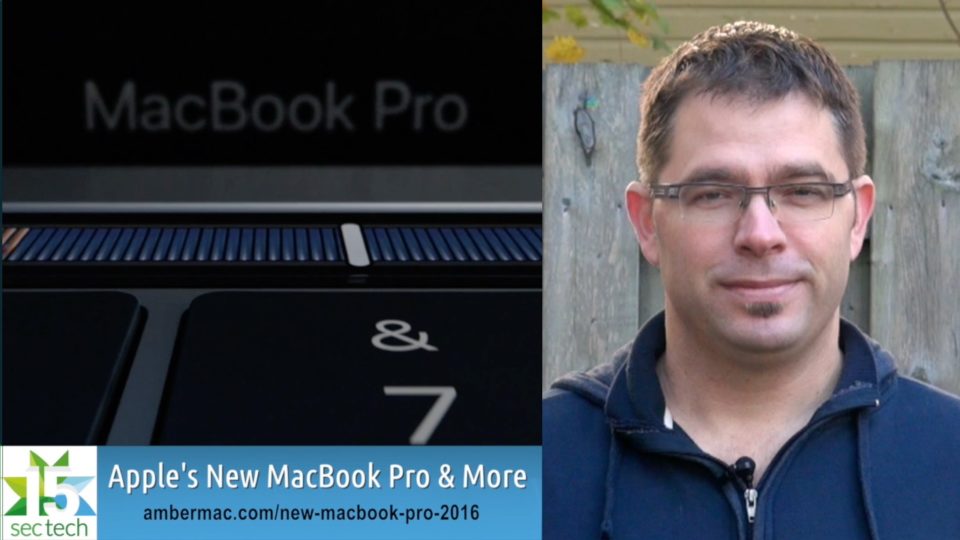 New MacBook Pro, Apple TV App, and More
Apple's "Hello Again" special event focused on a new MacBook Pro and some Apple TV updates, so let's look at them each in turn.
New MacBook Pro
The new laptops come in 13″ and 15″ sizes that are, respectively, 14.9mm and 15.5 mm thin, and 23% and 20% smaller (and half a pound lighter) than the previous generation. All wired connections (including charging) are made through four USB-C-style Thunderbolt 3 ports, so you'll probably be shopping for dongles to connect your other devices (thankfully there are connectors for almost anything nowadays). The force touch trackpad is twice as big, the speakers are improved, and the displays are better than ever (67% brigher, 25% more colors). The internals have also been beefed up, providing graphics twice as fast or better, as well as improvements in general processing and storage speeds.
However, the big news – and this is a pretty transformative thing that I expect to see moving to all of Apple's keyboards (since it ties in so strongly with macOS) – is the addition of a dynamic, contextually-aware, mult-touch control strip where the function keys used to be. Apple is calling this the Touch Bar, and it provides buttons and other controls that change based on the application you're using, which has some amazing implications for productivity and ease-of-use. Some of the examples shown at the even with Final Cut Pro, Photoshop, and even a DJ app, were incredibly cool and show the incredible potential this could have if developers get on board (which many have already happily committed to).
Apple TV Announcements
Apple also featured some upcoming Apple TV software additions. Siri Live Tune-in lets uses Siri to search through live sports (and news, although not with all the cool scoring and schedules integration that sports have) so you can tune in to your favorite game without anything more than a voice command. There was also a pretty cool demo from Twitter about their new Apple TV app, which lets you see posts, take polls, and otherwise participate in the live exchange on Twitter while watching official streaming sports video through their channel.
Apple also has its own new app on the Apple TV called "TV" that consolidates the television and movie content from all of your video apps in one place for easy searching, tracking, and purchasing. Divided into Watch Now (which keeps track of what you're watching and provides curated suggestions), Library (which lists all of the content you have available), and Store (where you can make purchases from Apple and other providers), the new app seems like a fantastic addition to what's becoming a fairly compelling platform.
Let us know what you think of the announcements on social media!