Speaking
Services
In addition to various up-to-date and topical presentations (such as those below), I also do custom presentations for clients. Contact me to get more information on speaking or any of the previous presentations below.
A Gen Z Digital Playbook: 4 Steps to Reach the Next Generation
While we've obsessed about millennials for almost a decade, it's time to shift focus to the next generation. Generation Z (born between 1995 and 2010) is an economic powerhouse that represents a quarter of our population – and growing. They buy differently, engage differently, connect differently, and think differently. In Amber's talk, she breaks down how to rethink your digital strategy into four simple steps to reach this next audience: Rethink Mission, Rethink Work, Rethink Platform, and Rethink Communication. From the Internet of Things to big data, personal privacy to digital security, online marketing to social leadership, she incorporates today's leading tech trends into a rich multimedia presentation. As the author on a recent book that focuses on this generation and a frequent innovation expert on Bloomberg, Fast Company, CNN, and other outlets, she understands firsthand why companies in all industries must fight to adapt to successfully reach this post-millennial group.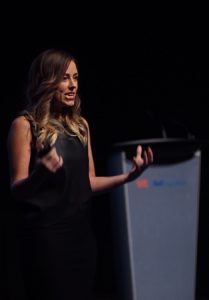 Relentless Adaptation: How Great Companies Are Really Innovating to Win
We obsess over innovation. But innovation is overrated. If you look at the smart companies that are prized for "innovation," you see that they are actually masters of "adaptation"—of knowing when to adjust, when to speed up, and when to capitalize. It's not about being first; it's about being flexible. In this thrilling new talk, Amber Mac looks to leading organizations, many of which she covers for Fast Company, to explore the practice of relentless adaptation. Is your company taking advantage of disruptive new technologies, or simply being disrupted by them? From the C-Suite to marketing to customer service and beyond, a newly adaptive corporate culture, defined by digital technology and bold leadership, is fundamentally changing business. And Amber Mac has had her ear to this fertile new ground for years. Fusing new concepts like crowdsourcing and gameification to a timeless strategic framework, this big picture talk sheds light on how to adapt, and how to win, in our fast-forward economy.
Connecting Everything: 10 Ways the Internet of Things Will Change Your Business
Over the next five years, the market value of new Internet of Things services is expected to exceed $1.9 trillion globally. In this talk, Amber MacArthur will teach you how this next big technological shift will change the way we all do business. Whether it's machines talking to other machines, cars talking to smartphones, or people programming every last object around us, MacArthur will lead your group through a lively and easy-to-understand presentation featuring what every business person needs to know about this new economy.
After starting her career at two successful start-ups during the dot-com boom in San Francisco in the late 1990s, writing a bestselling book about digital marketing, working as a technology expert at the world's leading media outlets, and growing her social empire to more than two million people around the globe, there is no better person to tackle the future of this amplified connectivity. MacArthur's energetic and visually rich presentation will help your group prepare for this evolution.
Cybersecurity & The Next Generation: 10 Steps to Privacy, Safety, and Citizenship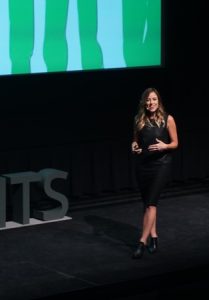 For parents, educators, policy makers, and marketers in the digital age, it's increasingly difficult and stressful to understand the Internet from a young person's perspective. Not only are children more comfortable with technology than adults, but they're also getting better at hiding behind it. Privacy and security policies can't keep up with the speed of new technology, leaving people of all ages vulnerable to threats. And as a result, kids are diving into all sorts of dangerous situations online and adults aren't equipped to save them from drowning.
In this keynote, based on her upcoming book Outsmarting Your Kids Online: A Safety Handbook for Overwhelmed Parents (May 2016), tech expert Amber MacArthur provides 10 steps to better privacy, safety, and citizenship. Covering concerns around social media networks (Facebook, Twitter, Instagram, Snapchat, and so forth), online video, mobile applications, screen time, targeted attacks, and even the security hazards of tomorrow, this keynote is an ideal way for parents, educators, policy makers, marketers, and more to learn how the next generation is shaping the Internet.
Amber provides a sweeping yet detailed look at the correlation between marketing and social media in the online world. With few equals, Amber has and continues to demonstrate a keen insight towards the continually evolving fabric of the social web.

Steve Chen

YouTube Co-Founder

Amber... (gave) me valuable web usability advice when we were a tiny 3 person company. I always enjoy chatting with Amber as she understands social media and where things are going.

Kevin Rose

Founder of Digg, Milk & Revision3

Writing from the virtual center of the social media storm, Amber Mac explains exactly how and why your business can benefit from social media. And you could have no better teacher: Amber is the authentic authority on how to use social media to expand your market, learn more about your customers and save on marketing, whether you run a Fortune 100 company or a blog.

Dina Kaplan

blip.tv Co-Founder

Social media is here to stay, and Amber Mac's Power Friending is the ultimate guide for all those looking to understand (and profit) from our highly connected future.

Jeremy Gutsche

Chief Trend Hunter at TrendHunter.com, Author of Exploiting Chaos

Amber is one of those rare people that actually lives this social movement and I don't know about you but I like listening to people that 'LIVE IT' more than people who read about it.

Gary Vaynerchuk

WineLibrary.TV & Author of Crush It! & Jab Jab Jab Right Hook

I've worked with Amber on a social media strategy... I think she's a leader in the space... Amber, you're the very best!

Tony Robbins

the world's foremost motivational speaker