Speaking
Services
Below are a few of the most popular speaking topics that Amber regularly covers. Of course, Amber can also customize her presentations to suit your audience – just use the form at the bottom of the page to let us know what you're looking for and we can take it from there.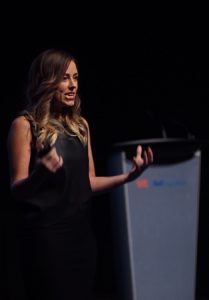 The Rise of Artificial Intelligence: A Day in the Life of AI in 2025
If your attendees need to know about artificial intelligence, but don't know where to start, this keynote is the perfect introduction to put AI into context for today's business leaders with a look at how this new technology will impact our lives on a daily basis.
Relentless Adaptation: Best Practices for Today's Digital Economy
We obsess over innovation. But innovation is overrated. If you look at the smart companies that are prized for "innovation," you will see that they are actually masters of "adaptation"—of knowing when to adjust, when to speed up, and when to capitalize. This big picture talk sheds light on how to adapt, and how to win, in our fast-forward economy.
A Generation Z Playbook: Marketing to the New Digital Trendsetters
Generation Z (people born between 1995 and 2010) is an economic powerhouse that represents a quarter of our population—and is growing. In this presentation, Amber explains how to break down your digital strategy into four simple steps to reach this next audience: Rethink Mission, Rethink Work, Rethink Platform, and Rethink Communication.
Amber is one of those rare people that actually lives this social movement and I don't know about you but I like listening to people that 'LIVE IT' more than people who read about it.

Gary Vaynerchuk

WineLibrary.TV & Author of Crush It! & Jab Jab Jab Right Hook