 Amber Mac & Your Next Event
by Amber Mac on May 15, 2016
If your organization is seeking a world-class speaker and popular expert on AI, emerging technologies, digital marketing,  internet safety, and our increasingly connected world, then just fill out the form at the bottom of this page to connect with Amber Mac.
Below are a few of the most popular speaking topics that Amber regularly covers.Amber can also customize her presentations to suit your audience – just use the form at the bottom of the page to let us know what you're looking for and we can take it from there.
Plus, Amber has moderated sessions on the world stage with leaders such as Prime Minister Justin Trudeau and Shopify CEO Tobi Lutke, Mercedes-Benz Chairman Dieter Zetsche, 9 leading astronauts including Chris Hadfield, Peloton President William Lynch, and coming up in May 2019, former FBI Director James Comey. She is also an experienced emcee.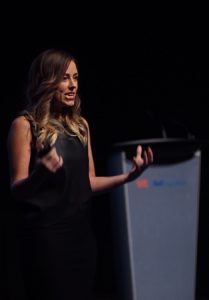 Demystifying Artificial Intelligence: A Day in the Life of AI in 2025
If your attendees need to know about artificial intelligence, but don't know where to start, this keynote is the perfect introduction to put AI into context for today's business leaders with a look at how this new technology will impact our lives on a daily basis.
Relentless Adaptation: Best Practices for Today's Digital Economy
We obsess over innovation. But innovation is overrated. If you look at the smart companies that are prized for "innovation," you will see that they are actually masters of "adaptation"—of knowing when to adjust, when to speed up, and when to capitalize. This big picture talk sheds light on how to adapt, and how to win, in our fast-forward economy.
Please subscribe to Amber Mac Newsletter to get updates on keynotes, media appearances, and other upcoming Amber Mac events.